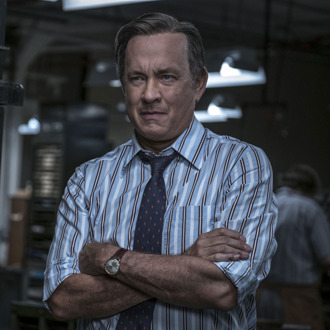 The Post tells the ripped-from-the-headlines true story of the Washington Post's decision to publish the Pentagon Papers … after the New York Times had already broken the story, of course. Many were puzzled to learn that Steven Spielberg's Pentagon Papers movie would focus not on the Gray Lady — which got the leaked papers from Defense Department analyst Daniel Ellsberg, vetted the pages, and published them (and later won a Pulitzer Prize for its reporting) — but on the D.C. daily that hustled to keep up. To its credit, The Post zeroes in on Post publisher Katharine Graham (Meryl Streep), and the businessmen that doubted her authority, but still, that hasn't stopped the New York Times from being just a little bit shady.
The Times hasn't owned up to this bitterness, at least openly. On Tuesday, a Times reporter tweeted a photo from a panel about how the paper broke the Pentagon Papers story, a panel that has nothing at all to do with a certain 2017 movie:
That panel was the latest in a series of sneak disses: In December, the paper published a full-page ad for its Pentagon Papers: The Secret History of the Vietnam War. The added twist: At the top of the ad sat a a rave review from the Washington Post ("The most significant leaks of classified material in American history."). Former Times staffers huffed their disappointment to the Columbia Journalism Review last May:
"I found it incredible," says James Greenfield, 92, who coordinated the Pentagon Papers project as the Times' foreign editor, recalling his reaction upon hearing about The Post. "I was furious. It's all wrong. I find it quite inconceivable. This movie is a rip-off."




James Goodale, 83, the Times' general counsel at the time of the Papers, also uses the term "rip-off," specifically in regard to the rival newspaper's coverage. "I've been so pissed off," he says. "It really gets you pissed when you think about it."




"I do not care to speak of it," wrote Max Frankel, 87, the Times Washington bureau chief when the Papers were published, and eventually executive editor, in an email to CJR. He did, however, call The Post a "stupid project."
An unnamed Times staffer still at the paper dished to CJR that the movie is getting under their skin. "We find it annoying and silly that we are being relegated to being a minor player in what is one of the biggest moments in our journalistic history," a "high-level Times source" told CJR. Somewhere on 41st Street, Dean Baquet is sipping his tea.
Update, 6 p.m.: New York Times reporter Vivian Yee added more context to her tweet about the paper's panel. It had nothing to do with The Post, of course, just with reporters who wanted to know the, ahem, real story behind the big scoop: