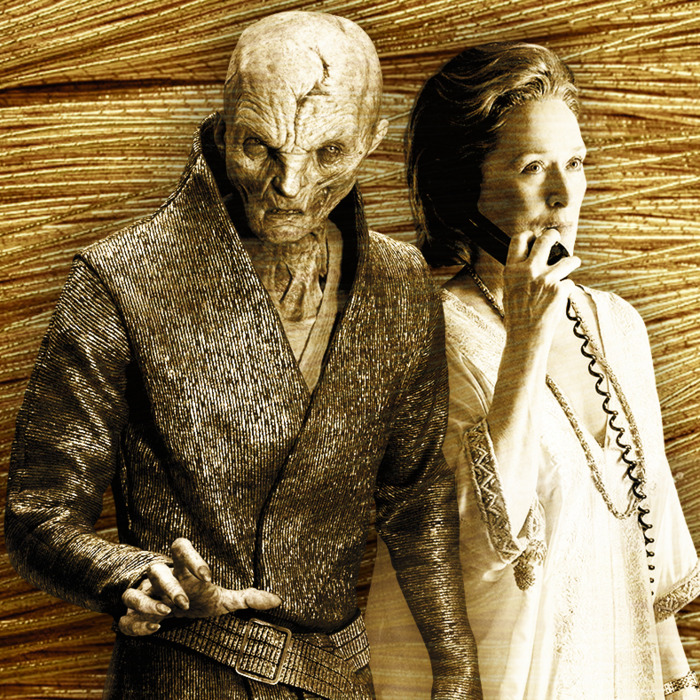 A long time ago, in a galaxy far, far away, Supreme Leader Snoke slipped into a little bit of luxury. Say what you will about the Star Wars: The Last Jedi's Supreme Leader — he's a bad guy, doesn't have a discernible arc, whatever — but his gold lamé rob propels him to the Dark Side's upper echelons.
Meanwhile, in our galaxy, only far away in a temporal sense, Washington Post publisher Katharine Graham indulged in a bit of unexpected opulence, too: In The Post, as played by Meryl Streep, she's called away from a ritzy party she's hosting to make a decision about publishing the Pentagon Papers. Her armor against a cabal of unruly, mansplain-y newsmen: an Indian silk caftan.
These two statement pieces, both alike in dignity, sat down with Vulture to talk about movies, awards season, and adding a little bit of glamour to their respective films.
Golden Girls! I'm so happy we could make this happen.
Post Caftan: Thanks for having us!
Last Jedi Robe: Is that what they're calling us? That's not really my appellation, but that's nice.
First of all, congratulations on your movies. The Last Jedi and The Post are two of the year's most-talked-about films. Is it hard to not feel taken in by the hype?
LJR: Everyone loves you until everyone hates you in this business. Listen, I'm just a girl, standing in front of green screen, asking not to be screwed over in post-.
Post Caftan: I'm not trying to be that girl, but like … I'm in a movie with Meryl Streep! Tell the paparazzi get the lens right!
LJR: Right, but I mean, we're not having Timmy Chalamet's year or anything …
Fair point! But you're both working with pretty legendary material: Post Caftan, you're working with Meryl. And Last Jedi robe, you're an official part of the Star Wars canon. Did that ever feel daunting?
PC: I'm a rookie to this acting thing — I was cut out of a Beyoncé music video once — so I was nervous on-set because I don't want to be the caftan that couldn't, you know?
LJR: Sure, it's all the same: Show up on time and hit your marks. I only saw the prequels because I was dating a guy back in the day that was into them, so I was kind of an outsider coming in. Tatooine, ewoks, porgs — as long as I get direct deposit and my own dressing room, I'll be there.
What were you up to before these movies?
PC: I did some bougie costume parties, plus music video work, as I said. Some sponsored content on Instagram, small-time stuff. But when The Post came along, it was just too good to pass up. Like — hello!
LJR: You know, I don't really like movies. Not really into sci-fi. I come from a print world a million years ago before influencers and Kardashians and hashtags: Vogue spreads, Vanity Fair shoots, that sort of thing. Once I did a Marvel movie, I was just like, whatever. I have some slippers that need mending. Sure.
What kind of preparation was important for you?
LJR: Honey, it's not Ibsen. But it was important to me to add a sense of glamour to that whole word. To elevate it. When I first met with Rian [Johnson, Last Jedi's director], he played coy about Snoke's backstory, so it was up to Andy Serkis and myself to fill in those gaps. He's the villain, sure, but who says he can't be groomed?
PC: I love that answer. And Last Jedi Robe, you really snapped!
LJR: Thanks, that's so kind. I wanted it to be like "Dark Side, but make it fashion." I also worked with an acting coach, the one Disney had on hand for Alden Ehrenreich.
Post Caftan, what was important for you in preparing?
PC: I have some mutual friends with some coats from The Devil Wears Prada — they spoke very highly of Meryl — so for the most part I just really picked their brains.
Last Jedi Robe, you've been doing this for a long time. How has the industry changed?
LJR: Back in the day, there was a sense of occasion around a picture. Back in the day, I did work with Liz Taylor in Cleopatra. Now I've got a guy lecturing me on why motion capture needs to win an Oscar. I guess.
Who have you met on the awards-season circuit? Have you been starstruck?
LJR: I'm in a Star Wars movie, so there's not a lot of awards-season campaigning for me. But thanks.
PC: I was big into Girls, so I have such a crush on Adam Driver. What I wouldn't give to be in some of your scenes, Last Jedi Robe!
What's next for you both? Who would you love to work with?PC: Two words: Tiffany Haddish. And how about two more words: romantic comedy. I just think she seems like so much fun!
LJR: I've had enough of this business. I'm trying to get out of Hollywood, honestly. I'd love to do a long-term deal with the Obamas. But … I might come out of retirement for Big Little Lies season two.