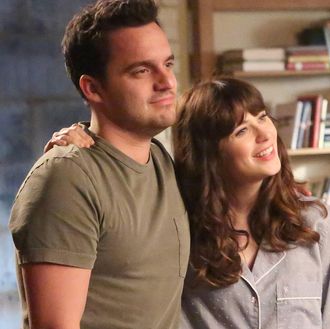 Photo: FOX/FOX via Getty Images
The end is near for New Girl. According to The Wrap, the series – which was renewed for a seventh and final season back in May 2017 – will return to Fox Tuesday, April 10th at 9:30pm then wrap up its 8-episode run with an hourlong series finale on Tuesday, May 15th. The new season will make a three-year jump forward in time, per The Wrap's report:
When the series returns for its final season, a three-year time jump will have occurred. Jess and Nick are happily together and returning from a whirlwind European book tour; stay-at-home dad Schmidt and working mom Cece are raising their daughter, Ruth; and Winston and Aly are married, with a child on the way. In addition to Pedrad, the last installment of the sitcom will feature several fan-favorite guest stars, including Damon Wayans, Jr. (Coach), Dermot Mulroney (Jess' ex Russell), David Walton (Jess' other ex Sam), Nelson Franklin (Cece's ex Robby), Sam Richardson (Winston's partner Dunston), and Jamie Lee Curtis and Rob Reiner as Jess' parents.
In addition to the returning guest stars, the final season will also feature appearances from newcomers JB Smoove and Tig Notaro.