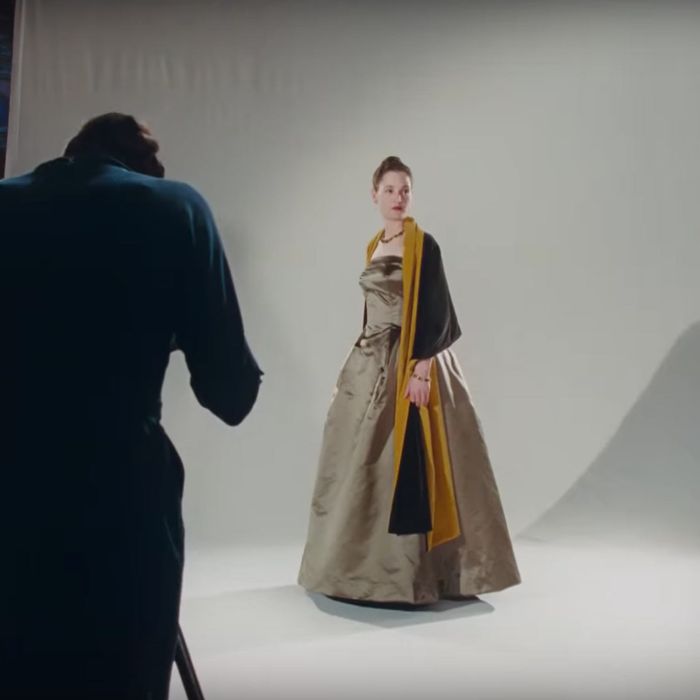 Paul Thomas Anderson's Phantom Thread stars Daniel Day-Lewis as Reynolds Woodcock, a persnickety couturier who adores — and butts heads with — his headstrong muse Alma (Vicky Krieps) and his fiercely protective sister (Lesley Manville). The film was at least partly inspired by the real life of designer Charles James, a British-born couture prodigy famously possessive of his dresses. But the House of Woodcock's designs don't borrow much from James's sartorial aesthetic; instead, Woodcock's gorgeous clothes were designed by costume designer Mark Bridges. Anderson tasked Bridges with creating the entire world of the House of Woodcock, mapping out its influences, impact, and clientele, which was no small feat: The clothes are, arguably, the film's main character. They more than make Phantom Thread's man — they occasionally undo him, as well.
Anderson pitched Bridges on the movie in the early stages, asking him if he'd ever heard of James. He had — and was excited, but cautious: "I said, 'Yeah, I went to the show last year at the Met,'" recalls Bridges. "[Anderson] was a little secretive about it. I was probably breaking out in a sweat or something thinking, Why are you asking me this?" Bridges, who's worked with the director on all of his films, wasn't quite certain what he was teasing. "You just never know what you're going to get with him," laughs Bridges. "Sometimes it's just porn in the Valley, or it's oil derricks in Texas or '70s hippies, and now we've got '50s couture."
The designer's team — which included real couture seamstresses, and a "cutter," Cecile Van Dyke — constructed the couture clothes made-to-measure and with as few seams as possible. But Bridges wasn't intimidated by the task of creating such luxurious, intricate designs: "A lot of our research involved really knowing what was going on in the culture world in London at that time, knowing who the designers were, what they were producing, who their clients were, and where could Reynolds fit into that world," Bridges says. "The challenge is always turning a design into a real, livable garment that will dramatically tell the story."
Below, Bridges breaks down the story behind four of the film's most memorable looks.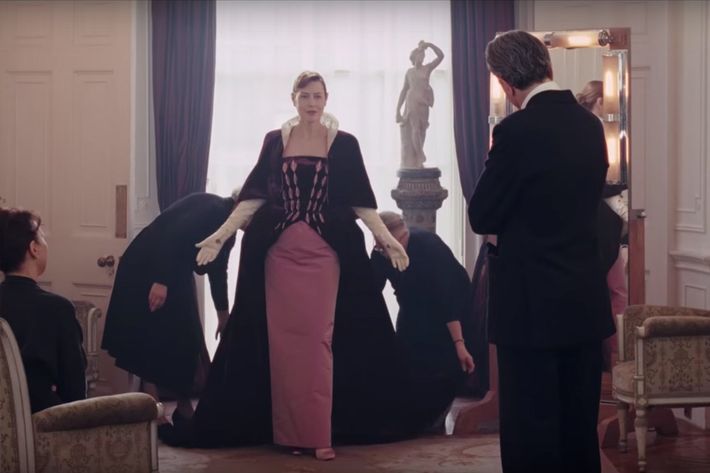 Burgundy Velvet Dress With Cape
Phantom Thread introduces the House of Woodcock with one of its most luxurious designs: A client (Gina McKee) arrives for a fitting, and she's slipped into a magnificent burgundy dress with a rich velvet cape. It hits all of the House's notes — and was conceived by Day-Lewis himself. The actor did a stick-figure sketch, and Bridges was charged with bringing it to life. "Paul really wanted him to feel like he had some authorship because of the way he distinctly prepares," Bridges says.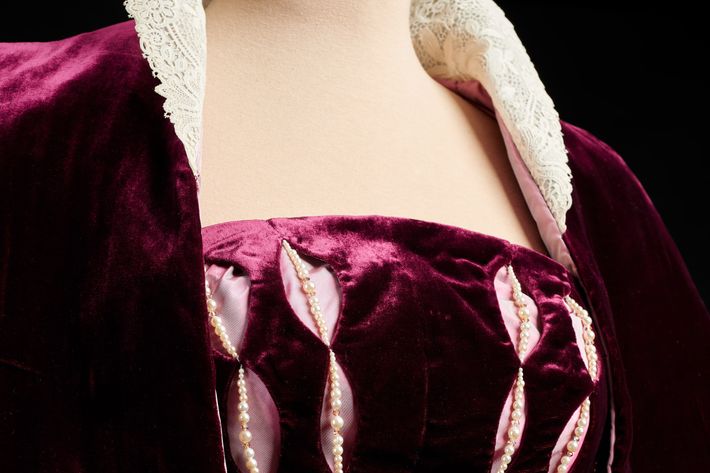 Working from Day-Lewis's design took some editing: "Cecile and I made decisions and choices along the way that made the sketch more practical. The original probably had about 30 pounds of velvet on it, so the cape is shorter, and we still had to make it seem 1950s high fashion," Bridges says. The result is a show-stopping gown, a design that's a perfect entry point into the House's aesthetic: "It's lace, rich fabrics, rich colors, a little nod to historical references," he adds.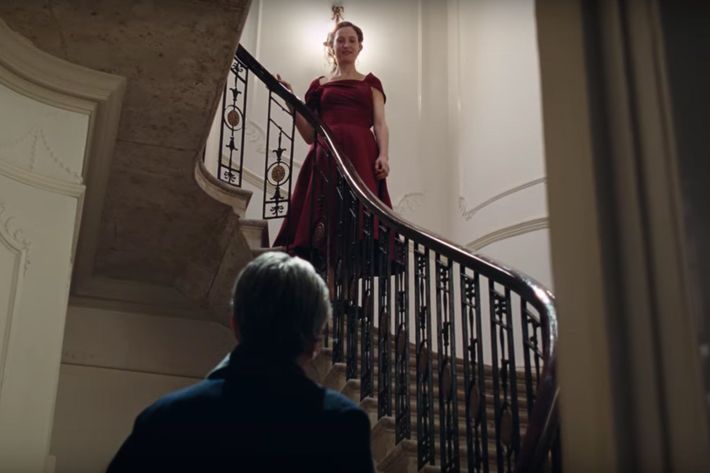 Alma's Red Dress
"What's good about it is it's vaguely awkward," Bridges says of a crimson sheath dress Alma designs for herself. In the scene where she's wearing it, she's just dismissed Reynolds's staff to pull off a date night for the two of them. (This does not work out, partially due to some poorly planned asparagus.) When Alma walks down the stairs, it's an uncomfortable moment; Reynolds eyes her up and down, less than pleased with her handiwork.
"It's not a fine design," Bridges says of the dress. "It's thought about and it serves its purpose for the scene, but there's something vaguely homemade and awkward about it." Throughout the movie, Alma fiddles with embroidery, and it was important to Krieps that we see that reflected in the dress her character designs: Bridges had his team add some flowers to the shoulders of the oddly structured garment. "Again, it was another thing that made it not a couture garment, but a wonderful attempt, a passionate attempt, a little loving hands at home," Bridges says, laughing.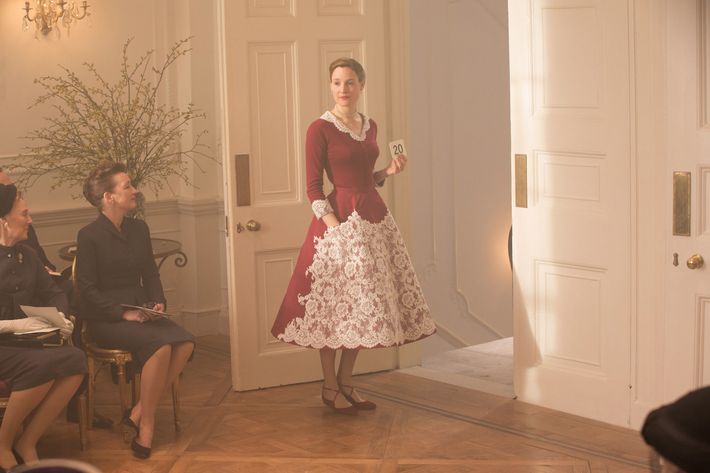 Alma's Spring Collection Dress
For all the eyefuls we get of Reynolds's designs, we only get a glimpse of his full spring collection during a fashion show. In the scene where this dress appears, Reynolds watches through a peephole as dozens of models weave in and out of a showroom, clients pursing their lips and bidding on his designs. Alma is, of course, the most beautiful, modeling a crimson dress with buttons down the front and a lace design on the skirt that looks like the daintiest of aprons.
"There was a tradition of hostesses entertaining at home very elegantly, so I thought that would be that beautiful silk-faille skirt, a wool-jersey sweater top — which is very comfortable and very at home and vaguely informal for the couture world — and that lace seemed to have a lot of tooth to it," explains Bridges. "Then, of course, there's pockets in the skirt for that informal feeling of the sweater, and the lace." The dress has another secret meaning: Anderson asked that it bear a visual similarity to another look in the film, but Bridges won't say which. "I will not say anything else about this — someone has to find it — but it connects to a dress that Alma wore at another time in the film."
As for the rest of the spring collection? "Even though it's spring, it feels English, because there are a lot of woolens and things, because it's chilly in spring in England," says Bridges. "Meanwhile, in France, their spring collection could be printed pastel."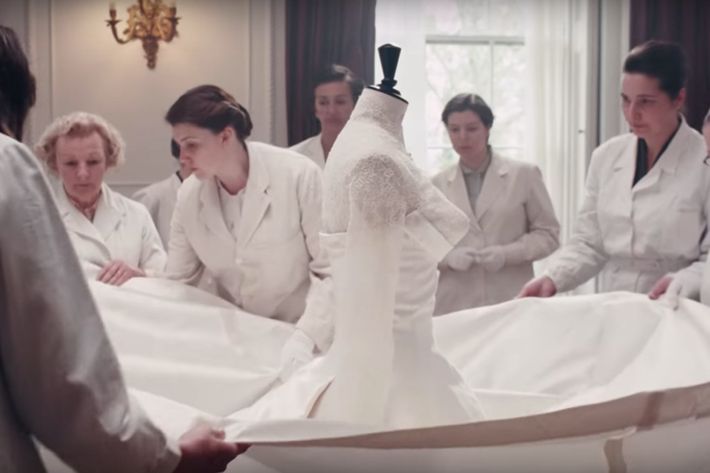 Royal Wedding Gown
There are two wedding gowns in Phantom Thread: The first, seen in a sort of flashback, is the dress Reynolds designed for his mother's wedding. The second is a gown designed for Belgian royalty, seen in the present day. It's a simple, elegant design: high-collar, buttons, long sleeves, with lace and a sheer bodice. Its fabric catches the light very delicately — Bridges found the thick zibeline in London. "It's a really unusual kind of fabric that has this a sheen, but it's very stiff," he says. "It's very much a fabric you don't see a lot, but it probably is used in wedding dresses. It seemed very '50s to me, and very regal. The only thing I said to Cecile was, 'Let's try and have the fewest amount of seams,' because that was kind of an edict with couture. You were clever if you used the least amount of seams in your sculpture, so to speak."
The royal wedding gown also connects to a dress Alma wears to a restaurant with Reynolds and Cyril. The dress is black, with lace designs on the shoulders. Bridges was taken with that subtle continuity in the House's styling. "There's kind of a Woodcock sensibility there," he says, "and that was really typical in the '50s. [The bodice was] such a way to be alluring, yet staid, so it kind of seemed really nice and English."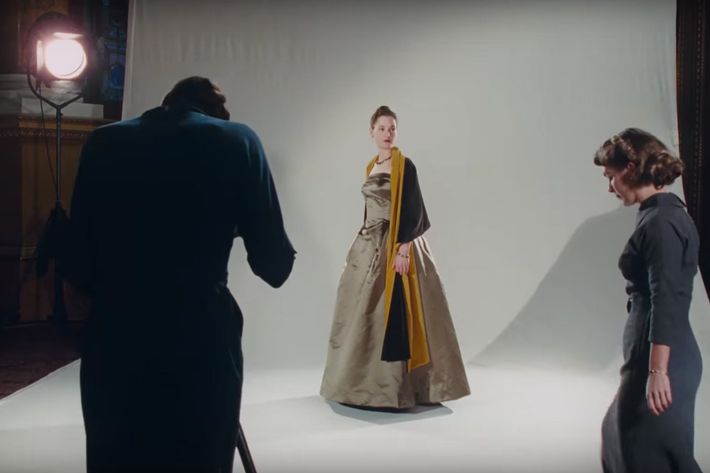 Green Silk Gown on Phantom Thread's poster
During a fitting with Krieps, Bridges let it slip that he really wanted to design a strapless gown. It fit with the period, he told her, but Day-Lewis wasn't into the idea. "I really felt the film was missing a strapless gown, because that was so typical in that period," says Bridges. "It could be really have a great foundation and be very controlled, but still have the allure of the bare shoulders," he explains. Krieps revealed she thought the same thing, until Day-Lewis corrected her: Only Alma could elevate a strapless dress to something more refined. ("Not on you," Day-Lewis told his co-star, according to Bridges.)
With the green-light from his Reynolds, Bridges designed a peridot-green gown that looks mossy and golden all at once. A scene where Reynolds and Alma squabble at a ritzy dinner party seemed like the perfect fit: "That scene takes place in a big, drafty manor house. That nice velvet throw to go with your bare shoulders would be practical and attractive and sort of English, with their dubious heating systems in the '50s."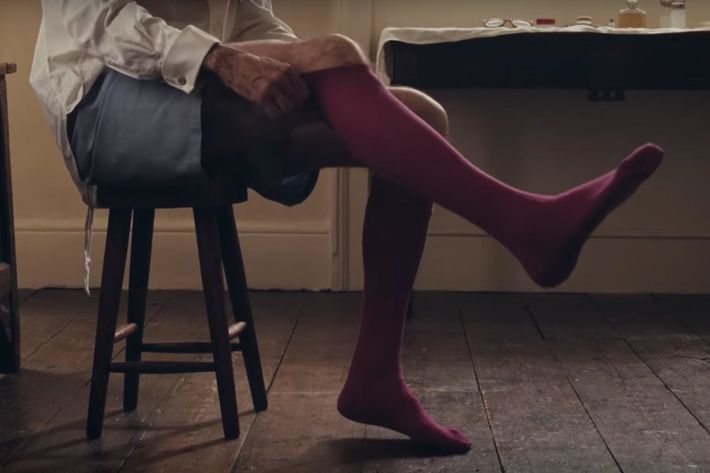 And now, a few words about Reynolds's socks
For his own wardrobe, Reynolds prefers something streamlined over flash — except when it comes to his socks, which are tall and bright pink. That was purely a Day-Lewis touch, Bridges confirms. "He was always trying to find ways to communicate eccentricities or the artistic bent of the man, and at some point I got a text saying like, 'Pink socks from Gammarelli's in Rome,' and I was like, 'Great!'" (For six generations, Gammarelli's has been the official tailor of the pope.) "I found it perfectly right for the character, because there is a gentleman type in London that wears all bespoke clothing but then adds his own twist to it to make it his own," Bridges says. "That was a perfect way, between the pink socks and the vaguely lavender bow ties. It just mixed it up enough to be really interesting."