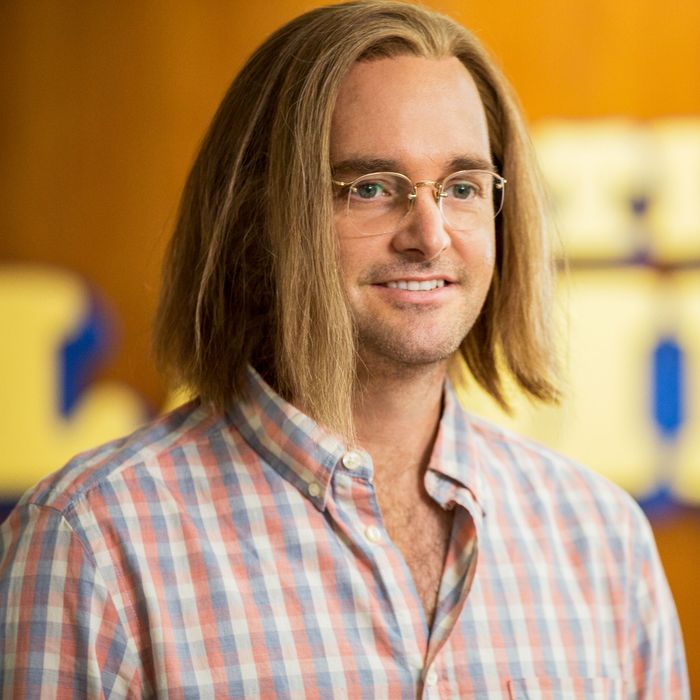 Photo: John P. Fleenor / Netflix
The following piece includes spoilers for A Futile and Stupid Gesture.
How do you write a happy ending when you're making a biopic of a life that ended in tragedy? How do you write a happy ending for subjects who made fun of sentimental crap like happy endings? This is the needle director David Wain and writers Michael Colton and John Aboud had to thread with A Futile and Stupid Gesture, the new Netflix movie about the life and untimely death of Doug Kenney, one of the co-founders of the National Lampoon. Here's how they managed to pull it off:
Invent a narrator
"I didn't have that much interest in the traditional reference of a 'biopic,' but I did have much interest in doing right by Doug Kenney," Wain told Vulture. "[He] had a rebellious and satirical streak, so I thought it would be important to tell his story with a sense of fun."
To do this, Colton, Aboud, and Wain watched unconventional biopics like 24 Hour Party People and American Splendor, which helped them come up with the character of Modern Doug. Played by Martin Mull, Modern Doug is supposed to be a present-day version of Doug Kenney, acting as a narrator, a sort of meta commentator to Will Forte's younger Kenney.
When the movie opens with his childhood, he quips, "You really want to start there?" Later, when Chevy Chase (Joel McHale), John Belushi (John Gemberling), Christopher Guest (Seth Green), Gilda Radner (Jackie Tohn), Bill Murray (Jon Daly), and Harold Ramis (Rick Glassman) are introduced, Modern Doug addresses the camera directly, saying, "So, yeah, so these actors don't look exactly like the real people, but come on, you think I looked like Will Forte when I was 27? You think Will Forte is 27?" Then he introduces a list of "some other things we changed from real life for pacing, dramatic impact, or just cause we felt like it."
"Doug was known as 'the man who invented nostalgia," explained Aboud. "So much of his work was taking a twisted look back at the '50s and '60s [the Yearbook Parody, Animal House]. Having Modern Doug in the movie was a way for Doug to be nostalgic about his own life, to look back with irony and wisdom at where he went wrong."
Take tragedy seriously — but not too seriously
Balancing the irreverence of the film with the reverence Colton, Aboud, and Wain felt for Kenney was particularly difficult when it came to portraying Kenney's death and funeral. Compounding the difficulty: The fact that nobody knows for sure how Kenney died.
What we do know is that after the initial negative response to Caddyshack, Kenney became very depressed. Chevy Chase took him to Hawaii, hoping to help him relax. Kenney spent time there with Chase and his then-girlfriend Kathryn Walker, but some time after they both left, Kenney's body was found at the bottom of the cliff. No suicide note was ever found, and the authorities ruled it an accident — but there's always been a question mark surrounding it, perhaps best typified by Harold Ramis's joke: "He probably fell while he was looking for a place to jump."
Wain, Colton, and Aboud ultimately handled the scene by showing Kenney on top of the cliff, peacefully taking off his glasses, then cutting to his National Lampoon co-creator Henry Beard (Domhnall Gleeson) receiving the news over the phone. "We didn't want to take sides or theorize about whether he jumped or fell, because no one knows," said Wain. "It was striking a balance between not letting the audience get too far ahead of it, while at the same time letting his mind-set and impending reality have a moment to sink in."
The scene moves from Beard's phone call to Kenney's glasses and sneakers alone on the cliff, then to his funeral, where some of the most important (white) comic minds ever mill about solemnly. This is when the film reveals that Modern Doug has been a mere narrative device. Of course, this isn't a twist for those who already knew of Kenney's untimely death, but Colton told me they wrote it assuming "nobody in the audience [had] heard of Doug Kenney." For Wain, the reveal was a way to acknowledge "the artifice of filmmaking, while not taking away from the power of the underlying story." In other words, the scene reminds us: This is serious, but don't take it too seriously.
Film a fake food fight at a funeral
This message is further underlined by Young Doug's response to the funeral itself. Murray remarks, "Every funny person in the world is here. And no one's laughing." Upon hearing this, Kenney shouts at everyone to laugh — but no one can hear him, since he's a ghost. He walks up to Beard, and tries to will him to do something. Beard, bidden by Kenney's spirit, takes a handful of shrimp and throws it at the mourners. Everyone pauses. Belushi breaks the silence with a yell: "Food fight!"
This marks the second food fight of the film — the first takes place at the start of the movie, at a party at the Harvard Lampoon castle celebrating the release of Doug and Henry's Lord of the Rings parody, Bored of the Rings. Michael O'Donoghue (Thomas Lennon) throws a handful of cake at the crowd, hitting Anne Beatts's (Natasha Lyonne) hair. Harold Ramis hurls a pie at Tony Hendra (Matt Lucas). Kenney's ex-wife Alex Garcia-Mata (Camille Guaty) throws coleslaw at Kenney's girlfriend, Kathryn Walker (Emmy Rossum). It's all scored to "Beautiful Dreamer," which feels both genuinely touching and deeply ironic, considering it's playing over real adults dressed up as past adults having a food fight.
And it's all made up. Well, mostly. "Beautiful Dreamer" was played on the harmonica at Kenney's real funeral, but "there was no food fight at Doug's actual funeral," said Colton. "We tried to imagine what Doug would feel in that moment, what he would try to say to Henry," he added.
The scene, much like the rest of the movie, strikes a perfect balance between melancholy and funny. "I wouldn't call it an especially happy ending," said Wain. "The main character dies tragically early in life. The food fight is obviously a moment of fantasy and an imagined button of relief on an overall tragic ending." Even so, it's really the only way a movie like this could end: The fight not only alludes to the one at the start of the movie, but also to the iconic Animal House scene, for which Kenney might be best remembered. "[Food fights] represent Doug's anarchic attitude," said Colton. "Laughing in the face of pain or tragedy is a coping mechanism. It's a futile and stupid gesture, but often it's the best option we have."