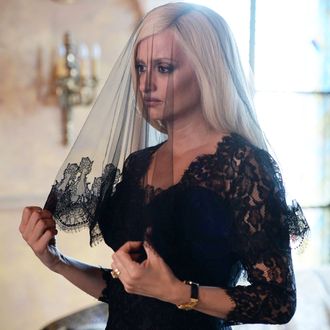 Penélope Cruz as Donatella Versace.
Photo: FX Networks.
Though one might think it would be flattering to have your family members played by Penélope Cruz and Édgar Ramírez, the Versaces are no fans of the upcoming season of American Crime Story. On Monday, the family issued a statement criticizing the upcoming season, saying, "The Versace family has neither authorized nor had any involvement whatsoever in the forthcoming TV series about the death of Mr. Gianni Versace," and slamming the book on which it is based, Vulgar Favors by Maureen Orth. "This TV series should only be considered as a work of fiction," the family wrote.
This, however, has not stopped the drama from escalating. After producer Ryan Murphy defended the series on Tuesday, insisting that "it is not a work of fiction," the Versace family put out a second, longer statement on Wednesday condemning both the series and the "bogus" book Vulgar Favors. "The company producing the series claims it is relying on a book by Maureen Orth, but the Orth book itself is full of gossip and speculation," the family wrote. "Orth never received any information from the Versace family and she has no basis to make claims about the intimate personal life of Gianni Versace or other family members." In the new statement, the family criticizes one point of fact in specific, saying that Orth "makes assertions about Gianni Versace's medical condition based on a person who claims he reviewed a post-mortem test result, but she admits it would have been illegal for the person to have reviewed the report in the first place (if it existed at all)." The phrase "medical condition" is a reference to Orth's claim in Vulgar Favors that Gianni Versace was HIV positive at the time of his death. American Crime Story also depicts Gianni as HIV positive and has the character seek treatment in one episode.
In his previous defense of the series, Ryan Murphy stood by Orth's reporting. "Versace is based on a non-fiction book by Maureen Orth that has been discussed and dissected and vetted for close to 20 years," he explained. "She worked for Vanity Fair. Maureen Orth is an impeccable reporter and we stand by her reporting. Our show is based on her reporting so, in that way, it is not a work of fiction, it's a work of non-fiction obviously with docudrama elements. We're not making a documentary." In a surreal twist, Murphy also added that Donatella Versace sent Penélope Cruz, who plays her in the series, a flower arrangement to say good luck before the Golden Globes this Sunday. It might be awkward the next time they see each other.