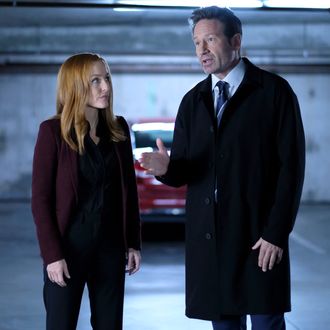 With the departure of Gillian Anderson from The X-Files, the filing cabinet may finally be locked for good on Fox's iconic paranormal-investigation series. But Anderson and co-star David Duchovny say that fans should still celebrate because the ten new episodes are even more X-Files-y than last year's revival season.
"That short stack of episodes kind of felt like we were learning how to walk again, and this season of ten feels like the pace is up and we are running," Anderson said Wednesday at a press conference during the Television Critics Association, noting that while last year's revival didn't provide the proper moment of closure, the current season feels like the right time to say good-bye to Dana Scully.
Duchovny agreed that the new season felt truer to the spirit of the original series, which ran for nine seasons on Fox from 1993 to 2002, spawned two feature films, and returned to broadcast television last year. "The show is really different in the hands of these different [writers and directors]," he said. "If you only have six, then it's a little schizophrenic. If you have ten, then you can find a groove between all these different guys."
Series creator Chris Carter was unable to make the panel — his home was one of many threatened by the devastating mudslides in California's Montecito area — but longtime writer/producer Glen Morgan indicated that season 11 will definitely answer a few of the lingering questions about its Byzantine mythology. But not all of them, he added, "Because that's the way this show is."
Playing a key role is one especially enigmatic piece of the puzzle: Scully's son William, who was given up for adoption in the show's original run. Duchovny said that introducing William, now a teenager, offered a unique challenge: "In a show like this, which doesn't often deal with family dynamics or soap-opera elements, it's certainly a very interesting character to just show up as an adult, almost."
Duchovny hinted that new episodes will get as experimental as some of the original run's most memorable stand-alone offerings. He specifically mentioned the seventh episode, which was directed by Glen Morgan. "It probably has 15 or 20 lines of dialogue in the whole episode," Duchovny said, later adding, "It's really one of our more special episodes that we've done in a long time."
The panel also revealed that the sixth episode will offer a highly anticipated look into the backstory of Mulder and Scully's longtime ally Walter Skinner, played by Mitch Pileggi. "There really is a lot that is revealed, and I was very gratified that we were able to do this," said Pileggi. "You actually see a scene play out that Skinner had referenced in an earlier season — I think when Mulder was trying to resign, and [Skinner] was refusing his resignation, and he related one of his experiences in Vietnam. It was horrific to him. It affected him terribly. But you actually get to see that played out, which is really cool for me."
Having completed her work on the series — the final two episodes are still in various stages of production in Vancouver — Anderson was asked if she felt satisfied with her final appearance as Scully.
"That is a good question," she said after careful consideration. "I'm not quite sure how to answer that question." But she reaffirmed her commitment to closing the door on The X-Files. "This is it for me. I'm really serious. I have so much respect for these guys, and I have respect for Scully, and I have respect for David, and it's really sad. But I'm finished, and that's the end of that."
Duchovny was less definitive about the future of the franchise, or his place in it. "I've tried to say good-bye to Fox Mulder many times, and I failed," he said. "I'm good either way. I'm good with this being the end. I'm good with it not being the end."