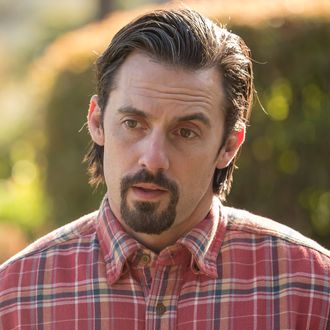 Milo Ventimiglia in
This Is Us
.
Photo: Ron Batzdorff/NBC
Just because one Crock-Pot started a fire that might kill Milo Ventimiglia, that doesn't mean every Crock-Pot is out to kill you. Last night on This Is Us, the decades-old slow cooker that Jack and Rebecca's neighbors gifted them when they moved in malfunctioned and started a fire in their kitchen. Because This Is Us is barreling toward a Super Bowl episode where we'll finally learn how Jack dies, it seems the Crock-Pot is going to be in large part responsible for killing him (or at least creating a lot of property damage). But, as creator Dan Fogelman clarified on Twitter, putting all slow cookers in the same pot would be, uh, a crock. "Taking a moment to remind everyone that it was a 20 year old fictional crockpot with an already funky switch?" Fogelman tweeted. "Let's not just lump all those lovely hardworking crockpots together."
Even though the Pearsons' slow cooker wasn't specifically branded, the Crock-Pot Slow Cooker brand itself has spent the morning answering concerned messages about This Is Us on Facebook. Their responses include "Jack Pearson was our Valentine so we equally understand your pain with his loss. We love him and we love you too ❤️. Don't further add to our heartbreak by no longer using Crock-Pot® Slow Cookers, rest assured our products have been generationally tested by your family and friends" and "We're heartbroken over last night's episode, too! Ruthie, we're innocent until proven guilty. Since the 1970s we have been providing families with quality and safe products, ask your parents if you don't believe us." This is a prime opportunity for Instant Pot, which hasn't been involved in the death of any beloved TV characters so far, to seize some market share.