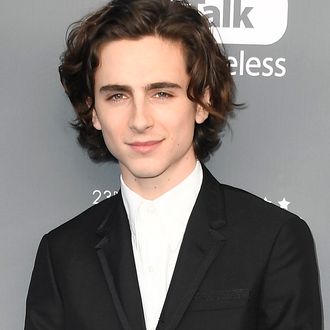 Timothée Chalamet.
Photo: Frazer Harrison/Getty Images
Timothée Chalamet, after dodging questions about his choice to work with Woody Allen in the upcoming film A Rainy Day in New York, explained his silence on the subject on Instagram. The Call Me By Your Name breakout star says that he has avoided answering questions about working with Allen directly out of "contractual obligations." However, he says, "I don't want to profit from my work on the film, and to that end, I am going to donate my entire salary to three charities: TIME'S UP, The LGBT Center in New York and RAINN." He added, "I want to be worthy of standing shoulder to shoulder with the brave artists who are fighting for all people to be treated with the respect and dignity they deserve."
Chalamet's post comes shortly after several other actors expressed their regrets for working with the filmmaker. Dylan Farrow, Allen's estranged adopted daughter, accused the director of sexually abusing her in the early 1990s while she was a child. Farrow maintained her allegations in a 2014 essay, and has criticized some members of the #TimesUp initiative for not taking her claims seriously.
Allen has denied the allegations.
Earlier in January, Chalamet's Lady Bird director Greta Gerwig (who acted in To Rome With Love) told the New York Times, "If I had known then what I know now, I would not have acted in the film." Mira Sorvino, who starred in Mighty Aphrodite, wrote an open letter to Farrow in which she wrote, "I believe you!"
Chalamet wrote in his Instagram post that his perspective on taking the Woody Allen role has changed in the past few months. He writes:
This year has changed the way I see and feel about so many things; it has been a thrilling and, at times, enlightening education. I have, to this point, chosen projects from the perspective of a young actor trying to walk in the footsteps of more seasoned actors I admire. But I am learning that a good role isn't the only criteria for accepting a job—that has become much clearer to me in the past few months, having witnessed the birth of a powerful movement intent on ending injustice, inequality and above all, silence.
Read Chalamet's full Instagram post below.