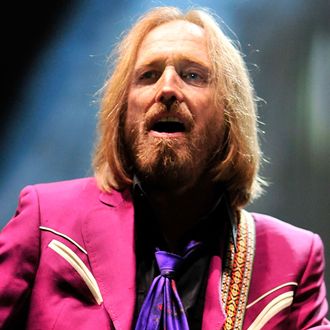 Spotify's wallet could be free fallin'.
Photo: Jerod Harris/Getty Images
Looks like some of us have resolved to start the new year litigiously. According to The Hollywood Reporter, Wixen Music Publishing — which owns and represents compositions by Tom Petty, Steely Dan, Neil Young, Weezer, the Doors, and so many more — has sued the pants off Spotify, asking for a casual $1.6 billion in unpaid royalties, and that's just the minimum. The company claims that Spotify is streaming "tens of thousands" of Wixen songs ("Free Fallin'" included), without proper compensation or licensing, and not-so-kindly asks that Spotify now pay its tab. Wixen's lawsuit paints the problem as systematic, claiming that as much as 21 percent of the music streaming on Spotify is unlicensed.
That complaint, of course, has been made before: Last May, Spotify settled a class-action copyright lawsuit led by songwriters David Lowery and Melissa Ferrick for $43 million, an amount which Wixen and several other industry insiders contested was chump change compared to what songwriters and publishers are really owed; later that year, Spotify got slammed with even more copyright lawsuits, though not to the tune of a couple billion. In a court response, Spotify has questioned whether Wixen has the authority to take legal action on behalf of its clients, particularly the deceased, some of whom are already embroiled in legal matters that are shaping up to be just priceless.