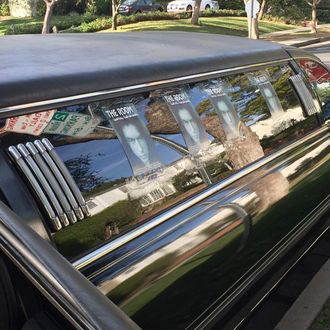 Photo: Twitter/@gregsestero
Just because their lives have been captured for all eternity in The Disaster Artist doesn't mean The Room stars Tommy Wiseau and Greg Sestero are about to slow down their hustle. In case you still hadn't heard about their cult-classic film, the pair rode in a limo plastered in The Room's eye-catching signature poster to the Golden Globes red carpet Sunday evening. "Ride to the show," the Disaster Artist author declared on Twitter.
Once there, Wiseau and Sestero stopped to chat with Variety and, more importantly, call out James Franco for a small historical inaccuracy in his turn in The Disaster Artist, for which Franco is nominated for Best Actor. Laughed Wiseau, "He doesn't know how to throw a football!"
The director and actor also promoted The Room during his interview, because, as his limo would suggest, Tommy Wiseau is never not on his grind.