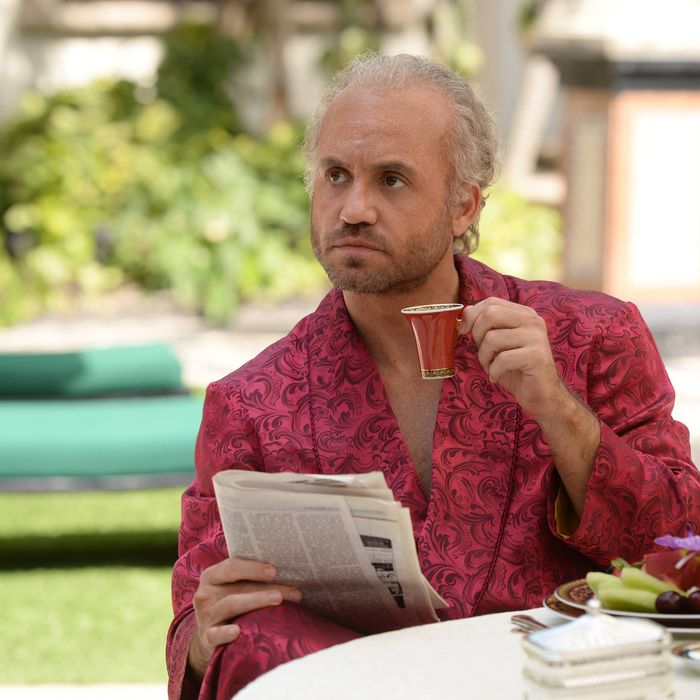 The Assassination of Gianni Versace
.
Photo: Jeff Daly/FX
It's harder than ever to keep track of great television. No matter your taste, from trashy reality to highbrow prestige, there's definitely a show out there that you'll love — or two, or three, or more — but only if you actually find it among the hundreds and hundreds scheduled to air this year. Luckily for you, Vulture is here to sort through the mess. Here's our complete guide to the TV shows we're most excited to watch in 2018, arranged in chronological order by premiere date.
9-1-1 (Fox, January 3)
If you put Angela Bassett, Connie Britton, and Peter Krause in a Ryan Murphy procedural, I will watch it. Bonus points for the perspective of this Fox show, which centers on first responders rather than the ubiquitous catch-the-bad-guy rhythm. What if Murphy and co-creator Brad Falchuk figure out how to depict first responders as one part of a government-funded social safety net based on compassion and humor and a desire to help people in their hardest moments? Just spitballing here. —Kathryn VanArendonk
Happy! (SyFy, January 3)
The two Crank films are wildly inappropriate masterpieces, and fans of them should rejoice at the existence of SyFy's Happy! Set to return after a holiday hiatus, Crank co-auteur Brian Taylor directed many of the episodes of this adaptation of Grant Morrison and Darick Robertson's bonkers comic-book mini-series, and the resulting show is about as anarchic as TV gets. I'm told the seventh episode will be one of the most shocking things you've ever seen on television, so buckle the hell up. —Abraham Riesman
Crazy Ex-Girlfriend (The CW, January 5)
The third season of Crazy Ex-Girlfriend has been hilarious, brilliant, and blistering in its honesty, particularly when it comes to its exploration of mental illness. I'm very curious to see where it will go when it returns from its mid-season hiatus. Recovery is rarely portrayed in pop culture when it comes to mental illness. What does a healthier Rebecca Bunch (Rachel Bloom) look like? What does this mean for her dramatic love life? Can madwomen find peace? Can the series top the greatness of Paula (Donna Lynne Champlin) singing "The First Penis I Saw" in a grocery store? CXG has cemented its place as one of the best shows on air, and I can't wait to see what happens next. —Angelica Jade Bastién
The Chi (Showtime, January 7)
Lena Waithe, screenwriter and co-star of Master of None, created this dramatic series about a predominantly black neighborhood in the South Side of Chicago, with a large ensemble cast and a decentralized narrative that distributes its attention as equally as possible among major characters. In the pilot, directed by Rick Famuyiwa (The Wood, Brown Sugar), a teenager's initial discovery of a body causes a narrative chain reaction that affects the lives of everyone in the community. It's been a while since anyone attempted a neighborhood-based ensemble tapestry like this, hemmed in by geography as well as by class and lifestyle. —Matt Zoller Seitz
Philip K. Dick's Electric Dreams (Amazon, January 12)
It's a damn shame that Philip K. Dick died in early 1982, as he never got to see the wide influence his work would posthumously have on filmmaking. Blade Runner, Total Recall, Minority Report, A Scanner Darkly, The Man in the High Castle: All these and more were based on the visionary scribe's work. Now, he's finally getting his name in lights with this Amazon anthology series, which adapts an array of his short stories. The Philip K. Dick branding is intriguing, but what will likely draw viewers most is the high caliber of the cast: Bryan Cranston, Steve Buscemi, Anna Paquin, and Terrence Howard all star in episodes. With this often-bleak drama about human aspiration and frailty against the backdrop of high-tech worlds, Amazon no doubt hopes Electric Dreams will become its very own Black Mirror. —Abraham Riesman
Bob's Burgers (Fox, January 14)
We make these lists and they're good and useful because how else would you know the pilot of a Marvel show was directed by Gina Prince-Bythewood, or that Christina Hendricks is back on TV? But as far as anticipated goes, I anticipate the return of Bob's Burgers more than any other show. It's just still so freaking wonderful, and new episodes make my life better for 30 minutes. Did you see that most recent holiday episode? How could you watch that and not think, I can't wait for this show to come back? —Jesse David Fox
Black Lightning (The CW, January 16)
This winter, the CW will feed its audience's insatiable appetite for superheroes by debuting yet another spandex-clad program, Salim and Mara Brock Akil's Black Lightning. Like The Flash, Arrow, Supergirl, and Legends of Tomorrow, it's based on characters from DC Comics, but it will be set in a separate universe from those shows. Its titular superhero, played by Cress Williams, and most of the core cast around him are African-American, and the show aims to confront racial realities in America in a way that feels meaningful, original, and challenging. —Abraham Riesman
American Crime Story: The Assassination of Gianni Versace (FX, January 17)
Gays! Murder! Teeny tiny Speedos! The second season of Ryan Murphy's anthology crime series focuses on the 1997 murder of fashion designer Gianni Versace by serial killer Andrew Cunanan. Just as the first season looked at race, gender, and the rise of the 24-hour news cycle through O.J. Simpson's murder trial, ACS: Versace uses the assassination of Versace as an opportunity to examine gay life and politics. And once again, it sports a glitzy cast: Penélope Cruz plays the oft-lampooned sister Donatella Versace, Ricky Martin plays the late designer's partner, and it's led by Édgar Ramírez as Versace and Darren Criss as Cunanan. —E. Alex Jung
Corporate (Comedy Central, January 17)
Remember the other day when you were at work, typing some email to marketing, and you thought, "What's even the point? Not just of this email, but like EVERYTHING?" and you just sort of looked into the middle distance at nothing in particular and next thing you knew three hours has passed? If so, Corporate — Comedy Central's new pitch-black comedy from Pat Bishop, Matt Ingebretson, and Jake Weisman — is the sitcom for you. It's like a nihilist Office, if everyone who worked there secretly had an opioid addiction. —Jesse David Fox
High Maintenance (HBO, January 19)
Even while upgrading to HBO, the creators of High Maintenance retained the shaggy charms that defined the show as a webseries. Now, as the world feels bleaker than ever, High Maintenance's comforts — its glimpses into the lives of New Yorkers of all sorts, most of whom are looking for an escape (and therefore, weed) — feel all the more necessary. The Guy is back, and we all really need a delivery. —Jackson McHenry
Blue Planet II (BBC America, January 20)
There are few series I enjoyed more in 2017, or found more astonishing and beautiful, than the BBC production Planet Earth II. In 2018, we'll get a second series of its oceanic counterpart, Blue Planet. Get ready for some unbelievably beautiful underwater scenery, some surprising sea creatures, and the heights of what nature cinematography can do. —Kathryn VanArendonk
The Alienist (TNT, January 22)
Caleb Carr's same-titled 1994 novel, about a psychologist and a newspaper reporter teaming up to solve a series of murders on New York's Lower East Side in the 1880s, was an instant best seller that mixed deep research with dime-novel thrills and a healthy dose of Sherlock Holmes–style puzzle-solving. Many major filmmakers danced around an adaptation, with Alan Parker (Angel Heart) getting particularly close, but it never happened, in part because of the difficulty and expense of re-creating that era; Martin Scorsese managed something in the same vein with Gangs of New York, though at tremendous cost. Computer graphics have made this sort of thing much easier, and now Cary Fukunaga is bringing the story to TV. He's the perfect candidate, having proved with True Detective that he can blend mystery, suspense, ghastly violence, and droll buddy humor.
—Matt Zoller Seitz
Another Period (Comedy Central, January 23)
In a time where TV comedy is sad and TV drama is just a black screen with the sound of mumbling in the distance, Another Period is a big, bright, delicious treat. No hushed performances here, just big swings in this Keeping Up With the Kardashians and Downton Abbey mashup. Because of Comedy Central's weird release schedule, the show skipped 2017. It was missed. —Jesse David Fox
Waco (Paramount Network, January 24)
When the Paramount Network (formerly known as Spike) launches later this month, it will mark the occasion with this six-part limited series based on the 1993 siege of the Branch Davidian compound in Waco, Texas. The cast is exceptional: Michael Shannon stars as an FBI hostage negotiator alongside John Leguizamo, Andrea Riseborough, and Rory Culkin, among others. But I'm most curious to see Taylor Kitsch in the role of Branch Davidian leader David Koresh, a very different sort of Texan than Tim Riggins was in Friday Night Lights. —Jen Chaney
RuPaul's Drag Race All Stars (VH1, January 25)
Get into your drag-race pools, because another season of All Stars is almost upon us. The hardest-working reality competition show on TV rounds up former queens including Aja, BenDeLaCreme, Chi Chi DeVayne, Kennedy Davenport, Milk, Morgan McMichaels, Shangela, Thorgy Thor, and Trixie Mattel for another shot at the title. (As well as a likely surprise tenth queen.) Who will get to claim rudemption? Will it be Kennedy Davenport, who emerged out of the flames bedazzled? Or Aja, who is not perfect or beautiful or a model or Linda Evangelista? Only the tightest tuck will prevail. —E. Alex Jung
One Day at a Time (Netflix, January 26)
One of the biggest TV surprises of 2017 was One Day at a Time, a reboot of an old-school sitcom that proved exactly why the form can be such a useful way to tell universal stories. The first season was a balm, but not in a numbing way. It was bracing and warm, a feeling that'd be perfect for the start of 2018. —Kathryn VanArendonk
A.P. Bio (NBC, February 1)
A half-hour comedy about snarky, inappropriate educators is hardly an original idea for a television show: Welcome Back, Kotter mined laughs from the concept back in the 1970s, while TV Land's Teachers has been tapping a similar vein since 2016. A.P. Bio, from Seth Meyers and fellow SNL alum Mike O'Brien, thankfully adds some unique twists on the Bad Teacher genre. It's Always Sunny in Philadelphia's Glenn Howerton plays a former Harvard philosophy professor who ends up at a Toledo high school, but rather than actually teach his students, he uses them to help extract vengeance against a former Ivy League colleague. Howerton is great and so is everyone around him, including Patton Oswalt as the sad-sack principal, and Lyric Lewis, Mary Sohn, and Jean Villepique as the school's all-too-human educators. The setting for A.P. Bio might not be all that fresh, but the four episodes I've seen are smart and funny, and the all-star lineup associated with it gives hope the show might end up at the head of the class. —Josef Adalian
Altered Carbon (Netflix, February 2)
Although Netflix has grabbed eyes with the minimalist speculative fiction of Black Mirror, it has yet to attempt a classically ornate piece of sci-fi. That changes with Altered Carbon, a series adapted from Richard K. Morgan's classic cyberpunk novel of the same name. Set in a 24th-century world where consciousnesses can be downloaded into new bodies, it stars Joel Kinnaman as the current incarnation of a criminal named Takeshi Kovacs, who is hired by a many-times-dead gazillionaire to solve his own recent murder. Showrunner Laeta Kalogridis was the screenwriter behind the underrated Shutter Island, so there's cause for optimism that the story won't be as silly as it may sound on paper. —Abraham Riesman
The 2018 Winter Olympics (NBC, February 9)
The drama and grace of figure skating. The sight of Shaun White on the halfpipe. The nonstop thrill ride that is curling. All of these elements will be part of NBC's coverage of the 2018 Winter Olympics, to be held in Pyeongchang, South Korea, this February. Controversies, another Olympic tradition, will no doubt be baked into the widely broadcast event. In fact, they've already started to brew thanks to, among other things, the International Olympic Committee banning Russia, Kim Jong-un's desire to send a delegation of North Korean athletes, and the fact that it might be dangerously cold during the opening ceremonies. Another point of interest: This will be the first Olympic games without Bob Costas as NBC's host; Mike Tirico will take over those duties for the first time. Let's hope he doesn't get pink eye. —Jen Chaney
Good Girls (NBC, February 26)
I have eagerly waited for Christina Hendricks to get a leading role since Mad Men ended back in 2015. Good Girls finally makes that a reality. The NBC series centers on three friends struggling with money issues — Beth (Hendricks), a suburban housewife whose cheating husband ruins their finances; Annie (Mae Whitman), a grocery store clerk who may lose custody of her child; and Ruby (Retta), whose young daughter struggles with health issues and needs a transplant — that successfully rob a grocery store and wind up with more trouble than they expected in the aftermath. Good Girls has the opportunity to be a propulsive, fun, and sharp consideration of class and motherhood. No matter how the plot stacks up, it will be a blast to see these three very dynamic, yet very different actresses play off one another. —Angelica Jade Bastién
Queer Eye (Netflix, February)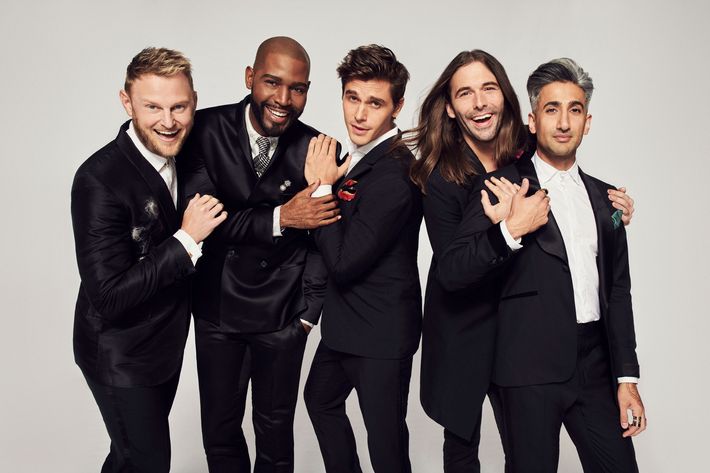 Will & Grace is back. Roseanne will be back. Everything old is new again, and that now includes a Netflix reboot of Queer Eye for the Straight Guy, the Bravo reality series where gay men helped makeover the lives and looks of hopeless straight men. The new series looks a great deal like the original flavor: A new Fab Five arrive to fix the grooming, lifestyle, wardrobe, and cultural problems of men whose lives are in disarray. But what will this show look like in 2018? How will the Fab Five engage with all the ways culture has changed in the past decade? Will it be cringeworthy or celebratory? Or maybe both? —Kathryn VanArendonk
Atlanta: Robbin' Season (FX, March 1)
After season one, some (me) took to calling Atlanta the greatest piece of art created by a millennial. And though this was before Camila Cabello's "Havana" came out, I still stand by my assertion. A singular vision, perfectly executed, the first season of Atlanta felt both like something we never saw before and something we desperate needed. For inspiration, creator-star Donald Glover said he looked to one of the great TV dramas: Planet Earth. "I just think it's amazing that you can have something that has violence and sex, and you can show it to children and be like, 'Yeah, that's just what it is.' And that's what I want to do with this show. Like, 'This is life; it's not us trying to be provocative.'" We look forward to finding out who's the iguana and who's the snake. —Jesse David Fox
Marvel's Jessica Jones (Netflix, March 8)
The first season of Jessica Jones is the most incisive and potent of Marvel's Netflix series so far. Centering on a private detective cut from the most black-hearted noir — with superpowers, of course — Jessica Jones was a considerate and engaging, albeit uneven, consideration of sexual violence in its first season. I'm very curious to see if the second season will improve upon its previous faults — the issues with pacing and race, chief among them — and push the story to new heights without a villain like David Tennant's Kilgrave. Bonus: Following the lead of Ava DuVernay and Queen Sugar, every episode of season two will be directed by women. —Angelica Jade Bastién
Rise (NBC, March 13)
Remember that blissful dream you had one night in 2010 about a musical version of Friday Night Lights? My friend, your dream has now been realized. This new NBC drama from Jason Katims, creator of Friday Night Lights, has a sensibility that's right in line with the vibe of the Eric and Tami Taylor Show. It's set in a small town (this time in Pennsylvania rather than Texas), it focuses on the students and administrators at a high school, and it captures the beautiful humanity in their everyday struggles. But while the football team is featured tangentially, the main focus in Rise is on the drama department, led by a determined English teacher (Josh Radnor) and his colleague (Rosie Perez, suffering no fools in the way that only Rosie Perez can), as they attempt to mount a production of Spring Awakening. If you miss FNL, Smash, or Glee, this could be your favorite new thing of 2018. —Jen Chaney
Krypton (SyFy, March 21)
Long in the works, David S. Goyer's Syfy series Krypton will finally see the light of day and attempt to demonstrate what a Superman show without Superman looks like. Set on Kal-El's homeworld long before his birth, it'll aim to win over audiences with a heaping helping of political intrigue and sci-fi worldbuilding. Think Game of Thrones with flying cars. —Abraham Riesman
Roseanne (ABC, March 27)
It's hard to know what Roseanne will look like when it returns to TV nearly 20 years after it went off the air. Will Roseanne Barr infuse it with the radical political opinions she's known to spout on Twitter? (She says no, but the network is pitching the revival as a look at a working-class white family that would've voted for Trump.) Will the old-fashioned multi-cam format be as appealing when shot in HD? (It feels a little surreal.) Will people care? (ABC sure hopes so.) Regardless, any show that gives us more John Goodman and Laurie Metcalf is worth checking out. —Jackson McHenry
The Americans (FX, March 28)
For a long time, we've grappled with questions about the drama involving the Russians. (The fictional drama involving the Russians, that is.) Questions like, will the marriage between Philip (Matthew Rhys) and Elizabeth Jennings (Keri Russell) survive, especially since, per last season's finale, it appears Philip might be leaving the spy game behind? Will their daughter Paige (Holly Taylor) follow in their footsteps and start working undercover for the Commies? Will FBI agent Stan Beeman (Noah Emmerich) finally realize that he's been playing racquetball with the enemy for all these years? Hopefully we'll get answers to all these questions and more when one of the best TV shows of the decade wraps up this spring. —Jen Chaney
New Girl (Fox, April 10)
Didn't you miss New Girl last fall? As these things go with sitcoms, people drop off as the shows chug along, but this is the final season, so time to get back into it, everyone. Let's all care about New Girl at the same time together. That would fun. Can't we have one nice thing in this world!? —Jesse David Fox
Howard's End (Starz, April)
The 1992 Emma Thompson and Anthony Hopkins movie is already perfection, but there are plenty of reasons to recommend this Starz and BBC adaptation of E.M. Forster's classic novel. First of all, it stars the perpetually underappreciated Hayley Atwell (Agent Carter, Black Mirror's "Be Right Back"); secondly, Kenneth Lonergan (Manchester by the Sea) did the adapting; and thirdly, the mini-series approach gives it a better chance to delve deeper into the source material. Plus, the series already aired on the other side of the pond, and the reviews were solid. Prep some tea, and prepare for well-dressed melancholy. —Jackson McHenry
Heathers (Paramount Network, Spring TBD)
"Excited" might not be quite the right term for how I feel about watching this adaptation of a darkly comic high-school classic. "Very cautiously intrigued" is probably more apt. A lot has changed about the teenage experience since the original Winona Ryder–led movie landed in theaters in the late 1980s. Among other things, it will be intriguing to see how this adaptation handles school violence, addressed in unapologetically brutal fashion in the film to a degree that wouldn't work in the current climate, as well as bullying, which has taken on a new dimension thanks to social media. I'm also curious to see whether anyone dares to use the phrase, "Fuck me gently with a chainsaw" or rock such severe shoulder pads. Guessing no on both counts. —Jen Chaney
Legion (FX, Spring TBD)
Showrunner Noah Hawley putting out season three of Fargo and season one of Legion in the space of a few months last year was a feat akin to the Beatles' 1967 release of both Sgt. Pepper's Lonely Hearts Club Band and Magical Mystery Tour: a delirious overabundance of creative riches stemming from a single source. Though Fargo is on hiatus, Hawleyheads need not despair, as Legion will return with even more if its reality-tampering spins on the superhero genre. One can only hope there will be more dance numbers, too. —Abraham Riesman
American Vandal (Netflix, TBD)
One of my most oddly enjoyable moments of 2017 was binge-watching the entire first season of American Vandal on a plane — enjoyment which wasn't echoed by my fellow travelers, as two flight attendants separately reprimanded me for my incessant laughter and general wailing sounds. What can I say? The true-crime mystery of who drew the dicks was a comedic masterpiece, so co-creators Dan Perrault and Tony Yacenda have my full and undivided attention for their sophomore season of prep-school debauchery. —Devon Ivie
Better Call Saul (AMC, TBD)
The third season of Better Call Saul was its best yet, and one that ended on a shocking note — major spoiler ahead — with the death of Jimmy's brother Chuck (Michael McKean). That character and McKean's performance will be missed, but it will be fascinating to see how that loss inevitably catapults Jimmy (Bob Odenkirk) closer to becoming Saul Goodman, the unapologetically shifty lawyer we first got to know on Breaking Bad. —Jen Chaney
Maniac (Netflix, TBD)
Based on a 2014 Swedish series, Netflix's Maniac has a fascinating cast, including Jonah Hill, Emma Stone, and Justin Theroux. But it's the person behind the camera that draws me to the show: director Cary Fukunaga. In True Detective season one, Fukunaga pushed his artistry as a filmmaker to new heights, leaving me eager to see what he'll do within the medium next. Maniac also deals with mental illness, a subject matter close to my heart. The series will reportedly follow the fantasy lives of two patients in a mental hospital, played by Hill and Stone. I'm eager to see Fukunaga helm another show as a director, and how Maniac will handle the fraught terrain of mental illness. —Angelica Jade Bastién
Marvel's Cloak and Dagger (Freeform, TBD)
If your hunger for tales of metahuman teenagers wasn't satisfied by Hulu's Runaways, fear not. Marvel's Cloak and Dagger will follow Tyrone (Aubrey Joseph) and Tandy (Olivia Holt), an interracial couple who possess idiosyncratic superpowers: She can throw daggers made of light, and he can generate a dark field of energy with mysterious properties. The pilot is directed by Beyond the Lights' Gina Prince-Bythewood and the trailer revealed a deliciously realist visual approach, so expect something sensual and angsty. —Abraham Riesman
The Perfectionists (Freeform, TBD)
I already have way too many questions about this Pretty Little Liars spinoff. Can the "Who murdered this teen in a perfect town" narrative be replicated again? How will Mona return from her idyllic Parisian doll torture-chamber? Are Alison's kids just not going to be around? There's a lot to unpack here, but I've decided to worship the altar of I. Marlene King and the extended PLL universe for the rest of eternity, so my questions won't really matter in the end, will they? —Devon Ivie
Sharp Objects (HBO, TBD)
Directed by Jean-Marc Vallée after his beautiful work on Big Little Lies, this HBO mini-series adaptation of Gillian Flynn's first novel centers on Camille Preaker (Amy Adams), a journalist with a heap of tragedies coloring her past. When she returns to her small town in Missouri to cover the murder of a young girl, she must also reckon with her estranged, bitter mother, Adora (Patricia Clarkson), and teenage half-sister, Amma (Eliza Scanlen). Sharp Objects, like Flynn's other works, centers on messy and messed-up women navigating hard-bitten, noir-laced landscapes trying to find pleasure and peace along the way. Sharp Objects has the potential to be the next Big Little Lies in many ways, granting audiences a complex, thrilling, and potent excavation of modern femininity with more of an edge. —Angelica Jade Bastién
Westworld (HBO, TBD)
Few returning shows have higher stakes than Westworld does this year. The first season worked on tiny, minutely small levels of trickery and on big sweeping levels of philosophizing and violent, sexual tableaux. It'll be hard to imagine season two re-creating the same sorts of knock-you-over surprises, but I'm excited to watch it try. —Kathryn VanArendonk
You (Lifetime, TBD)
Leave it to Penn Badgley to return to the small screen after a five-year hiatus and think to himself, "Hmmm, how can I out–Lonely Boy the original Lonely Boy?" You has a lot of things going for it in an "I'm intrigued by the blatant Gossip Girl similarities" kind of way: Badgley plays a bookstore manager who cyberstalks a lady into falling in love with him. Shay Mitchell is also there, and it's my civic duty to watch anything with Pretty Little Liars alumna in it. Lifetime looks like it's got a bizarre winner here. —Devon Ivie
*This article has been updated to reflect the correct premise of Altered Carbon.