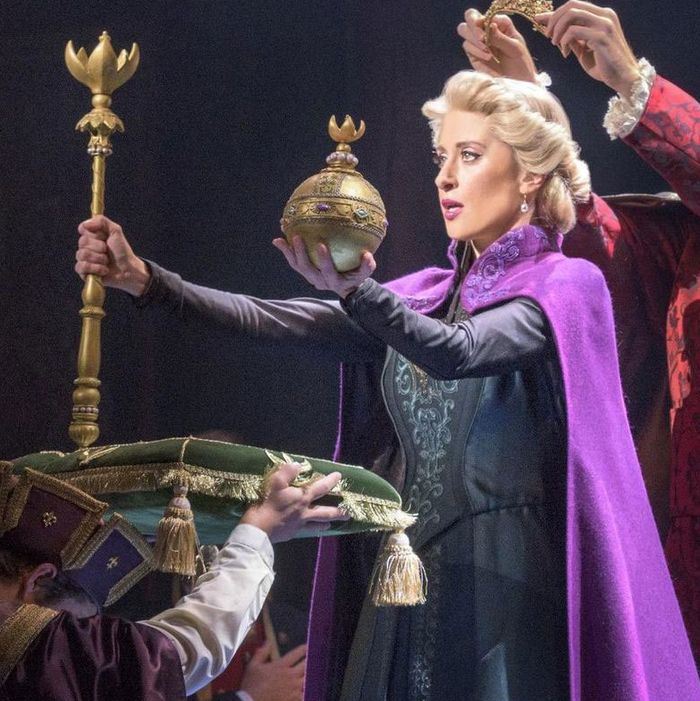 Frozen
, in a mercifully climate-controlled theater.
Photo: Deen van Meer
It's a tricky thing to pull together a "Most Anticipated Shows" list, partly because most of the productions generating buzz this early in the year have enough resources to hitch a ride on the Hype Machine, which runs on cash. I have no doubt that some of the coming year's most exciting shows remain unfunded mysteries at this point, but of the dozens (hundreds, really) that are out there vying for attention already, there's still plenty to look forward to. Broadway's got some heavy-hitters on the way, and there are several killer classical revivals coming from across the pond — but I'm most excited about the number of fascinating new plays Off Broadway that are written and directed by women. Now, if only there were a single woman director of a major classical revival on this list. I'm looking at you, 2019.
New on Broadway
Frozen (previews begin February 22)
Unless you've been frozen — cryogenically, that is — for several years, you're probably familiar with Disney's Hans Christian Andersen–based animated musical phenomenon, with music and lyrics by husband-and-wife team Kristen Anderson-Lopez and Robert Lopez. The question is not whether its glittery, glamorous transfer to the stage will be a success (obviously) — but will it, like The Lion King, transcend its own franchise as a legitimately innovative piece of theater? Either way, there will be adventure, magic, sisterly love, and a wise-cracking snowman.
Mean Girls (March 12)
Gretchen Wieners gets one more chance to make "fetch" happen as Tina Fey's much-loved 2004 teen comedy becomes a Broadway musical. With a book by Fey herself and music and lyrics by Jeff Richmond (Fey's husband) and Nell Benjamin, the Mean Girls musical began its previews in October in Washington, D.C., and looks to be shaping up into a smart, wickedly entertaining adaptation à la 2007's Legally Blonde. You go, Glen Coco!
Harry Potter and the Cursed Child, Parts 1 and 2 (March 6)
When I was in seventh grade, my best friend Halley Potter (yes, her real name) was reading an unfamiliar book inside her desk in math class. "What's that?" I whispered. "Just some story about this wizard kid," she answered nonchalantly. Well, now the gargantuan two-part play that continues the record-breakingly famous saga of that wizard kid — he's now a wizard adult with a (seemingly cursed) kid of his own — is coming to NYC, after a widely praised London run. Director John Tiffany has brought to life awesome physical spectacles like Black Watch, and it will be fascinating to see what he and the New York cast (including some wonderful downtown stalwarts like Jess Barbagallo) make of the most famous magical world in contemporary fiction. Will He Who Must Not Be Named make an appearance? You'll have to go (twice) to find out.
Straight White Men (June 29)
Young Jean Lee's sharp, satirical 2014 play about a Christmas Eve gathering of a father and his three adult sons received serious acclaim in its Off Broadway and Chicago productions, and now, as one of the first shows at Second Stage Theater's new Broadway venue, the Helen Hayes, it will make Lee the first Asian-American woman playwright ever to be produced on Broadway. Lee has justifiably mixed feelings about this, but let's hope the Broadway debut of her play heralds the coming of many more created by artists who don't match Lee's title.
Revivals on Broadway
Angels in America (February 23)
Tony Kushner's Pulitzer-winning two-part epic — which shifted tectonic plates in the theater and beyond when it premiered in the 1990s — is transferring from London's National Theatre at a moment when its "Gay Fantasia on National Themes" feels frighteningly resonant. This time, the Tony- and Olivier-winning Marianne Elliott directs, and Nathan Lane, Andrew Garfield, and Denise Gough (whose performance in People, Places & Things all but tore the roof off of St. Ann's Warehouse) head up a powerhouse ensemble to tell Kushner's interweaving stories of AIDS, religion, love, loss, despair, and hope against hope in the far-reaching shadows of Reagan's America.
Three Tall Women (February 27)
The cast is the major draw for this revival of Edward Albee's 1994 Pulitzer-winning drama in which three nameless women of different ages let us in on the secrets of their lives and relationships. Alison Pill, Glenda Jackson (who's been tearing up stages since 1957 and is a bona fide Dame), and the superlative Laurie Metcalf (who won the 2017 Tony for her performance in A Doll's House Part 2) could probably just stand still doing nothing and create a trio of thrilling performances — so Albee should be fun.
My Fair Lady (March 15)
The Lerner and Loewe musical returns to Broadway for the first time in 25 years under the direction of Bartlett Sher, whose career includes sweeping, surprising new takes on some of the canon's oldest (and sometimes most problematic) chestnuts. He won the Tony for his much-lauded 2008 revival of South Pacific, also at Lincoln Center. Now he's back in the Beaumont with a cast led by Lauren Ambrose (whom Sher tried to cast in Funny Girl a few years ago, only to have the funding collapse at the last minute), Harry Hadden-Paton, and Dame Diana Rigg for the story of the cockney flower girl who learns to speak like a princess.
The Iceman Cometh (March 22)
Eugene O'Neill's 1946 drama about pipe-dreaming alcoholics in a New York City bar gets its fourth Broadway revival, here directed by the great George C. Wolfe and starring Tony and Oscar winner Denzel Washington (last seen on Broadway in 2014 in A Raisin in the Sun). Washington — who specializes in zealous, semi-disturbing charisma — plays the zealous, disturbingly charismatic hardware salesman Hickey, whose arrival throws a wrench into the boozy, oblivious lives of O'Neill's array of street walkers, gamblers, and con men.
Travesties (March 29)
Tom Stoppard's hilarious, poignant comedy of manners and modernity hasn't returned to Broadway since its original production in 1976, when it won the Tony for Best Play. Now, this delightful and erudite-as-hell riff on The Importance of Being Earnest (set in 1917 Zurich, with historical hooligans like James Joyce and Tristan Tzara spicing up the action) is back with the outstanding British character actor Tom Hollander in the leading role of Henry Carr: a minor consulate official who recalls his heady youth in neutral, bohemian Switzerland with an elaborate, wandering sense of whimsy that would make the author of Ulysses and the father of Dada proud.
Saint Joan (April 3)
The scrappy downtown powerhouse Bedlam Theater last brought Shaw's epic examination of faith, hope, heresy, and hypocrisy to New York in a breathtakingly sharp adaptation where only four actors played all 24 roles in the well-known story of Joan of Arc. Shakespeare in the Park veteran Daniel Sullivan's new production will have a lot to live up to, but with Condola Rashad taking on the mantle of the Maid of Orleans, there's bound to be fire at the heart of this revival (and not just when they tie her to the stake).
New Off Broadway
Miles for Mary (January 11)
Lila Neugebauer is known for her sharp, fluid direction of new plays (including, recently, Sarah DeLappe's The Wolves and Zoe Kazan's After the Blast). Now she and her theater company the Mad Ones bring an original, ensemble-created piece to Playwrights Horizons. Their play — the story of a high-school telethon and an "analog elegy" to the 1980s — first appeared at the Bushwick Starr in 2016 and now reaches a wider audience as part of Playwrights' new Redux Series.
He Brought Her Heart Back in a Box (January 18)
Theater for a New Audience expands upon its familiar repertoire of classics with the first new play in ten years by the great Adrienne Kennedy, a formative voice in modern African-American drama and the playwright of Funnyhouse of a Negro. Evan Yionoulis directs the 86-year-old innovator's new piece, an expansive, heartbreaking memory play set in Georgia and New York in 1941, stretching from Jim Crow to Christopher Marlowe in its exploration of segregation, doomed love, hypocrisy, and desire.
[PORTO] (January 28)
Under the direction of Lee Sunday Evans, Kate Benson's smart, soulful new play about food, sex, gentrification, and an unexpected encounter between a regular and a stranger at a bar in an all-too-recognizable Brooklyn neighborhood won wide acclaim with its original production at the Bushwick Starr last year. Now it transfers to the Women's Project, in association with the Bushwick Starr and New Georges, for its much-anticipated Off Broadway premiere.
Returning to Reims (February 4)
The German auteur Thomas Ostermeier is known for his raucous, revelatory riffs on classical works of theater (his savage Richard III, starring the decadently wicked Lars Eidinger, was a hard-rocking highlight of last year's New Wave Festival at BAM) — but now he turns his sights to an original piece, and a disturbingly timely one. Playing at St. Ann's Warehouse, this adaptation of the memoir by philosopher Didier Eribon examines the rise of the ugly, fearful strain of populism that's tearing through French politics — not to mention the daily poisoning our own. Homeland's Nina Hoss stars as an actress recording the voice-over for a documentary based on Eribon's book, and through these layers Ostermeier creates a theatrical investigation of today's dizzying climate of aggressive political activism, right-wing isolationism and xenophobia, and left-wing complacency and hypocrisy.
Is God Is (February 6)
Aleshea Harris won the 2016 Relentless Award for her modern myth about twin sisters from the deep South on a cross-country quest for vengeance. Taibi Magar directs this wild collision of Afropunk, Greek tragedy, dark comedy, and spaghetti Western in its world premiere at Soho Rep.
The Fall (March 8)
Winner of the prestigious Fringe First Award at last year's Edinburgh Fringe Festival and on its way to the Royal Court in London after this sojourn at St. Ann's Warehouse, The Fall is a fierce, collaboratively devised play by seven actors who helped to lead the #RhodesMustFall protest movement at the University of Cape Town. Through song, dance, and athletic physicality, these student performers and activists recount their fight to tear down a colonialist monument on their school's campus — a story that couldn't be arriving Stateside at a more charged and fitting moment.
Dance Nation (April 13)
Playwright Clare Barron is becoming well known for her playful, painful examinations of the messy, loving, yearning business of growing up. I'll Never Love Again (based on her own teenage diaries) was a highlight at the Bushwick Starr in 2016, and now her Relentless Award–winning play sashays into Playwrights Horizons. Dance Nation is a comedy with life-or-death stakes: those of the preteen dance world. Who will make it to the Boogie Down Grand Prix in Tampa Bay, Florida? And whom will they have to crush under their tiny, ballet-slippered feet along the way? Clearly there's no cause to doubt Barron's commitment to Sparkle Motion.
Singlet (May 16)
I really didn't know I was waiting for a twist on Genet's The Maids where the titular servants play their erotic games while trying on pro wrestling onesies instead of Madam's minks and pearls. But it turns out, thanks to Erin Markey, I definitely am. Markey — a singer, writer, and performance artist whose offbeat cabaret persona has earned her a deserved cult following — is reworking Genet's classic power play at the Bushwick Starr to tell the story of two assistants to an Olympic weightlifting champion. Or are they? Markey's characters and their relationship to each other shift in every scene of this dark, mischievous comedy, so fasten your seat belts — it's going to be a bumpy night.
Fire in Dreamland (July 17)
Playwright Rinne Groff and director Marissa Wolf bring a new piece about rising from the ashes to the Public Theater. Fire in Dreamland takes place on Coney Island in the devastating wake of Hurricane Sandy. When its disillusioned protagonist meets a charismatic European auteur bent on making a film about a different Coney catastrophe (the 1911 fire that burned the amusement park known as Dreamland to the ground), she starts to find a sense of beauty and purpose amid the wreckage.
Revivals Off Broadway
Yerma (March 23)
The Guardian called Billie Piper "earth-quaking" as the title character of Simon Stone's new adaptation of the moody, explosive Lorca classic about a woman in provincial Spain whose desire for a baby drives her past the bounds of sanity. Winner of the 2017 Olivier Awards for Best Revival and Best Actress, this transfer from London's Young Vic is one of the most hotly anticipated productions at the Park Avenue Armory — or anywhere else for that matter — this spring.
King Lear (April 7)
A storm is coming. The great Sir Antony Sher last appeared at BAM two years ago in Gregory Doran's vast King and Country Cycle playing another, perhaps less respectable but no less inimitable knight — Sir John Falstaff. More than any other actor I've seen in the role, Sher revealed the dark, physically decaying flip side of Falstaff's epic vitality: The man was a force of nature, yes, but he was an aging addict, too. Now Sher sheds the fat suit and rejoins Doran to tackle the title mad monarch in Shakespeare's harrowing howl of a play, the infinitely expansive, often-called "impossible" King Lear.
Long Day's Journey Into Night (May 8)
Jeremy Irons and Lesley Manville lead the cast of Richard Eyre's revival of Eugene O'Neill's Pulitzer-winning behemoth of American theater, the saga of the legendarily messed up Tyrone family, told over the course of a single day at their Connecticut summer home. All happy families are alike, but the Tyrones are a class unto themselves. Transferring from London's Old Vic, Eyre's production plunges us back into their world of alcohol, addiction, illness, acerbic wit, and twisted but indissoluble filial love.
Love and Intrigue (June 6)
The 73-year-old Lev Dodin is a titan of the modern Russian theater and among the most significant directors working in the world today. His company, St. Petersburg's Maly Drama Theatre, last visited BAM in 2016 with their production of The Cherry Orchard — in which the stunning actress Elizaveta Boyarskaya successfully made Chekhov's play the tragedy of her character, the slighted half-sister Varya. Now Dodin and Boyarskaya are back at BAM with a sweeping production of Friedrich Schiller's little-produced (at least in this country) 1787 tragedy of class struggle, courtly intrigue, and the poisonous immorality of the rich and powerful.