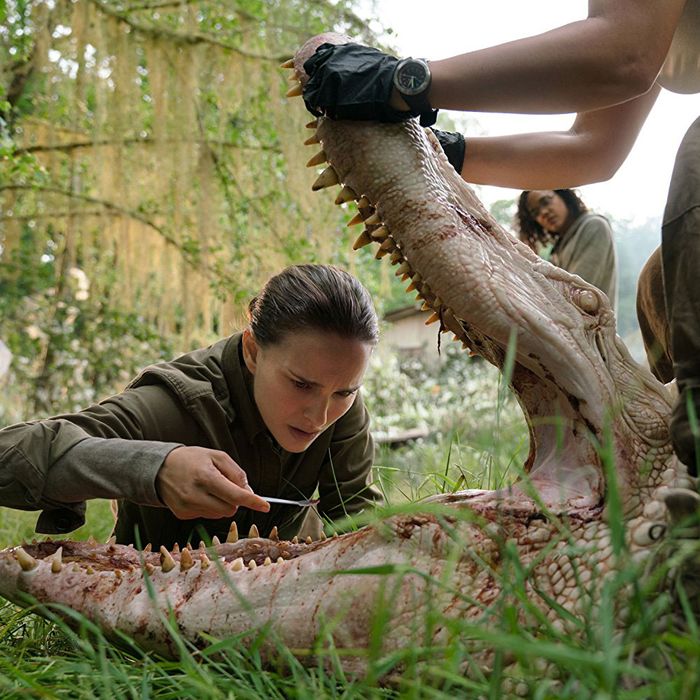 Annihilation.
Photo: Paramount Pictures
I know, I know — you're still catching up with 2017's Oscar field, and now we're giving you dozens of other movies to care about? Still, there's plenty to get excited for this year at the movies. Beloved directors return! The MCU builds to a climax! Plus, your new friends Saoirse Ronan, Tessa Thompson, and Margot Robbie will be there! From megabudget superhero movies, to the littlest of indies, here's your guide to the movies we're most excited for this year.
Proud Mary (January 12)
A Taraji P. Henson action thriller this close to Black Panther's release feels like an embarrassment of riches, but we'll take it. Henson pauses playing Empire Queen Bee Cookie to pick up her gun as a hitwoman working for an organized crime family in Boston. Beware the glamorous assassin with a collection of lace fronts.
Fifty Shades Freed (February 9)
What's not to love about an Abercrombie & Fitch model finding BDM lust with a Luca Guadagnino muse? Miracles happen! Look at the resplendent gifts this mouth-breathing franchise has given us already: one very good Beyoncé cover, one very conveniently placed Chronicles of Riddick poster, and a hefty amount of (undeserved) Rita Ora shade. You know the drill: Christian and Ana are married now, but their wedded bliss is interrupted by a disgruntled ex (this time it's her old boss, a Bradley Cooper look-alike) that's stalking the duo. Maybe this time we'll even get to see Mr. Grey's dick.
Early Man (February 16)
The folks behind Wallace and Gromit have a new stop-motion feature that takes place in the dark days prior to the invention of Wensleydale cheese. It's the Bronze Age, which is bad news for a lovable caveman voiced by Eddie Redmayne. You know the kind of cozy humor you're getting from Aardman Animations, but hey — why reinvent the wheel?
Black Panther (February 16)
The movie's historic impact cannot be overstated: in 1966, Black Panther burst into popular consciousness as the first mainstream comic-book superhero of African descent. And now he's the first black character to get a stand-alone feature within the Marvel Cinematic Universe — one specifically intended to launch a new blockbuster franchise. Directed by Creed/Fruitvale Station filmmaker Ryan Coogler, the film stars Chadwick Boseman (42, Marshall, Captain America: Civil War) as T'Challa, king and protector of the fictional African nation of Wakanda. He's a "powerful warrior and strategic genius in politics and economics" (if a leaked casting call can be believed) also known for leaping into combat wearing Vibranium-enhanced sacred armor. Lupita Nyong'o turns up as a covert agent in T'Challa's employ who strikes down foes with righteous fury, while Michael B. Jordan plays the bad guy: an exiled prince turned megabuff supervillain whose bad blood with Black Panther threatens to drag Wakanda into a world war.
Annihilation (February 23)
A formidable female ensemble led by Natalie Portman and Jennifer Jason Leigh is reason enough to be excited for Annihilation, even if mutant sharks aren't usually your thing. Director Alex Garland's follow-up to Ex Machina is an adaptation of Jeff VanderMeer's psychedelically creepy sci-fi horror novel, which follows an expedition of four women into a mysterious, possibly paranormal region known as Area X. Suffice it to say things get weird, fast. The film has had a bumpy time in postproduction, so fingers crossed it doesn't get too dumbed down for the big screen. Tessa Thompson, Gina Rodriguez, and Oscar Isaac also star.
Red Sparrow (March 2)
Jennifer Lawrence plays a Russian prima ballerina turned lethal spy seductress in this hard R-rated espionage thriller from filmmaker Francis Lawrence (who also directed J.Law in the last three Hunger Games installments). As Joel Edgerton — her Sparrow character's CIA nemesis/paramour — intones in the trailer, "Young officers trained to seduce and manipulate, to use their bodies, to use everything: that's what she is." To hear it from reports on early footage (shown while the film was still in production last May), the film's overall aesthetic is visually sumptuous but big on visceral jolts; sex scenes, nudity, and bloody altercations abound. And despite Red Sparrow's genre trappings, the supporting cast oozes class with Charlotte Rampling (portraying the headmistress of Sparrow school), Joely Richardson (as Lawrence's mother), Matthias Schoenaerts (nearly unrecognizable as a Vladimir Putin doppelgänger) and Jeremy Irons.
A Wrinkle in Time (March 9)
Middle-school substitute teachers, rejoice: From the mind of Ava DuVernay — and the coffers of Disney — comes this big-budget Madeleine L'Engle adaptation, which follows a young girl (Storm Reid) searching for her lost father (Chris Pine) in a time-, space-, and mind-bending journey through the universe. Oprah, Mindy Kaling, and Reese Witherspoon play her trio of magical guardians, all of whom should inspire some amazing RuPaul's Drag Race costumes someday.
The Death of Stalin (March 9)
Are you ready to laugh at the buffoonish antics of a bunch of Russian politicians? The second feature film from Veep's Armando Ianucci turns the chaos that gripped the Kremlin after the death of, well, you know, into an all-out farce. A cast of international comedy all-stars, all speaking in their native accents, adds to the fun.
Love, Simon (March 16)
Timothée Chalamet stans have already been scouting their next twink of choice; Nick Robinson, the 22-year-old star of the dramedy Love, Simon looks like a promising selection. Robinson plays Simon Spier, a high-school junior who's juggling coming out to his family and friends with a very You've Got Mail online crush on another student at school. Greg Berlanti, famous for Dawson's Creek and the CW's Arrowverse, takes a break from the DC Universe to take on a queer coming-of-age story that's a little less Luca Guadagnino and a little more John Hughes.
Isle of Dogs (March 23)
Back in 2009, Wes Anderson's Fantastic Mr. Fox seemed like a stop-motion animation experiment — a quirk-packed one-time creative indulgence for the Royal Tenenbaums writer-director within a kids' flick genre. But his ninth feature not only finds the Oscar nominee returning to the format, he's doubling down on talking animals. Set in 2030s Japan, where "canine saturation has reached epidemic proportions" — and all dogs have been exiled to a garbage-dump island — Dogs follows 12-year-old Atari Kobayashi, who recklessly sets off there in pursuit of his lost canine companion, Spots. Featuring a typically Anderson-ian ensemble dream team of vocal talent, including Edward Norton, Bryan Cranston, Greta Gerwig, Ken Watanabe, Bill Murray, Jeff Goldblum, Courtney B. Vance, and Frances McDormand, the film is set to kick off the Berlin Film Festival in February.
Pacific Rim Uprising (March 23)
Guillermo del Toro's ode to giant robots fighting giant monsters, Pacific Rim, was a commercial disappointment in the United States upon its arrival in 2013. But its ever-growing legion of hard-core American fans must give their thanks to the people of China, who made it a global hit and ensured the existence of its Steven S. DeKnight–helmed sequel. Star Wars' John Boyega enters the burgeoning franchise as a young man who enters an ongoing global battle against towering extradimensional beasts, but the cast is notably devoid of bold-faced names among the cast. As a result, one can hope for a focus on ensemble storytelling in a piece of high-octane popcorn entertainment.
Ready Player One (March 30)
The pop cultural references — classic arcade games! Back to the Future! Pat Benatar! — pile up thick and fast in director Steven Spielberg's effects-heavy adaptation of Ernest Cline's sci-fi novel. The setting: a dystopian future teetering on the brink of environmental collapse where humankind has found refuge in a virtual reality simulator known as the OASIS, established by a billionaire tech visionary who has hidden several "Easter eggs" within the system and posthumously promising his vast fortune (and control over the corporation that runs the OASIS) to whoever uncovers them. Enter quippy teenage orphan Wade Watts (Tye Sheridan), who ventures into this digital dreamland of comic book characters, old movies, and cheesy pop tunes in an attempt to own inner space. This stuff should be catnip to the Comic-Con masses for its underlying message: Gamers and junk-culture junkies are not only valuable members of society; they might just save the world.
You Were Never Really Here (April 6)
Lynn Ramsay is one of the most singularly talented directors working today, which of course means she takes her sweet time between her films. This is her first release since 2012's We Need to Talk About Kevin premiered at the Cannes Film Festival last year to a seven-minute standing ovation, despite not even being a final cut. Based on a novella by Jonathan Ames, it stars Joaquin Phoenix as a tortured hitman who brings justice to a Manhattan sex-trafficking ring. It's dark, intense stuff, but Ramsay is more than up to the task.
The New Mutants (April 13)
If the superhero genre is going to survive, it has to learn how to get along with others, and Josh Boone's The New Mutants aims to be an object lesson for its fellow superpowered cinematic outings. Loosely based on a classic Marvel Comics story by Chris Claremont and Bill Sienkiewicz, this flick will be loosely connected (just how loosely remains to be seen) to the larger X-Men film franchise. However, it'll be set in the claustrophobic environment of a mental institution and Boone has said he wants it to feel like a horror movie, first and foremost. If he and his collaborators can create that kind of hybrid beast and make it roar, it could be a watershed moment in the history of superhero cinema.
The 2018 Cloverfield Movie (April 20)
The purported third film under J.J. Abrams's extremely mystery-boxed Cloverfield banner has gone through a few phases and release changes since originally being announced as God Particle in 2012. We're a few months out from the space thriller and there's still nary a poster to theorize about — but this is a Cloverfield film we're talking about (we think). Also, that cast: David Oyelowo, Elizabeth Debicki, Daniel Bruhl, and Gugu Mbatha-Raw! The plot, or what we know of it, concerns the crew of a space station whose experiments with a particle accelerator accidentally end up deleting Earth. Hate when that happens.
Avengers: Infinity War (May 4)
Few movies have seemed more destined to make a billion dollars than Avengers: Infinity War. The Marvel Cinematic Universe has shifted the foundation of modern Hollywood in the past decade, and ten years almost to the day since it launched with 2008's Iron Man, it will deliver its most ambitious project yet: a film that unites every single protagonist introduced in its 17-picture run. That may seem like an impossible juggling act to pull off without bewildering an audience, but directors Joe and Anthony Russo and screenwriters Christopher Markus and Stephen McFeely pulled off a similar trick in their previous jam-packed Marvel outing, Captain America: Civil War. Go to the bathroom beforehand, because this sucker will run long.
Solo: A Star Wars Story (May 25)
Until now, this Star Wars spinoff's primary talking point has been the firing of co-directors Phil Lord and Chris Miller — who were replaced by Ron Howard with just three weeks left to the production in June. Still, fans of the episodic sci-fi serial are champing at the bit to see Alden Ehrenreich's embodiment of a young Han Solo in this stand-alone installment — variously described as a "space Western" and a "gangster movie" — which is set prior to the events of 1977's original Star Wars and plotted around the roguish galaxy-far-far-away smuggler's pre-Rebellion adventures with Chewbacca and Lando Calrissian (Donald Glover). In the absence of a first trailer, details remain scant, but hot rumor has it that longtime Solo nemesis Boba Fett puts in an appearance.
Deadpool 2 (June 1)
Has there been a more foregone conclusion than the greenlighting of Deadpool 2? The Ryan Reynolds–starring first installment, released in early 2016, became one of the more insanely profitable movies in recent history, generating $783 million off of a $58 million budget. Creative differences led to Deadpool director Tim Miller's replacement in the sequel by Atomic Blonde director and former stuntman (!) David Leitch, meaning audiences will get to find out how much of the fart-scented magic of the original was due to its director and how much was due to Reynolds. Supporting actors Josh Brolin and Zazie Beetz will likely be charming, but the presence of TJ Miller, who has recently been accused of sexual assault, is likely causing anxiety for the bigwigs at Fox.
Ocean's 8 (June 8)
Consider it a happy coincidence that the year after the men of Hollywood jumped the shark, we've got plenty of big, female-driven studio projects. The centerpiece is this highly anticipated reboot (how often are those words said together?) of Steven Soderbergh's Oceans trilogy (which was itself a reboot, of course). Sandra Bullock leads the team as Danny Ocean's sister Debbie, who gets out of prison and immediately begins planning a heist at the star-studded Met Ball. Nobody said 2018 was going to be easy, but at least we'll have Cate Blanchett and Rihanna onscreen together, as god intended.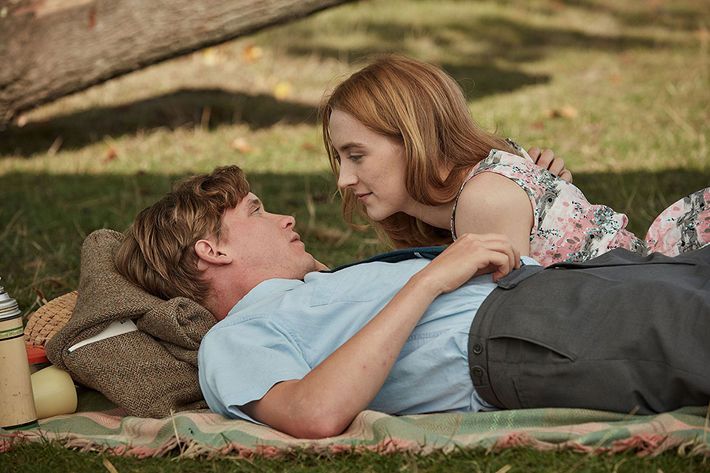 On Chesil Beach (June 15)
How's this for summer counterprogramming — an adaptation of Ian McEwan's 2007 novella about a young couple in early '60s Britain whose worlds are turned upside-down by a night of terrible sex. Saoirse Ronan stars alongside Billy Howle, who was one of the many indistinguishable British guys in Dunkirk.
The Incredibles 2 (June 15)
The Incredibles was one of the best superhero movies of the early aughts (it ranked No. 5 on our list), and for good reason: Edna Mode! Voice acting by Craig T. Nelson and Holly Hunter! Plus "Honey, where's my supersuit?" Original writer-director Brad Bird returns for this sequel, which finds Elastigirl out saving the day while Mr. Incredible tries being a stay-at-home dad.
Sicario 2: Soldado (June 29)
Relentlessly grim, blisteringly violent, and shot through with a kind of bone-weary moral ambiguity, the 2015 crime-drama Sicario distilled America's war on drugs down to a cat-and-mouse conflict between special ops contractors (Josh Brolin and Benicio del Toro in conjunction with Emily Blunt's straight-arrow FBI field agent) and Mexican drug kingpins. Although original director Denis Villeneuve didn't re-up for the sequel, Taylor Sheridan (who wrote the screenplays for both films) says the second installment is even darker — "It makes the first one look like a comedy," he said in an interview last summer — with Brolin and del Toro coming back to trade fire with cartel-enlisted terrorists. "It's pretty severe," Brolin confirms to Vulture. "I saw the most recent cut and was like, 'Fuck!' I'm psyched about this one."
The Purge: The Island (July 4)
The Purge series has grown from an ultra-low-budget family chamber play to a full-on horror juggernaut, so it's about time we gathered 'round for its bloody origin story. The Island is set before the titular lawless night is adopted by the U.S. government, during what series creator and writer James DeMonaco described as "the first experimental Purge." He told Vulture's Jordan Crucchiola that "of all the movies, it's definitely the most topical. It really is a creepy reflection of what's happening right now." Also, it takes place on Staten Island. The jokes write themselves, folks.
Ant-Man and the Wasp (July 6)
Unlike the vast majority of Marvel movies, it was not a foregone conclusion that Ant-Man would get a sequel. But people seemed to like it, and it made a decent amount of money, so here we are. The title refers not just to Evangeline Lilly's Hope van Dyne (who's got her own supersuit now) but also her missing mother Janet, whom viewers will recall disappeared into the Quantum Realm. Considering Janet's being played by Michelle Pfeiffer, I'm guessing she's coming back.
Alita: Battle Angel (July 20)
If your thirst for cyberpunk wasn't slaked by last year's Blade Runner 2049, fear not, for Alita: Battle Angel is on its way. There's a lot of pedigree behind the picture: Robert Rodriguez is directing, as well as co-writing with James Cameron and Shutter Island scribe Laeta Kalogridis; Cameron and blockbuster partner Jon Landau are producing. Despite all that, it's going to be a bit of a hard sell. It's a live-action adaptation of a hit manga series by Yukito Kishiro, one that the average American has zero familiarity with; the quirky story follows a cyborg bounty hunter searching for her lost memories; and the aforementioned cyborg will be rendered with bizarrely large eyes that have already become the subject of mockery. Even if it fails to land, perhaps this will go the way of the Wachowskis' Speed Racer and become a cult favorite for its ambitious attempts to plumb Japanese pop literature and the Uncanny Valley.
Teen Titans Go! to the Movies (July 27)
Teen Titans Go! is low-key the best DC Comics–based show on TV. The cartoon's glaring primary colors and frenetic pace provide the sugar-cereal stimulation necessary to entertain a 7-year-old, but its wit is surprisingly sharp and it innovatively ports superhero tropes into sitcom situations in a way that merits study from anyone who writes tales of capes and cowls. The series is getting its own movie in 2018 and may pick up the torch of last year's The Lego Batman Movie by being an animated flick that both sends up and lovingly fleshes out the tropes of the spandex genre.
Crazy Rich Asians (August 17)
Fresh Off the Boat's Constance Wu stars in the adaptation of Kevin Kwan's best-selling novel, which, for all its rom-com trappings and studio gloss, has the potential to be downright revolutionary. There have been a handful of all-Asian casts in American studio movies before, but none this contemporary. Wu plays Rachel, an economics professor who goes to Singapore with her long-term boyfriend (Henry Golding) for a wedding, only to discover his family and their social circle are, as the title suggests, insanely wealthy — and none too approving of her. Michelle Yeoh, Harry Shum Jr., Awkwafina, and Ken Jeong all round out the massive ensemble.
Boy Erased (September 18)
Jared Conley (Lucas Hedges) was 19 when he was outed to his family, and forced into "counseling" for his homosexuality. Based on his 2016 memoir, Boy Erased tells the story of that twisted conversion therapy. Joel Edgerton directs the coming out — and coming-of-age — drama: Jared spars with the camp's head therapist, played by Edgerton himself, and battles his conservative Baptist parents, played by Nicole Kidman and Russell Crowe.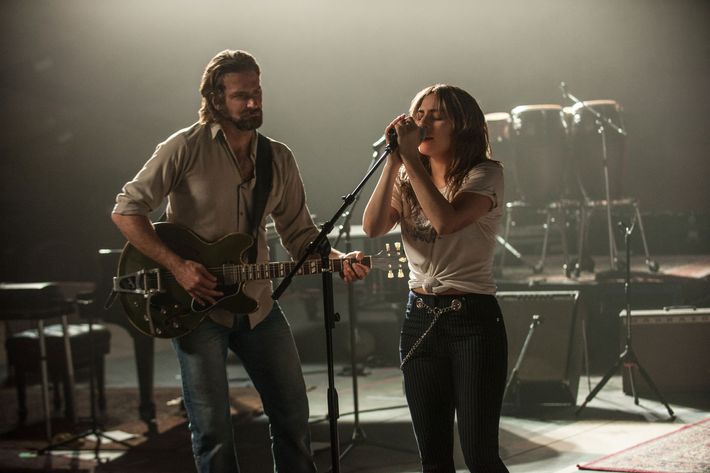 A Star Is Born (October 5)
First Clint Eastwood flirted with directing Beyoncé in this third remake of the Judy Garland–starring 1937 classic. But Bradley Cooper ultimately boarded the romantic musical-drama to make his directorial debut. He also co-stars as Jackson Maine, a faded country music star who discovers and embarks on a torrid love affair with a talented unknown named Ally (Lady Gaga — who goes by government name Stefani Germanotta here). But as her star begins to rise and eclipses his achievements, Jackson struggles with the existential fallout of his career decline. With musical performances by Cooper and Gaga shot at Coachella and the U.K.'s Glastonbury Festival last year, expect the movie to hew more closely in style and substance to 1976's Barbra Streisand–Kris Kristofferson incarnation than the original.
Venom (October 5)
Topher Grace played the sharp-fanged comic book supervillain in director Sam Raimi's 2007 Spider-Man 3. Now it's Tom Hardy's turn to inhabit the role — Spidey's most infamous arch-enemy, Eddie Brock, who finds himself enveloped by a symbiotic alien, supersuit-like, that imbues its host with incredible powers — in this R-rated bad-guy-centric spinoff. Almost no information about the Ruben Fleischer–directed film has reached the public, save that Spider-Man won't be in it. But given Oscar nominee Hardy's predilection for portraying psychotic, intense, often terrifying characters, expectations are high that Venom won't anything like usual heroes-in-tights fare.
First Man (October 12)
Yes, 2018 will see both Early Man and First Man, though I guess that's nothing compared to 2017's string of movies with "wonder" in their titles. This one has nothing to do with cavemen — it's Damien Chazelle's Neil Armstrong biopic, starring Ryan Gosling. (If you prefer your astronauts sexily bald, Corey Stoll will play Buzz Aldrin.) And if you're curious — yes, Neil Armstrong played jazz.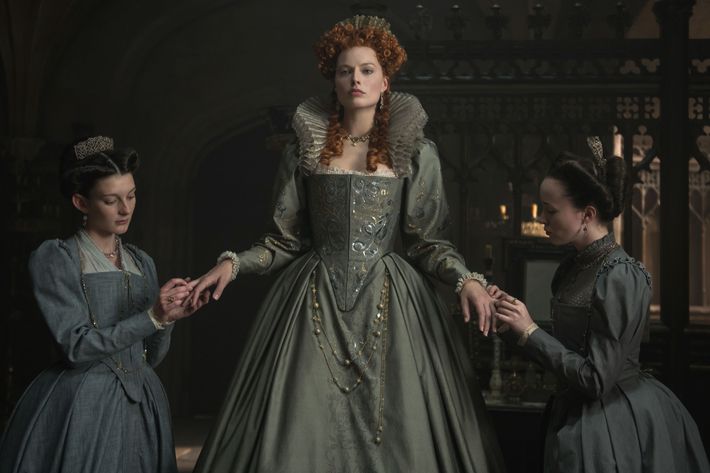 Mary Queen of Scots (November 2)
From Sacramento issues to sacramental issues (which of course were at the heart of the religious factionalism of the 16th century), Lady Bird's Saoirse Ronan stars as the titular monarch in this biopic by the Donmar Warehouse's Josie Rourke. As always, she'll face off against Elizabeth II, who's played in this telling by Margot Robbie, an actress who's already proven she's capable of embodying a queen.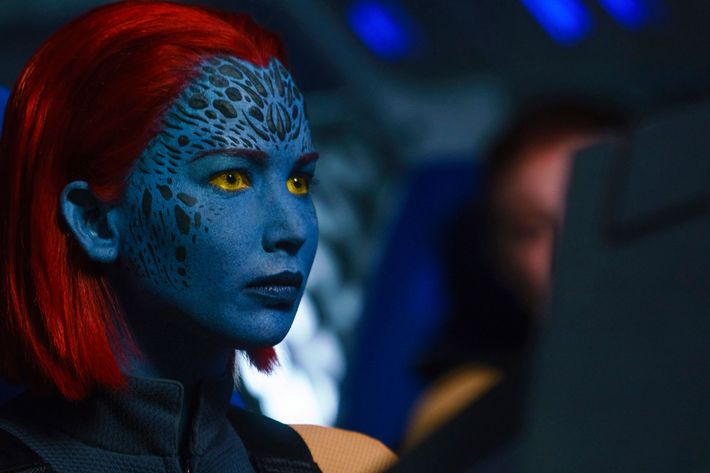 X-Men: Dark Phoenix (November 2)
The X-Men film franchise has always been a hit-or-miss endeavor, and the last entry in the core sequential story, 2016's X-Men: Apocalypse, has largely been chalked up as a miss. The next installment, Dark Phoenix, is a risky endeavor, largely because of its writer-director, Simon Kinberg. Though Kinberg has long been a producer on the franchise, his record is spotty on writing (Fantastic Four, Abraham Lincoln: Vampire Hunter, X-Men: The Last Stand) and he's never directed a feature before. The '90s-set story will adapt one of the most famous in the X-Men comics canon, so expectations among geeks will be high. It'll also be interesting to see how the tale wraps up, given that this ongoing story may be coming to a close thanks to the planned Disney–Fox merger. Could rewrites after the deal's announcement make this the rare superhero movie with an actual conclusion?
Creed 2 (November 21)
The first Creed movie matched a triumphant sports movie with daddy issues, plus a healthy amount of Michael Bae Jordan thirst fulfillment. The sequel looks to offer the same: Sylvester Stallone has hinted that this time Donnie (Jordan) will go up against the Ivan Drago character that killed Apollo in Rocky IV.  With Sly otherwise occupied, Creed has found a new Coogler-approved director: Steven Caple Jr.
Spider-Man: Into the Spider-Verse (December 14)
Introduced in the pages of Marvel Comics in 2011, Miles Morales has swiftly become one of the most beloved new characters in superhero-dom. He's an Afro-Latino teenager living in New York City who assumes the Spider-Man mantle after the death of Peter Parker (it's comics, so Peter's fine now, don't worry), and though he represented a breakthrough for representation of people of color in comics, he also turned out to just be a solid vehicle for storytelling about adolescence, legacy, and family. He makes his big-screen debut in this CGI-animated flick set in a different world than last year's live-action Spider-Man: Homecoming. Well, we should say worlds, plural, because it appears that the picture will follow Miles's adventures across the multiverse, interacting with alternate versions of Spider-Man from myriad other dimensions. If that seems intimidatingly confusing, take comfort in the fact that it's written by The Lego Movie scribes Phil Lord and Chris Miller alongside Gravity Falls creator Alex Hirsch. Plus, it has the voice of Mahershala Ali and that, alone, is likely to be worth the price of admission.
Aquaman (December 21)
The DC Comics–adapted Aquaman will be a moment of truth for Warner Bros. Audiences and critics turned their noses up at their last DC movie, November's Justice League; will 13 months be enough time for the stink to wash away? There's reason to believe this undersea epic about a superpowered amphibi-man will turn out significantly better than Justice League did: Unlike the latter, it wasn't plagued by directorial replacements or reports of behind-the-scenes chaos. Instead, we've heard about a smooth production led by The Conjuring director James Wan. On top of that, Aquaman has been guided at a senior level by DC films co-chairs Geoff Johns and Jon Berg, whose influence on Justice League was limited but who played a major role in DC megahit Wonder Woman. Will Aquaman's quality and reception skew more toward the latter than the former? Audiences will have to dive in to find out.
Mary Poppins Returns (December 25)
The woman who taught American children the meaning of the word "tuppence" is back, and this time she's being played by Emily Blunt. Disney would very much like you to know that this is a sequel and not a remake, which means that Blunt's Poppins is visiting the grown-up versions of the children she nannied all those years ago. She also brings along a lamplighter — not a chimney sweep! Never a chimney sweep! — played by Lin-Manuel Miranda, whose Cockney accent might be the greatest challenge of his career.
Roma (TBD)
After forays into dystopian futures, Hogwarts, and outer space, director Alfonso Cuarón has downscaled for this intimate family drama set in 1970s Mexico. If it's anything like the director's Y Tu Mama Tambien, we're onboard, though we'll miss the contributions of Cuarón's longtime cinematographer, the Oscar winner Emmanuel Lubezki.
If Beale Street Could Talk (TBD)
It took almost a decade for director Barry Jenkins to mount a follow-up to his debut Medicine for Melancholy, but that second film was the acclaimed Moonlight, and Jenkins hasn't wasted any time since its Best Picture win. Last fall, he began shooting If Beale Street Could Talk, his adaptation of the James Baldwin novel about two young lovers split apart by police corruption. Here's hoping we don't have to wait too long to get a first look.
Suspiria (TBD)
After his mainstream breakthrough with Call Me by Your Name, director Luca Guadagnino is switching gears with this remake of the classic Dario Argento horror film, this time starring Tilda Swinton and Dakota Johnson. When we recently spoke to Armie Hammer for Vulture, he raved about screening an early cut of Suspiria: "It's awesome, I loved it. It ticked a lot of my boxes … it's cold, it's dark, it's austere, it's moody, it's broody, it is evil! Full-on evil!"
Widows (TBD)
Director Steve McQueen follows his Best Picture winner 12 Years a Slave with this legends-only crime thriller written by Gillian Flynn and starring Viola Davis, Cynthia Erivo, Elizabeth Debicki, and Michelle Rodriguez as four widows who decide to finish off the heist that killed their husbands. That should really be enough for you, but the movie also co-stars Colin Farrell, Carrie Coon, Daniel Kaluuya, Liam Neeson, and Jon Bernthal, just in case you were somehow on the fence.
The Nightingale (TBD)
Jennifer Kent's sterling horror movie The Babadook was among 2014's best films, then became one of 2017's most unexpected memes. At least it has kept anticipation high for her next project, a revenge thriller set in 19th-century Tasmania about an Irish convict who teams up with an Aboriginal tracker to find the men who killed her family.
Beautiful Boy (TBD)
After seizing the spotlight with both Call Me by Your Name and Lady Bird this past season, Timothée Chalamet will prove he's no fluke with his role in Beautiful Boy as a young man whose meth addiction tests his relationship with his father (Steve Carell). It's based on the memoir by David Sheff, and should be a harrowing experience.
The Sisters Brothers (TBD)
Jacques Audiard, one of the best French directors, plunges into English-language cinema with a stacked cast: Joaquin Phoenix, John C. Reilly, Jake Gyllenhaal, and Riz Ahmed all headline this story about two assassin brothers pursuing their mark in 1850s Oregon. With a cast like that doing the gun-slinging, we're in.
Slice (TBD)
Chance the Rapper's film critiques are well-documented. (Chano loves The House, hates Bullworth, and isn't so impressed by Bright.) In 2018, might he officially move to the big screen? In October 2016, A24 first announced Slice, a movie written and directed by Chance's frequent collaborator Austin Vesely (Vesely directed the music videos for "Angels" and "Sunday Candy"). An eerie teaser hints at the horror-thriller plot: A mysterious outlaw is framed for a murder spree targeting pizza deliverers. Starring alongside Chance are Zazie Beetz, Joe Keery, and Paul Scheer.
Dumplin' (TBD)
Danielle Macdonald won us over as the shit-talking rapper at the heart of the Sundance hit Patti Cake$. Now she's onto a bigger-budget coming-of-age comedy: Macdonald plays plus-size high-schooler Willowdean Dickson, who's decided to enter into a local beauty pageant. Jennifer Aniston plays her mom, Lady Bird's Odeya Rush is her bestie. A bonus: new music from Dolly Parton. "They're using a lot of my music from the old days but they asked me to write some new pieces and a theme song," the icon told E! News.
Check out the new movies coming out we're excited to see in 2019.