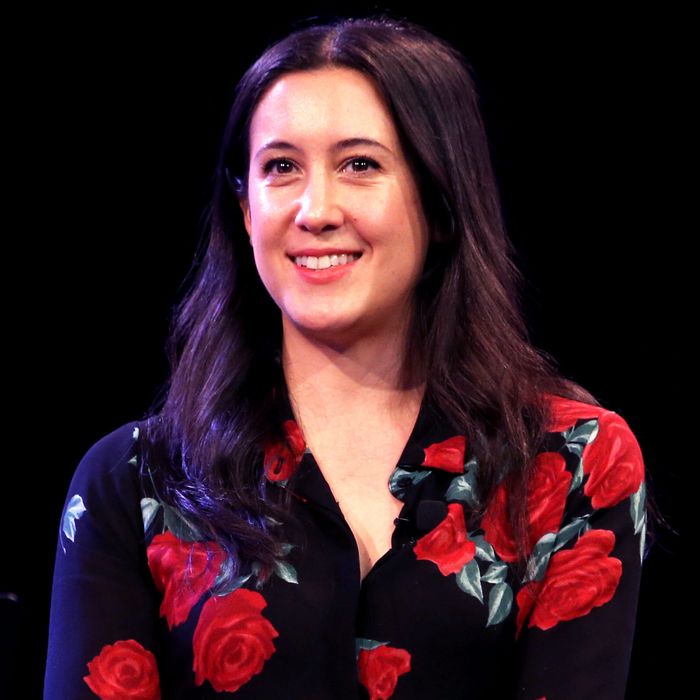 Vanessa Carlton.
Photo: Getty Images
On Sunday, singer-songwriter Vanessa Carlton watched the Grammys for the first time in years, hoping for improvement. As the night slogged on, though, she saw Alessia Cara become the lone woman to get a top award, while only 17 women or women-fronted acts won the night's 86 trophies. Then came the single vocal acknowledgment that the music industry also has a #MeToo problem, with a performance from Kesha. Meanwhile, Lorde, the only woman up for Album of the Year, was reportedly denied her chance to perform alone. Immediately following the glaringly uneven night, Recording Academy president Neil Portnow inflicted another blow when he posited backstage that women were perhaps to blame for their underrepresentation, saying they need to "step up" if they want to be included.
Portnow has since walked back his comments, but the damage is done: Women are stepping up … to take on Portnow. Dozens of artists — Pink, Katy Perry, Charli XCX, Halsey, Kelly Clarkson, and more — have chewed him out over his statement. But Carlton, a three-time Grammy nominee, is channeling her anger into action. On Wednesday, she tweeted a petition created by an activist urging Portnow to resign from his post; afterward, she began publicly sharing it with some of her high-profile peers asking for their signatures.
Vulture spoke to Carlton on the phone hours after her tweet to discuss being fed up, why she foresees the music industry having its own #MeToo reckoning, and the NDA that's kept her quiet.
I wasn't aware you were an Academy member. When did you become one?
They invite you to become a member for certain reasons, like working in the industry. They invited me to join NARAS [National Academy of Recording Arts and Sciences] shortly after I received a nomination in 2002. I don't recall the exact date I signed up. It's interesting that you bring that up, because the NARAS voting block needs to be looked at.
What has the gender breakdown looked like to you since you've been a NARAS member?
Well, I'm not on the board — there are like 25 people on that — and then there's all of these NARAS voters. This is really worth digging into: I think the voting block of NARAS is predominately white males. It's so funny Neil thought he could say what he said. It's his responsibility to oversee the voting environment. I would like to know what the numbers are because I don't think he thinks there's an issue, but the numbers will not lie. I would not be surprised if women are not well represented in that group. I've never been privy or given a choice as to how the categories are worded or divided. I've just been given my sheet and then you pick categories. That's probably up to the board. And he's the president. These are important questions.
Did you vote for this year's Grammys?
I did not.
When was the last time that you did?
Probably five years ago because my membership expired. But once I saw what was going on and how the environment of the Grammys is not just affected by the president, but also by who's voting, I was like, "Wait, I'm part of this, too." One thing women do need to start paying more attention to is figuring out how many of us are represented among the voters. So I just renewed my membership for five years.
Having been a member of NARAS, was Portnow's attitude about women something you'd heard before?
It was just bizarre. I have no idea why he would infer that women are needing to get off the bench in any way shape or form. Women are in the game. A statement like that is just clearly being behind the times. Then his second statement, the backpedaling, was disturbing because the numbers don't lie: 90 percent of the nominees were male. Then there's the issue of who's booking the show and who gets to decide which artists are represented to the world. When you have someone who's coming from that sort of viewpoint and he's in charge, along with the producer of the show, you're not going to get a show that reflects the times. That's where we're at with the Grammys. Everyone felt that way before he even made a statement.
I've had the opportunity to play on the Grammys, be nominated, and be a NARAS member, and I still feel that now I have to step up to vote, too. I absolutely have to vote. So do many others. Just because I had a fine time at the Grammys and got to play my song, it doesn't mean that there isn't a fundamental problem that's going on in the environment over there. It also comes from the top.
The response among women to Portnow's comments almost reinforces his point that women have to do all the work to have a voice. I imagine that's been the industry's way for your entire career.
What he was saying doesn't make any sense. And it's not just the "step up" wording that he thinks is what's bothering everybody. It's this idea that there are just not enough women out there. You have to be aware of glass ceilings, you have to be aware of brick walls. You can't say, "Well I know you probably go through that, but I don't experience that, honey, so I don't really know what you're talking about. You're just gonna have to come to the plate." You have to have a sensitivity to the environment. There are a million different glass ceilings. I've probably hit all of them. Every woman has. That's where we're at, but we're pushing through. The way in which I've personally stepped up, then, is to renew my membership and spread this petition around.
So many of your peers have been vocal in denouncing his comments, but you're the first I'm seeing demand action. How did it get on your radar — and is removing Portnow just a Band-Aid?
The president is gonna effect change among the voting system and who's represented among the voters. So that has to change. A new president will effect change. A woman named Karen Scott emailed my manager this morning and she's reached out to a number of other artists as well about the petition.
Do you think a collective of female artists will form and mobilize from this?
We're obviously gonna hit 10,000 signatures and then we'll up the goal. Then we'll see where the momentum takes us and deliver this to the Recording Academy. We need a new president.
And that vote should be open to all members of NARAS?
It's interesting, because how was Neil chosen? He's been president for 16 years. I joke about this: What is it Game of Thrones, where we wait forever and then they pass it down to the their son or something? We need to get with the times. He is behind them.
After #OscarsSoWhite, the Academy made several structural changes to promote inclusively, like inviting new members and deactivating old memberships. Does similar change seem inevitable for NARAS, and is it even possible?
It's been building toward this for years. Remember a couple years ago when Beyoncé was snubbed? That was bizarre. I haven't watched the Grammys in years. I stopped watching and unplugged. This year, I'm completely back in the game. But in my opinion, it's been unwatchable for years. I couldn't believe what I was seeing on Sunday. It was a totally uneven, weird show. A lot of musicians probably feel the same way. With Lorde, they absolutely could've carved out an opportunity for her to perform whatever song she wanted. So that's bullshit.
What made it so unwatchable for you in years past?
It's just a lackluster, corporate-feeling show. Every now and then you'll get new blood on the stage, and that's great, but they need to balance the established artists with independent artists. Finally rap records are in the Album of the Year category, which took a minute. There's just been a lack of diversity in the music that's up on that stage. It's fallen into this one routine of a 10-million-album-selling artist getting the chance to perform. The Grammys can be a real window into some amazing talent if they let it be. That would actually help the ratings. It just clearly doesn't occur to Neil that there's a problem at all. There is.
If there's no meaningful change, would you boycott the Grammys? Voting, attending, even submitting your work?
Totally. Since I have a feeling there are so few women voting, it'd be a shame to give that up. But I'm not someone who's gonna be at the Grammys. I'm an independent artist so there's plenty of artists with way more on the line. Their Grammys performance could totally boost their albums sales and they don't wanna lose that opportunity. I have nothing to lose. But, at the same time, I do because this is my community, too. That's an important question for a lot of women artists. We have so much power, that if women would really consider making moves like that if this doesn't work and there is no change, then [boycotting] would work.
But I'm proud to be part of this conversation and I think Pink's statement was spot on. We've all been in the industry a really long time and it was incredibly inappropriate for someone in that position to make a statement like that, including his backpedaling. His head is completely in the wrong place. That's why I'm stepping up in a way now that I have not in the past.
Did the white roses for Time's Up feel meaningful to you?
I didn't even know what that was. I don't think it makes a difference. I just don't. What makes a difference are conversations like these and me putting myself on the line. There's nothing harmful about the roses, but it's really about taking risks to make change.
But I could easily be called a hypocrite because I'm speaking out but I haven't voted in a couple years. That's part of what's so great about this: I had checked out and thought this Grammys thing was bullshit, but no, I gotta get back in the game and renew.
Portnow's words got me thinking about how music has managed to slip through the cracks of #MeToo and remain largely unaffected. But is the dam about to burst there, too?
Yes. I personally signed an NDA for someone who appeared on the Grammys. It makes my blood boil. Maybe some artists feel that they're really beholden to their labels, but I hope the dam does break because that behavior has infiltrated the music industry just as much as it has everywhere else.
To your knowledge, have a lot of people in this industry signed NDAs that prevent them from coming forward?
Maybe. Until recently, I couldn't even discuss mine. Those agreements are really powerful and a lot of times you're signing them so you don't get sued and can just get out of your contract. I'm sure there's a lot going on there, but I don't know anyone who's personally signed an NDA. But I do know a lot of women in the industry who've had very similar situations to me. And I've been under my NDA for five years.
I'm so sorry.
We soldier on, girl.