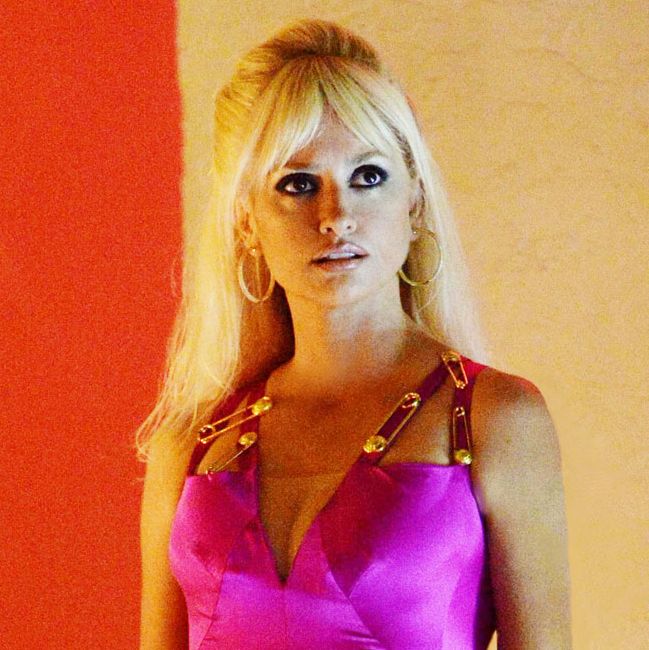 Penélope Cruz as Donatella Versace.
Photo: Jeff Daly/FX
For a show dedicated to one of the world's most-influential fashion designers, people may be surprised to learn that The Assassination of Gianni Versace: American Crime Story didn't get any support from the actual Versace family. In fact, the estate has expressed their disgust about Ryan Murphy's anthology series on numerous occasions, going so far as to call its treatment of Versace's death "sad and reprehensible." But if you looked solely at the oodles and oodles of vibrant, period-appropriate clothing onscreen you'd never know that, thanks to seasoned costume designer Lou Eyrich and her team at FX.
"We weren't allowed to contact the company in any way. We didn't have any interaction with them whatsoever. Everything we used we found on our own, whether through the internet or our vintage sources," Eyrich recently told Vulture over the phone. "Since I worked on a lot of period shows before, I reached out to everyone and said, 'Do you have any connections to vintage Versace?'"
Surprisingly, the research and collection process wasn't too difficult for Eyrich — it only took two weeks — owing to the fact that numerous dealers and boutiques had an abundance of '80s and '90s Versace looks in stock. "There are a lot of Versace collectors," she explained, noting that she had the most luck on eBay and Etsy, as well as upscale vintage boutiques in Los Angeles and Miami. "We didn't say it was for a TV show or a Versace show. I was just like any other customer."
At Murphy's request, the team favored a "classic" Versace aesthetic that was heavy on vibrant colors and eclectic prints, which dominated Miami's culture during the time period. (Specifically, the summer of 1997.) Pinks, greens, and yellows were the preferred color palettes, as were body-conscious silhouettes showing a lot of skin. However, there were many items that proved to be unattainable for Eyrich due to the exorbitant costs. "A lot of the Versace was priced over our budget, because it's been 20 years since his death and there are a lot of Versace collectors who won't let go of things unless you hit a really high price," Eyrich explained. "There was a very famous gold chain-mail mess dress Versace made, so we were trying to get our hands on that. We found one, but it was a small down payment on a house, so we couldn't afford it. There were studded leather shirts we would've loved to have, but they were well over $2,000. Many pieces we would've loved to use, really, but just didn't have the budget."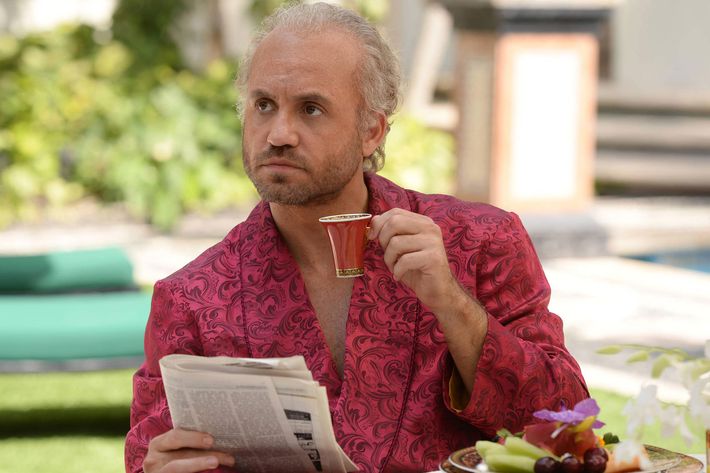 When it became clear a bona fide, 100 percent Versace wardrobe wouldn't be attainable, Eyrich implemented a standard for how to approach creating the best possible Versace-esque aesthetic — the looks would have to be so nondescript, you couldn't tell if they were actually Versace or not. "As long as it had an element of style and was cutting edge for that period, we would use it," she said, adding how her team ultimately created looks from numerous Italian and American fashion houses. "Gianni was very particular, from what our research gathered. His brand was always meticulously tailored. And Donatella was always very body conscious. So we tried to emulate the same silhouettes and make sure the quality wasn't fast-fashion for today."
Eyrich was motivated, too, by the fact that the Versace family didn't only wear their own brand in the '90s — or ever, really — and were frequently spotted inclusively wearing other fashion houses. "We tried to emulate the photos of Donatella and Gianni as well as we could, so our aim was to only use designer or high-quality pieces," she said. Still, she estimates that about 90 percent of the clothing the main characters wear is indeed Versace. "We wanted to make sure we paid the right respect," Eyrich said.