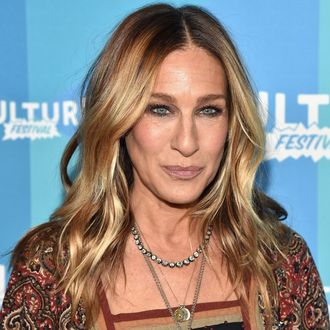 Sarah Jessica Parker.
Photo: Bryan Bedder/Getty Images for Vulture Festival
An unexpected effect of Hollywood's post-Weinstein reckoning: Sarah Jessica Parker feeling free to spill all the Sex and the City 3 tea. Remember the drama surrounding the now-DOA third installment? First, SJP definitively said the prospects of a third movie were zilch, despite having a "beautiful, funny, heartbreaking, joyful, very relatable script and story." Then, a rumor circulated that Kim Cattrall's "diva demands" killed the movie. Cattrall responded by telling Piers Morgan that she was never onboard, and that SJP could've been nicer.
In an interview with the Daily Beast, Parker talks about the fallout: "I'm stunned by how deeply it still cuts. When all that stuff was happening with Sex and the City, which I know is meaningless in the world, but when it's happening and you're caught up in any of the muscle of that stuff, it's so painful because all you want to do is respond. All you want to do is say, 'Are you kidding me!?'" Parker didn't fire back at the time, but inspired by the bravery of #MeToo statements, she's not afraid to speak her mind, even when it comes to Carrie & Co.:
You're coached to keep your mouth shut, or else you'll make the matter worse.

Parker: But what happened, that was enormously painful for me. I just kept saying, "This was an experience I loved. I love those women. We shared this experience. It was a privilege. If that's what we're left with, those memories, there are only four of us who …" You know? But then all of a sudden the world shifted, right? I was like, Oh this is ridiculous. I was afraid to talk about these allegations, and now there are real allegations [relating to abuse and sexual misconduct] in the world that are real? And all of a sudden I was like, "I think I'm going to answer the question about the Sex and the City movie." For so long I was told to be quiet about all of that stuff. And all of a sudden I'm like, "If people are being encouraged to come forward and talk about really difficult, painful, potentially criminal things that they were part of or witnessed, I think I can talk about the Sex and the City 3 movie." [Laughs] I think it's OK! I'm a grown freaking woman.
Admittedly, the drama surrounding Sex and the City 3 isn't as earth-shattering as revelations about Hollywood abusers. "But then you realize it's just silliness," Parker told the Daily Beast. "Of course I can answer honestly about my experience. Of course I can say what happened. It's so silly." And that's fax, no printer.