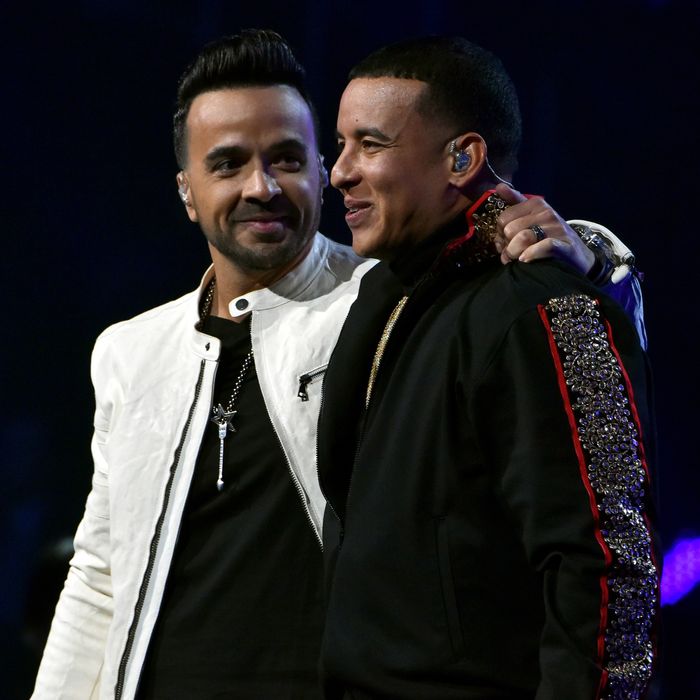 Luis Fonsi and Daddy Yankee.
Photo: Lester Cohen/Getty Images
In retrospect, it should have been obvious that "Despacito" was going to get shut out before the Grammys broadcast even started. Certainly Luis Fonsi and Daddy Yankee's megahit losing out in Best Pop Duo/Group Performance during the pre-ceremony awards to Portugal. The Man's "Feel It Still" was hardly a heartening sign for their prospects regarding the more prominent Song of the Year and Record of the Year trophies set to be awarded later in the night. Where "Feel It Still" went platinum and peaked at No. 4 on the Hot 100, "Despacito" went diamond and crowned the single charts for most of the summer — and, assuming that it mattered, was also a better song on aesthetic grounds. If "Despacito" couldn't prevail against "Feel It Still," how likely was it to compete with Bruno Mars, Jay-Z, or Kendrick Lamar within the heavyweight categories?
This doesn't make the shutout any less of a travesty. If "Despacito" isn't good enough for a Grammy, then it's as much as saying that no Spanish-language song, regardless of commercial and aesthetic achievement, will ever be good enough for a Grammy. Entertainment may be impossible without hypocrisy, but during a Grammys night thick with pro-immigrant posturing, the snub (and it's definitely a snub) comes off as worse than hypocritical — it's close to outright deceit. At least Fonsi and Daddy Yankee aren't alone tonight. Between Lorde being denied a solo performance, Jay-Z's shutout over eight categories, SZA's shutout over five, and Kendrick Lamar being denied Album of the Year for three albums in a row, there's plenty of justified rancor to go around.