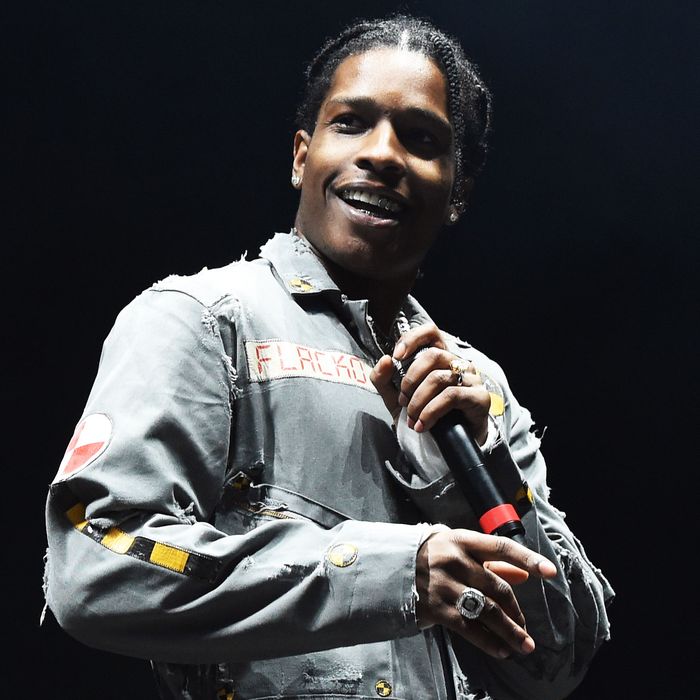 A$AP Rocky.
Photo: Kevin Winter/Getty Images
Over the past three days, A$AP Rocky has been releasing new songs on SoundCloud, placing each one under a different genre hashtag: Tuesday's "5ive $tar$" was labeled hip-hop and rap, Wednesday's "Above" alternative rock, and yesterday's "Money Bags Freestyle (Dean Blunt Meditation)" ambient. What unites the songs, besides their brevity, is their silence. The tracks feature some of Rocky's sleepiest flows to date over beats often so drowsy they barely qualify as beats. If the artist is, as he seems to be, building up buzz for an upcoming album release, he's doing it in an uncommonly tranquil way.
Though they do seem intentionally designed to come off as underwhelming on first listen, the tracks aren't bad. Rocky's clearly been listening to a lot of Playboy Carti, the A$AP Mob affiliate who broke out in 2017 not in spite of sounding permanently zonked out on benzos, but to some degree because of it. Carti's stop-start flows are all over "5ive $tar$," a song where Rocky's repeated invocation of "Wock" (short for codeine syrup manufacturer Wockhardt) echoes Carti's "wah" ad lib. Likewise, Rocky's been tuning in to the emo-tinged rappers, led by frequent A$AP collaborator Lil Uzi Vert, who have colonized SoundCloud's alt-rock hashtag over the past year; clocking in at 81 seconds, "Above" barely takes the time to sketch out an addictive relationship with a girl and/or drug before fading out. "Money Bags Freestyle" reads as a flex over a muted, stripped-down beat reminiscent of '90s East Coast production; it's closer to #Hip-hop & Rap and #Ambient than its predecessors, as if to suggest that genre labels are as interchangeable as designer labels to the fashion-minded artist.
Rocky's built his brand on being a setter of trends, and if the ongoing series of tracks (collected under the rubric "Testing") doesn't show him off at his most committed, it does seem like an innovative way to herald a new LP. He's not trying to flood the radio with big single after big single, but dropping B-sides (or music on the level of high-end B-sides) like bread crumbs, testing his listeners' reactions and adjusting accordingly. He's not releasing the content of his album, but suggesting aesthetic frames through which to view it. It's a smart move that looks all the smarter set against the recent campaigns for new albums by Justin Timberlake and Taylor Swift, whose expensive, high-profile posturing backfired by ensuring that any corny or tone-deaf action ends up seen and heard by all. Low-risk and high-reward, the "Testing" series allows Rocky to react on the fly instead of being shackled to the rigidity of the classic industry rollout. Showing less has always been central to Rocky's aesthetic in his albums; it makes sense that he'd end up applying the same logic to their launch process.