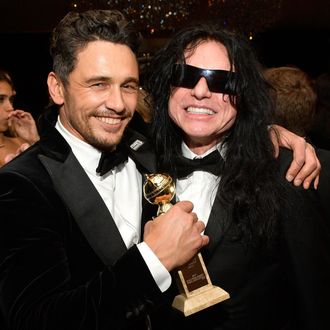 James Franco and Tommy Wiseau.
Photo: Matt Winkelmeyer/Getty Images for InStyle
When James Franco won the Golden Globe for Best Actor, Musical or Comedy for playing Tommy Wiseau in The Disaster Artist, real-life international man of mystery Wiseau joined him onstage. Unfortunately for us, Franco elbowed Wiseau away from the mic before The Room's auteur could give a speech. No matter: Wiseau told the Los Angeles Times what he would've said. "If a lot of people loved each other, the world would be a better place to live. See The Room, have fun, and enjoy life. The American Dream is alive, and it's real." It's not Oprah-level inspiration, but just go with it.