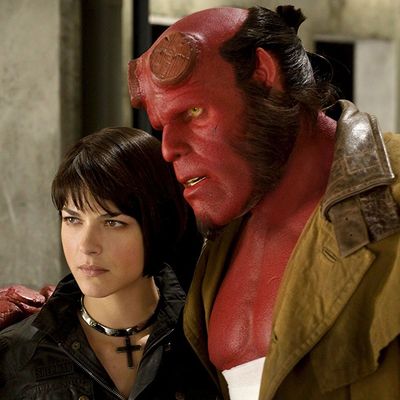 Photo: Universal Pictures
Each month, several films leave HBO's library. We provide a list of departing titles and recommend a few standouts so you can watch them before they're gone forever (or are just available on a different site). For more coverage of the best titles available on HBO and elsewhere, check out Vulture's What to Stream Now hub, which is updated throughout the month.
Leaving February 28
Because it's Guillermo del Toro: Hellboy 2: The Golden Army
This isn't the first time we've recommended Hellboy 2, but given The Shape of Water's several Oscar nominations, if you to want enjoy some more Guillermo del Toro, allow me to renew this particular crusade. Hellboy 2 is what happens when you give a director with as strong a sensibility as del Toro an established property and just let him run wild, and it's wonderful. A celebration of fairy tales and monsters and how fascinating the world can be if you let yourself get lost among them, Hellboy 2: The Golden Army is a sequel that stands on its own. Leaving February 28.
Leaving February 28
Because it's an underrated gem: Loving
From director Jeff Nichols, Loving recounts the true story of Richard and Mildred Loving, a Virginia couple whose interracial marriage sparked a nine-year civil-rights fight that ended in Loving v. Virginia, the Supreme Court case that invalidated all laws prohibiting interracial marriage. With wonderful performances by Ruth Negga and Joel Edgerton as the titular couple (and a surprise dramatic turn for Nick Kroll), Loving quietly slipped by when it was released in 2016, but it's definitely worth catching before it leaves HBO this month. Leaving February 28.
Leaving February 28
If you're looking for a good scare: The Conjuring 2
One of the wilder pop-culture stories of the past five years is the rapid and expansive growth of The Conjuring cinematic universe. Brilliantly simple in its execution, the films follow two paranormal investigators, Ed and Lorraine Warren, (Patrick Wilson and Vera Farmiga) who investigate demonic possessions. In this one, an 11-year-old girl is afflicted by the ghost of Bill Wilkins, an evil old man, while other cases have been spun off into entirely new franchises, like Annabelle. All of that wouldn't be possible, however, if The Conjuring and its sequel weren't the crowd-pleasers they are, thanks to great talent in front of and behind the camera: Wilson and Farmiga are a great pairing, and director James Wan is a master of cinematic tension and staging. Give yourself a good scare this month and take on a case with the Warrens. Leaving February 28.
Notable selections in bold.
Leaving February 24
• Batman v Superman: Dawn of Justice
Leaving February 28
• Almost Christmas
• Body of Lies
• Changing Lanes
• Coal Miner's Daughter
• Fantastic Voyage
• Frequency
• Hacksaw Ridge
• Hellboy II: The Golden Army
• Hostage
• Keeping Up with the Joneses
• Loving
• My Sister's Keeper
• Powder
• Serendipity
• Sister Act
• Sister Act 2: Back in the Habit
• Stuart Little 2
• Tango & Cash
• Terminal Velocity
• The Amityville Horror
• The Conjuring 2
• The Princess Diaries
• Tin Cup
• Unbreakable