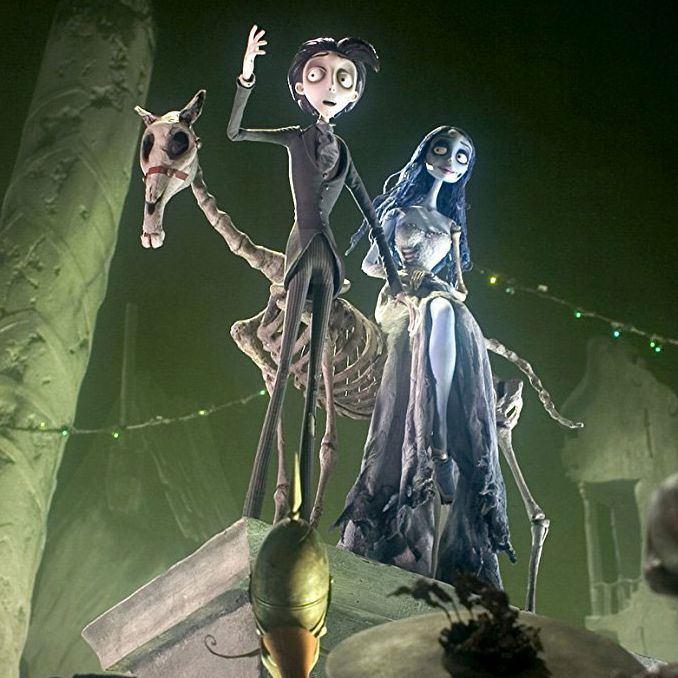 Photo: Warner Bros. Pictures
Each month, several films and TV shows leave Netflix's library. We provide a list of departing titles and recommend a few standouts so you can watch them before they're gone forever (or are just available on a different site). For more coverage of the best titles available on Netflix and elsewhere, check out Vulture's What to Stream Now hub, which is updated throughout the month.
Leaving February 1
For the Burtonheads: Corpse Bride and The Nightmare Before Christmas
Don't believe anyone who tells you that this Tim Burton stop-motion double feature is only appropriate on Halloween (or Christmas if you're one of those fans). Goth-kid hero Jack Skellington and his underappreciated spiritual sister Emily — er, Corpse Bride — are head-popping, limb-jangling outcast icons appropriate for any occasion. For all the tired riffs Burton has done on his creepy shtick over the decades, his forays into graveyard animation may very well prove to be his most eternal accomplishments. Leaving February 1.
Leaving February 1
For the New Hollywood completists: The Fury
It's not always easy to find Brian De Palma movies on the ol' streaming sites, so enjoy this one while you can: a 1978 paranormal-conspiracy oddity about two mind-reading teens, one of whom is kidnapped by the government to be used as a weapon against the Russians. Kirk Douglas is the father out for justice, Amy Irving is the other psychic teen who aids him, and indie film auteur John Cassavetes plays the villain, which in and of itself is bizarre enough to note. De Palma made The Fury immediately after Carrie, and Irving appears in both, meaning that the late '70s was a good time to be a psychic teenager going through some stuff. Leaving February 1.
Leaving February 1
For sexy arthouse suspense: Stranger by the Lake
On a gay cruising beach in France, a murderer prowls the hookup scene looking for his victims … and one potential target finds that the threat of violent death arouses him. There may be tons of explicit sex, but Stranger by the Lake has depth too: A Hitchcockian thriller set in a sandy paradise, Alain Guiraudie's Cannes prizewinner is a piercing and beguiling rumination on the dangers of desire. Leaving February 1.
TV Shows
Noteworthy selections in bold.
Leaving February 1
• Magic City: Seasons 1-2
• Tin Man
• Top Gear: Series 19-23
Leaving February 14
• Family Guy: Seasons 1-8
Leaving February 15
• Burn Notice: Seasons 1-7
Leaving February 19
• An Idiot Abroad: Seasons 1-3
Leaving February 28
• American Genius
• Brain Games: Seasons 3-4
• The Catch: Season 1
• Cesar 911: Season 1
• Miami SWAT: Season 1
Movies
Noteworthy selections in bold.
Leaving February 1
• The Benchwarmers
• Brubaker
• Corpse Bride
• Day Watch
• Desk Set
• Enquiring Minds
• Everyone's Hero
• The Five Heartbeats
• The Fury
• Hard Candy
• How to Steal a Million
• King Arthur
• The Longest Day
• Night Watch
• The Nightmare Before Christmas
• Open Season: Scared Silly
• Perfect Stranger
• Project X
• Silver Streak
• Stranger by the Lake
• Voyage to the Bottom of the Sea
Leaving February 2
• Vincent N Roxxy
Leaving February 3
• The Texas Chainsaw Massacre: The Beginning
Leaving February 5
• Hannibal Buress: Animal Furnace
• Hannibal Buress: Live from Chicago
Leaving February 10
• Dragonheart: The Shadowed Claw
Leaving February 11
• A Little Bit of Heaven
Leaving February 12
• Honeymoon
Leaving February 15
• 12 Dog Days Till Christmas
• A Christmas Kiss II
• Before I Go to Sleep
• Christmas Belle
Leaving February 16
• Our Last Tango
• Save the Date
Leaving February 17
• Freakonomics
Leaving February 20
• Aziz Ansari: Dangerously Delicious
Leaving February 21
• Enron: The Smartest Guys in the Room
Leaving February 24
• Jane Got a Gun
Leaving February 28
• I Am Ali