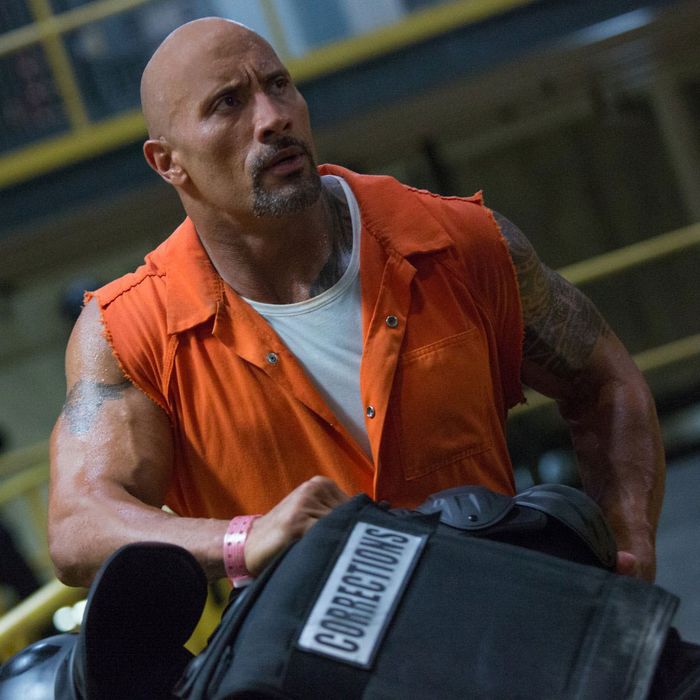 Photo: Universal Pictures
At the beginning of (and during) every month, HBO adds new movies and TV shows to its library. Below, you'll find our recommendations for January 2018. For more comprehensive coverage of the best titles available on HBO and elsewhere, check out Vulture's What to Stream Now hub, which is updated throughout the month.
Available January 13
Because it's time for one more ride: The Fate of the Furious
Excessive is a word that can aptly describe just about every movie in the Fast and Furious franchise, but when it comes to the eighth and latest film in the long-running series, it doesn't seem anywhere near adequate. The Fate of the Furious isn't just doing The Most, it is doing everything. It's a movie that feels like it has a dozen action sequences, and then barrels on toward one more. It is exhausting and ridiculous, but also unparalleled — few movies have the audacity that these do, and even fewer should. Anyway, it's time to watch it either again or for the first time. It's cold out and you aren't doing much, so why not do it all and then some? Available January 13.
Available January 8
In memory of Ziggy Stardust: David Bowie: The Last Five Years
Premiering this month on HBO, this documentary aims to examine the last five years of David Bowie's life — a final chapter as fascinating as it is tragic. In those last few years, Bowie was as busy as ever, putting out two albums — 2013's The Next Day and his swan song, Blackstar, released two days before his death — and still quietly working on various projects, keeping from the public the disease that was killing him. Arriving close to the second anniversary of his death on what would have been his 71st birthday, David Bowie: The Last Five Years seems an especially good way to pay tribute. Available January 8.
Available January 1
Because you know you're going to watch at least one: Harry Potter and the Prisoner of Azkaban
On New Year's Day, all eight Harry Potter films are arriving on HBO, and there are much worse things you could do than to marathon them all. Of course, you could also just watch the really good ones and skip the rest. Opinions on that may vary, but if you ask me, the best place to start is with Prisoner of Azkaban (the first gets by on charm, but we don't have all day, and the second is terribly boring stuff). From there, you're in the sweet spot: Goblet of Fire is where things get really fun, Order of the Phoenix and Half-Blood Prince effectively raise the stakes, and Deathly Hallows: Part 1 is a singularly strange and fascinating prelude to what is an otherwise kind of boring and perfunctory finale. Just don't tell anyone you've never read the books. Available January 1.
Noteworthy titles in bold.
Available January 1
• (500) Days of Summer
• 12 Rounds (Unrated Version)
• A Christmas Carol (1984)
• Back to the Future
• Back to the Future II
• Back to the Future III
• The Box
• Cats & Dogs: Revenge of Kitty Galore
• Domestic Disturbance
• Harry Potter and the Sorcerer's Stone
• Harry Potter and the Chamber of Secrets
• Harry Potter and the Prisoner of Azkaban
• Harry Potter and the Goblet of Fire
• Harry Potter and the Order of the Phoenix
• Harry Potter and the Half-Blood Prince
• Harry Potter and the Deathly Hallows: Part 1
• Harry Potter and the Deathly Hallows: Part 2
• Holes
• Honey, I Blew Up the Kid
• Honey, I Shrunk the Kids
• How to Train Your Dragon
• The Hours
• I Love You, Beth Cooper
• The Informant!
• Kindergarten Cop
• National Lampoon's Animal House
• Role Models (Unrated Version)
• Semi-Pro (Director's Cut)
• Shrek Forever After
• Sideways
• Street Fighter: The Legend of Chun-Li (Unrated Version)
• The Time Traveler's Wife
• Three Kings
• Waterworld
Available January 2
• In a Valley Of Violence
• Alex, Listen to Your Heart
Available January 5
• El techno (a.k.a. On the Roof)
Available January 6
• Everything, Everything
Available January 8
• David Bowie: The Last Five Years
Available January 12
• La punta del iceberg (a.k.a. The Tip of the Iceberg)
Available January 13
• The Fate of the Furious
Available January 14
• Crashing, Season 2 Premiere
• Divorce, Season 2 Premiere
Available January 17
• Morgan
Available January 19
• High Maintenance, season-2 premiere
• Promoción fantasma (a.k.a. Ghost Graduation)
Available January 20
• Snatched
• Real Time With Bill Maher, season-16 premiere
Available January 22
• Mosaic (six-part limited series)
Available January 26
• La cara oculta (a.k.a. The Hidden Face)
Available January 27
• All Eyez on Me
• The Number on Great-Grandpa's Arm
Available January 29
• May It Last: A Portrait of the Avett Brothers