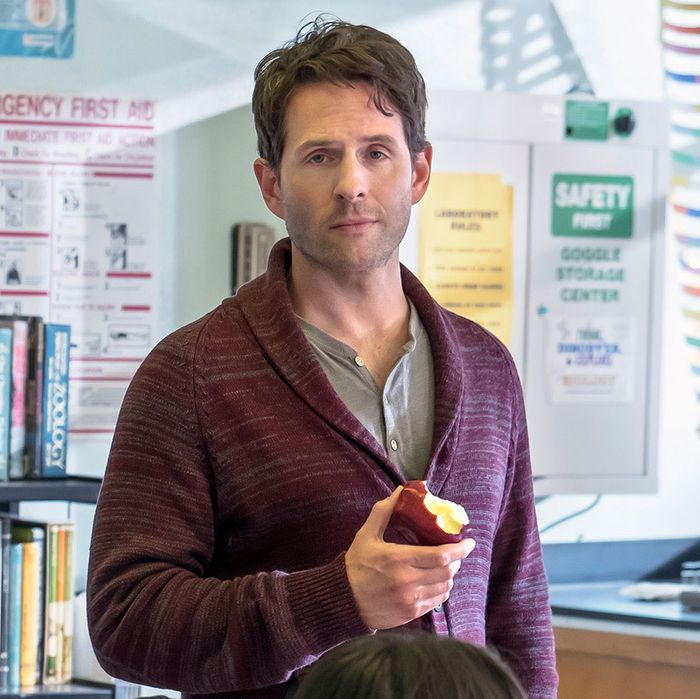 A.P. Bio
.
Photo: Ron Batzdorff/NBC
At the beginning of (and during) every month, Hulu adds new movies and TV shows to its library. Below, you'll find our recommendations for February 2018. For more comprehensive coverage of the best titles available on Hulu and elsewhere, check out Vulture's What to Stream Now hub, which is updated throughout the month.
Available February 2
Because network comedies are back, baby: A.P. Bio
And by "network comedies," we mean "idiosyncratic NBC comedies." For a minute there, the network that gave us beloved sitcoms like The Office, 30 Rock, and Parks and Recreation seemed like it was floundering — until quiet performers like Superstore and runaway hits like The Good Place ushered in a new wave of smart, funny programs. The latest to join the fold is A.P. Bio. Produced by Seth Meyers and Mike O'Brien, A.P. Bio follows a Harvard philosophy professor (Glenn Howerton) who's exiled to a Toledo high school and enlists his students in a revenge plot. The first few episodes were sharp and funny enough to earn a spot on our list of the best new shows of 2018, so be sure to check it out, either live or on Hulu. Available February 2.
Available February 1
Because it's worth a second look: Cougar Town
Not long into its run, Cougar Town was unfairly dismissed and underestimated. Perhaps this was because of its title, or maybe because, like a lot of shows, it took Cougar Town a while to find itself, with "unabashedly horny and a touch problematic" being the main takeaways from its first season. But maybe this time, the show's arrival on Hulu will spur on a reappraisal of Cougar Town, although it's very possible that it might fall through the cracks yet again — after all, Everwood is also coming to Hulu this month. Available February 1.
Available February 1
If you want some wild animation to light up your brain: Redline
The premise for Redline is pure adrenaline: Daredevil drivers compete in a deadly race that occurs once every five years. A visual assault of color, inky blacks and imaginative design, Redline will rock your damn world with imagery so detailed, it somehow manages to look both frozen in time and moving impossibly fast. It's also extremely weird, but it all comes together to make for a hell of a trip. Available February 1.
TV Shows
Noteworthy selections in bold.
Available February 1
• Cougar Town: Complete Series
• Dirt: Complete Series
• Everwood: Complete Series
• Face Off: Seasons 1-10
• Nightcap: Season 2
• One Tree Hill: Complete Series
• Real Humans: Season 1
Available February 2
• A.P. Bio: Series premiere
Available February 4
• Broad City: Season 4
Available February 5
• Archer Dreamland: Season 8
Available February 8
• Gary Unmarried: Seasons 1-2
• Perception: Seasons 1-3
• The PJ's: Seasons 1-3
Available February 9
• Brockmire: Season 1
Available February 15
• Parenthood: Complete Series
Available February 16
• Cardinal: Season 2
Available February 17
• The Long Road Home: Season 1
Available February 27
• Good Girls: Series Premiere
• The Voice: Season 14 Premiere
Available February 28
• The Looming Tower: Series Premiere
Movies
Noteworthy selections in bold.
Available February 1
• A Date for Mad Mary (2016)
• A Fish Called Wanda (1988)
• Agent Cody Banks (2003)
• Agent Cody Banks 2: Destination London (2004)
• Akeelah and the Bee (2006)
• Amélie (2001)
• American Idiots (2013)
• The Animal (2001)
• An Officer and a Gentleman (1982)
• Asterix & Obelix: Mission Cleopatre (2002)
• The Benchwarmers (2006)
• Black Spurs (1965)
• Blazing Saddles (1974)
• Casi Divas (2008)
• Charm School (2007)
• Confessions of a Dangerous Mind (2002)
• The Cutting Edge (1992)
• The Cutting Edge: Going for the Gold (2006)
• Daybreakers (2009)
• Gang Related (1997)
• The Good the Bad and the Ugly (1967)
• The Goods: Live Hard, Sell Hard (2009)
• Hannah Montana & Miley Cyrus: Best of Both Worlds (2008)
• Harsh Times (2006)
• The Haunting (1999)
• He Said, She Said (1991)
• Hoodlum (1997)
• The Hurt Locker (2008)
• Intersection (1994)
• Keeping Up With the Steins (2006)
• Larry the Cable Guy: Health Inspector (2006)
• Lulu on the Bridge (1998)
• Manhattan (1979)
• Manhunter (1986)
• Mermaids (1990)
• Michael (1996)
• Mystic Pizza (1988)
• Nine Queens (2000)
• Perfect Stranger (2007)
• Red Dawn (1984)
• Redline (2009)
• Rollerball (1975)
• Rollerball (2002)
• Frailty (2001)
• Running Scared (1986)
• Rustlers' Rhapsody (1985)
• Sabrina (1995)
• Sin City (2005)
• Slow Burn (2000)
• The Spirit (2008)
• The Swan Princess: A Royal Family Tale (2004)
• The Swan Princess: Princess Tomorrow, Pirate Today (2016)
• The Swan Princess: Royally Undercover (2017)
• Swimming With Sharks (1995)
• Terms of Endearment (1983)
• The Thaw (2009)
• The Warriors (1979)
• Things You Can Tell Just by Looking at Her (1999)
Available February 4
• My Dead Boyfriend (2016)
Available February 5
• Beach Rats (2017)
• The Challenge (2017)
• Weiner (2016)
Available February 6
• Charged: The Eduardo Garcia Story (2017)
• Danica (2017)
• The 60 Yard Line (2017)
Available February 7
• A Taxi Driver (2017)
Available February 11
• Lucky (2017)
• Run the Tide (2016)
Available February 12
• Honeymoon (2014)
• It Happened in LA (2017)
• The Two Faces of January (2014)
• Tom of Finland (2017)
Available February 13
• Christmas in the Heartland (2017)
• Drinksgiving (2017)
Available February 14
• National Lampoon Presents Cattle Call (2008)
• Star Trek (2009)
Available February 15
• 28 Hotel Rooms (2012)
• An Ideal Husband (1999)
• Birthday Girl (2001)
• Fresh (1994)
• Gunnin' for That #1 Spot (2008)
• Monogamy (2011)
• Next (2007)
• Rebirth (2011)
• The Exploding Girl (2010)
Available February 18
• Pocket Listing (2015)
• Thanks for Sharing (2013)
Available February 19
• White Bird in a Blizzard (2014)
Available February 20
• Above Ground Level: Dubfire (2017)
Available February 21
• Once Upon a Time (2017)
• The Villainess (2017)
Available February 23
• Detroit (2017)
Available February 26
• Love Is Thicker Than Water (2016)
Available February 27
• Alien Psychosis (2017)