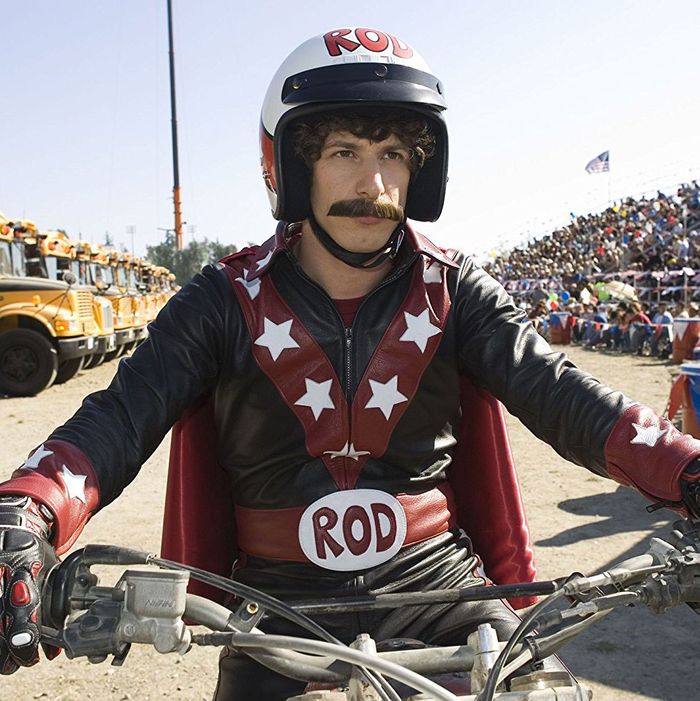 Photo: Paramount Pictures
At the beginning of (and during) every month, Hulu adds new movies and TV shows to its library. Below, you'll find our recommendations for January 2018. For more comprehensive coverage of the best titles available on Hulu and elsewhere, check out Vulture's What to Stream Now hub, which is updated throughout the month.
Available January 1
If you love Andy Samberg's goofy sense of humor: Hot Rod
The first Lonely Island movie wasn't supposed to be a Lonely Island movie. Conceived as a Will Ferrell project, Hot Rod's story about an amateur stuntman raising money for his abusive father's surgery became a vehicle for Andy Samberg, Jorma Taccone, and Akiva Schaffer at the suggestion of Lorne Michaels. Although the movie was a commercial failure, it was still a funny as hell introduction to what the Lonely Island trio could do if given a wider canvas — which they'd do in Popstar: Never Stop Never Stopping. Available January 1.
Available January 5
Because it's one of the best forking shows on TV: The Good Place
In one of the most baffling programming decisions this year, NBC decided to air the second season of The Good Place — one of the smartest comedies airing right now and also a heavily serialized story with lots of twists and turns — with a big ol' winter hiatus right in the middle of its second season. That hiatus began in November with episode eight, "Derek," and finally ends this week when "Leap to Faith" airs on January 4. This, of course, means you can catch it on Hulu the very next day — or watch it again. Tell everyone you know, because The Good Place is one of the best catch-up binges you could possibly recommend. Available January 5.
Available September 20
For vintage Paul Thomas Anderson: Punch-Drunk Love
When I think of Punch-Drunk Love, I don't think about Adam Sandler. That's not to say he isn't phenomenal in it — he really is. But I mostly think about the colors. The rich blues and twinkling lights. The hopeless navy of Sandler's well-worn suit. Punch-Drunk Love is a movie awash in color. A strange and sentimental work about a sad tchotchke salesman whose loneliness and anger issues both land him in trouble with gangsters and put him in the path of the love of his life, Punch-Drunk Love is one of director Paul Thomas Anderson's most accessible films, a sweet romantic comedy that doesn't feel like any romantic comedy you've seen. Available January 8.
Noteworthy selections in bold.
TV Shows
Available January 1
• American Pickers: Complete Season 14 (History)
• Ancient Impossible: Complete Season 1 (History)
• Barefoot Contessa: Back to Basics: Complete Seasons 8 & 9 (Food Network)
• Beat Bobby Flay: Complete Seasons 1 & 2 (Food Network)
• Best of Man v. Food: Complete Season 1 (Travel Channel)
• Breaking Borders: Complete Season 1 (Travel Channel)
• Brother vs. Brother: Complete Seasons 1 & 2 (HGTV)
• Cold Case Files (Reboot): Complete Season 1 (A&E)
• Container Homes: Complete Season 1 (HGTV)
• Counting Cars: Complete Season 6 (History)
• Cupcake Wars: Complete Season 8 (Food Network)
• Cutthroat Kitchen: Complete Season 7 (Food Network)
• Diners, Drive-Ins and Dives: Complete Season 22 (Food Network)
• Duck Dynasty: Complete Seasons 10 & 11 (A&E)
• Flea Market Flip: Complete Season 3 (HGTV)
• Flip or Flop: Complete Season 5 (HGTV)
• Food Network Star: Complete Season 12 (Food Network)
• Ghost Adventures: Complete Season 11 (Travel Channel)
• Great Food Truck Race: Complete Season 7 (Food Network)
• Mountain Men: Complete Seasons 1-6 (History)
• Wild Things with Dominic Monaghan: Complete Seasons 1 & 2 (Travel Channel)
Available January 2
• The Bachelor: Season 22 Premiere (ABC)
• Better Late Than Never: Season 2 Premiere (NBC)
• The Wall: Season 2 Midseason Premiere (NBC)
Available January 3
• Chicago Med: Season 3 Midseason Premiere (NBC)
• LA to Vegas: Series Premiere (FOX)
• Lethal Weapon: Season 2 Midseason Premiere (FOX)
• The Mick: Season 2 Midseason Premiere (FOX)
Available January 4
• 9-1-1: Series Premiere (FOX)
• Chicago P.D.: Season 5 Midseason Premiere (NBC)
• Law & Order: Special Victims Unit: Season 19 Midseason Premiere (NBC)
• Match Game: Season 3 Premiere (ABC)
• The X-Files: Season 11 Premiere (FOX)
Available January 5
• Chicago Fire: Season 6 Midseason Premiere (NBC)
• The Detectorists: Complete Season 2 (Digital Rights Group)
• The Four: Series Premiere (FOX)
• The Good Place: Season 2 Midseason Premiere (NBC)
• Great News: Season 2 Midseason Premiere (NBC)
• Nashville: Season 6 Premiere (CMT)
• Superstore: Season 3 Midseason Premiere (NBC)
• Will & Grace: Season 9 Midseason Premiere (NBC)
Available January 6
• Child Support: Series Premiere (ABC)
Available January 8
• Bob's Burgers: Season 8 Midseason Premiere (FOX)
• Family Guy: Season 15 Midseason Premiere (FOX)
• Ghosted: Season 1 Midseason Premiere (FOX)
• The Last Man on Earth: Season 4 Midseason Premiere (FOX)
• The Simpsons: Season 29 Midseason Premiere (FOX)
Available January 9
• The Brave: Season 1 Midseason Premiere (NBC)
Available January 10
• This Is Us: Season 2 Midseason Premiere (NBC)
Available January 11
• Teenage Mutant Ninja Turtles: Complete Season 5 (Nickelodeon)
Available January 12
• Blindspot: Season 3 Midseason Premiere (NBC)
• False Flag: Complete Season 1 (Keshet)
• Homeland: Complete Season 5 (Showtime)
Available January 13
• Taken: Season 2 Premiere (NBC)
Available January 17
• The Path: Season 3 Premiere (Hulu Original)
Available January 19
• Grey's Anatomy: Season 14 Midseason Premiere (ABC)
• How to Get Away With Murder: Season 4 Midseason Premiere (ABC)
• Scandal: Season 7 Midseason Premiere (ABC)
Available January 22
• The Resident: Series Premiere (FOX)
Available January 30
• Fear the Walking Dead: Complete Season 3 (AMC)
• Uncle Grandpa: Complete Season 5 (Cartoon Network)
Movies
Available January 1
• 10 to Midnight
• A League of Their Own
• All Is Lost
• American Ninja
• Anger Management
• Art of the Prank
• Assassination 
• Avenging Force
• Babel
• Baby Mama's Club
• Beyond the Sea 
• Bloodsport
• Big Driver
• Bill & Ted's Excellent Adventure
• Bill & Ted's Bogus Journey
• Black Rain
• Bolero
• Brothers
• Burning Blue
• But I'm A Cheerleader
• Capote
• Cold Mountain
• Coming Soon
• Cool World
• Cross Bronx
• Cube
• Cube 2: Hypercube
• Cube Zero
• Daddy Day Care
• Dangerous Curves
• Down in the Delta
• Drop Dead Sexy
• Evolution
• Excess Baggage
• Flawless
• Frailty
• Freedom Writers
• Ghoulies 3: Ghoulies Go to College
• Green Street Hooligans Underground
• Grizzly Man
• Hamlet (1990)
• Hercules in New York
• Highway
• Horsemen
• Hot Rod
• Hustle & Flow
• I Spy
• Invaders from Mars
• Invasion U.S.A.
• Ironweed
• Kill the Irishman
• Liz & Dick
• Look Who's Talking
• Look Who's Talking Too
• Look Who's Talking Now
• Love & Death
• Love Story
• Missing in Action II: The Beginning
• Mona Lisa Smile
• Murphy's Law
• My Boss's Daughter
• Night of the Living Dead 3D
• Night of the Living Dead: Resurrection
• Ninja III: The Domination
• P.O.W. The Escape
• P2
• Paper Heart
• Platoon Leader
• Pretty Bird
• Primitive
• Punch-Drunk Love
• Requiem for a Dream
• Reservoir Dogs
• Revenge of the Ninja
• Revolutionary Road
• Richard the Lionheart
• Saturday Night Fever
• Secretary
• Shirley Valentine
• Show of Force
• Six Degrees of Separation
• Sliding Doors
• Songcatcher
• Spaceballs
• Step into Liquid
• Street Smart
• Subspecies
• Subspecies 2
• Subspecies 3
• Subspecies 4
• Subspecies 5
• Sunshine Cleaning
• The Parent Trap (1961)
• The Parent Trap (1998)
• The Fourth War
• The Future
• The Karate Kid (1984)
• The Karate Kid: Part II
• The Karate Kid III
• The Next Karate Kid
• The Perfect Weapon
• The Phantom of the Opera
• The Pom Pom Girls
• The Presidio
• The Wraith
• Thelma & Louise
• Total Recall (1990)
• Two Family House
• Uncommon Valor
• War
• Witless Protection
• Words and Pictures
• Zodiac
Available January 2
• Cruel and Unusual
Available January 3
• The Game Changer
Available January 5
• The Devil's Double
Available January 6
• Julian Schnabel: A Private Portrait
Available January 7
• Yakuza Apocalypse
Available January 8
• Frank
Available January 11
• These Final Hours
Available January 13
• XXX: The Return of Xander Cage
Available January 15
• 12 O'Clock Boys
• The Alchemist Cookbook
• Are We Done Yet?
• Are We There Yet?
• Advanced Style
• Afterimage
• Bending Steel
• The Boy in the Striped Pajamas
• Coherence
• The Diving Bell and the Butterfly 
• Dogs on the Inside
• Meek's Cutoff
• Polina
• Polytechnique
• The Queen
• Sex Guaranteed
• Soul on a String
• We Need to Talk About Kevin
• Wendy & Lucy
Available January 18
• Barista
Available January 19
• My Best Friend
Available January 21
• School Life
Available January 22
• Espionage Tonight
• Ingrid Goes West
Available January 24
• Detroit
Available January 25
• Sword of Vengeance
Available January 27
• Crash Pad
Available January 29
• Beside Bowie
• Halloween Pussy Trap Kill Kill
Available January 31
• All Dogs Go to Heaven
• All Dogs Go to Heaven 2