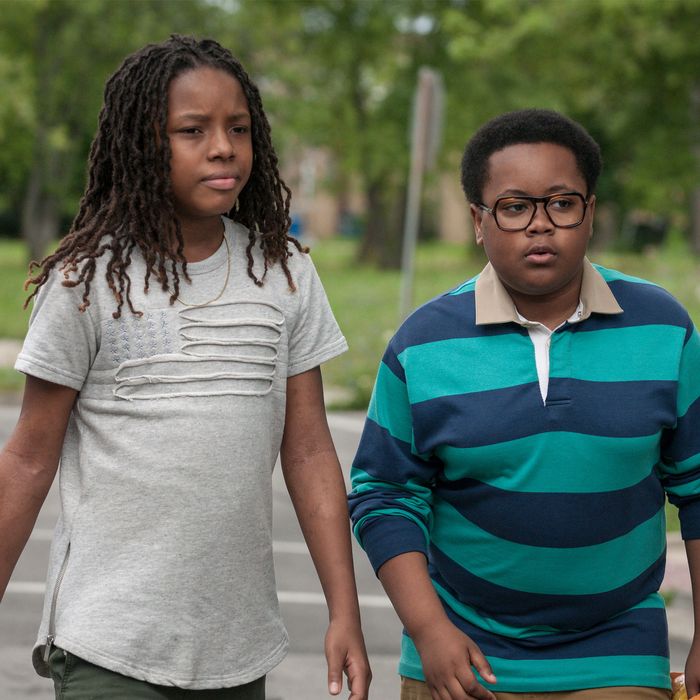 Photo: Matt Dinerstein/Matt Dinerstein/SHOWTIME
At the beginning of (and during) every month, Showtime adds new movies and TV shows to its library. Below, you'll find our recommendations for January 2018. For more comprehensive coverage of the best titles available on Showtime and elsewhere, check out Vulture's What to Stream Now hub, which is updated throughout the month.
Available January 7
Because it's one of the most promising shows of the year: The Chi
Showtime is starting off 2018 strong, with one of its most promising new shows debuting in the very first week of the year. The Chi comes from Lena Waithe, who won an Emmy for writing Master of None's acclaimed "Thanksgiving" episode. Produced entirely in the city where it's set, The Chi is a coming-of-age story set in Chicago's South Side, based on Waithe's experiences growing up in the neighborhood. Centering on a group of young people brought together by circumstance, The Chi immediately stands out from everything else on television for its gorgeous, humane portrayal of an underrepresented group of people. Showtime series can be extremely hit or miss, but few are as exciting right out of the gate. Here's hoping. Available January 7.
Available January 16
Because spy movies are dope: Tinker Tailor Soldier Spy
Based on the John le Carré novel of the same name, Tinker Tailor Soldier Spy is an extremely taut, quiet thriller about the hunt for a Soviet mole embedded in the British secret service in the 1970s. Featuring a cast stacked with Every British Man You've Seen in a Prestige Picture, it's a showcase for terrific acting and smart filmmaking, thanks to director Tomas Alfredson (making his first English-language film, which, curiously, was followed by the train wreck we now know as The Snowman). If you're in the mood for brainy espionage, this is your film. Available January 16.
Available January 1
If you're a David Fincher fan: The Game
The strangest film made by David Fincher, The Game, is about an investment banker (Michael Douglas) who is extremely wealthy but otherwise adrift, distant from family and friends, and generally unhappy. That's when his youngest brother offers him a bizarre birthday gift: a chance to play into an elaborate yet vague game run by a company that specializes in personalized experiences that change their customers' lives. Of course, the game ends up being much more than this man ever bargained for, and his life is plunged into chaos. The Game is far from Fincher's best, but it's also one of his most interesting, an under-discussed late-'90s psychological thriller. Give it a watch. Available January 1.
Available January 1
• 54
• A Beautiful Mind
• Alone in Berlin
• Bad Santa
• Blue Chips
• Bowfinger
• Bulletproof
• Casualties of War
• Charlie Wilson's War
• Cold Mountain
• Cop Land
• The Darkest Hour
• Delta Farce
• Dream House
• Extreme Movie
• The Game
• The Great Debaters
• The Interpreter
• Killshot
• Last Action Hero
• Last Night
• The Light Between Oceans
• Lions for Lambs
• Madea's Family Reunion
• Middle School: The Worst Years of My Life
• Miracle
• The Mist
• Money Train
• The Nutty Professor
• Nutty Professor II: The Klumps
• Rocky
• Rocky II
• Rocky III
• Rocky IV
• Rocky V
• Scream
• Slow Burn (2007)
• Sniper
• Sniper 2
• Sniper 3
• Sniper: Legacy
• Sniper: Reloaded
• The Stepford Wives
• The Straight Story
• Superhero Movie
• U-571
• Undertow (2004)
• Vampire in Brooklyn
• Vanilla Sky
• Young Guns
• Young Guns II
• Zack and Miri Make a Porno
Available January 4
• Pride
Available January 5
• Unsportsmanlike Comedy With Rob Gronkowski
Available January 6
• Chuck
Available January 7
• The Chi
Available January 9
• Crossing Over
• Sidewalks of New York
Available January 10
• My First Mister
• Operation Condor
• Rolling Stones: Sweet Summer Sun — Hyde Park Live
Available January 11
• XTC: This Is Pop
Available January 13
• The Girl on the Train
Available January 15
• The Imaginarium of Doctor Parnassus
Available January 16
• Tinker Tailor Soldier Spy