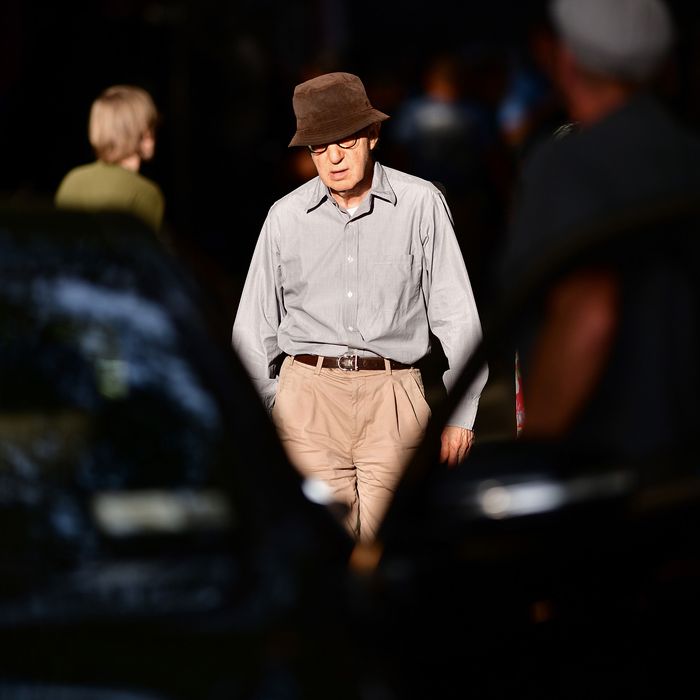 Photo: James Devaney/GC Images
January has been a miserable month for Woody Allen. On Thursday, CBS aired the first televised interview with the Oscar-winning writer-director's daughter Dylan Farrow in which she tearfully repeated allegations she made several years ago that he sexually assaulted her when she was seven years old. "He instructed me to lay down on my stomach and play with my brother's toy train that was set up," Farrow said. "And he sat behind me in the doorway, and as I played with the toy train, I was sexually assaulted … he touched my labia and vulva with his finger."
Allen, for his part, has consistently denied Farrow's accusations, pointing out in a statement that when her claim was first made 25 years ago, it was investigated by New York State Child Welfare and the Child Sexual Abuse Clinic of the Yale–New Haven Hospital, which both concluded no molestation had ever taken place. No criminal charges have been filed against the filmmaker. But amid a backdrop of #TimesUp upheaval that's sweeping politics, culture, and sports, that hasn't prevented a nearly unprecedented withdrawal of support for the 82-year-old director — and no small amount of vocal outcry against him — by a host of prominent actors who have appeared in his films and television projects over the years.
Also on Thursday, Timothée Chalamet, who appears in Allen's upcoming film A Rainy Day in New York, announced on Instagram that he is donating his salary from the movie to charities fighting sexual abuse and harassment — matching the gesture made on Jan. 12 by his A Rainy Day co-star Rebecca Hall, who said she regretted working for the director and gave her wages from the film to Time's Up. On Jan. 7, Greta Gerwig, who co-stars in the director's 2012 romantic-comedy To Rome With Love, publicly disavowed Allen, saying in an online roundtable interview: "If I had known then what I know now, I would not have acted in that film. I have not worked with him again, and I will not work with him again." And those repudiations came close on the heels of other disavowals. David Krumholtz, Mira Sorvino, Rachel Brosnahan, and Colin Firth have all expressed regret for working with the director in the weeks since Farrow published an op-ed in the Los Angeles Times, "Why has the #MeToo revolution spared Woody Allen?" (In a November Facebook post, Ellen Page said she was "ashamed" to have worked with Allen.)
All of which combines to create a massive PR headache for A Rainy Day in New York, Allen's latest romantic comedy, which co-stars Selena Gomez, Elle Fanning, Jude Law, and Diego Luna, and has a planned theatrical release by Amazon Studios at some unspecified point this year. According to People, Gomez anonymously donated an amount that exceeded her salary to Time's Up after fans criticized her for not taking a stand against Allen, highlighting the shaming effect his film is now having on its cast. Amazon declined to comment for this article. But according to several insiders with knowledge of the studio/streaming service's business operations, A Rainy Day's rollout will be negatively affected if not outright cancelled by the fast-spreading groundswell of anti-Allen sentiment.
One challenge the studio will face is the issue of optics in a post–Roy Price Amazon. In October, Price, the president of its studio division, resigned after being accused of pressuring an executive producer on an Amazon original series to have sex and making crude references to anal sex. According to several sources contacted by Vulture, the studio feels pressure to "make a statement that 'We don't tolerate sexual harassment'" by not releasing A Rainy Day. "Amazon can definitely afford to eat the cost of that movie," says one influential marketing executive (who, like others in this story, requested anonymity). "They can show the community who they are by being aggressive. And the producers would never sue. You'd look like a fucking moron if you sue for damages."
Other insiders, however, say a more likely play for Amazon — which has rapidly developed into a prestige film power-player, thanks to such releases as Manchester by the Sea and The Big Sick — would be to cancel A Rainy Day's theatrical run and quietly put the film out on its streaming platform with little or no promotion. Like Netflix, Amazon Prime does not release numbers indicating how many streams specific titles generate (thereby mitigating any possible perception of A Rainy Day as a flop). And by bypassing theaters, the company heads off backlash by movie exhibitors refusing to book the movie in their theaters. "If I'm handling this internally, I say, 'Let's hold our water. Let's not date this thing yet. Let's see if this thing blows over. America forgets everything anyway,'" says another insider who is also a member of the Academy of Motion Picture Arts and Sciences. "Woody would not have signed a contract with Amazon that did not guarantee theatrical distribution. But they could say, 'Woody, we have a problem. We need to renegotiate.'"
But according to some old Hollywood hands, Allen's films are essentially backlash-proof, Allen himself having established a singular cinematic voice that allows him to continue making and releasing movies no matter the mounting outcry against him. "Look, these allegations have haunted this guy for decades and this is a very different time and cultural moment unlike any before it," says a former studio executive. "My very jaded perspective is that his fans are older and those who go see his films are very set in their ways. This is going to be a horrible analogy but it's like the Alabama voters who turned out for Roy Moore. Woody will always have his fans no matter what."