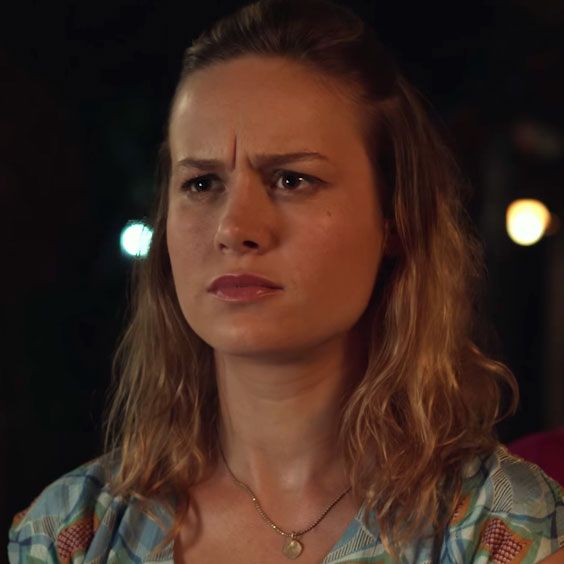 Brie Larson in the trailer for
Basmati Blues
.
Photo: Shout!
From time to time, a piece of pop culture comes along that is absolutely enthralling in its weirdness. Something that makes you want to learn everything there is to know about it, devote your life to it the way some scholars will spend their entire careers rereading Ulysses. For me, that's the upcoming Brie Larson rom-com Basmati Blues, which will open in select theaters and on VOD on February 9. From the moment I saw its trailer, I could not believe this movie was real. Take a look for yourself:
To recap, in February 2018, Oscar-winning actress and soon-to-be Marvel superhero Brie Larson will star in a low-budget musical about an American scientist who's sent to India on a work trip, and winds up falling in love with a local played by The Mindy Project's Utkarsh Ambudkar while also taking a stand against Big Agribusiness on behalf of an impoverished Indian village. This movie will also feature numerous original songs by Pearl Jam, country star Kristian Bush, and Indian musician Sonu Nigam, among others. When it comes to incredibly famous Hollywood actors appearing in baffling, barely released movies, the only comparable examples I can think of are Pottersville, the Michael Shannon furry-sex Christmas film, and Serena, the Jennifer Lawrence–Bradley Cooper vehicle that went straight to VOD in 2015. But even Serena had a literary imprimatur and high production values. Basmati Blues does … not. What it does have is Scott Bakula, who plays Larson's father, singing:
However, it could have been worse. Ardent Basmati Blues fans, of which I am now one, will recall that the trailer that went online Friday is the second Basmati Blues preview to hit the web. The international trailer began circulating back in November, and it caused such a stir that the filmmakers were forced to issue a preemptive apology: "Unfortunately, the international trailer has given the wrong impression of the film's message and heart. This movie is not about an American going abroad to solve India's problems. At its heart, this film is about two people who reach across cultures, fight against corporate greed, and find love." The new trailer seems not to have pushed people's outrage buttons nearly as much, though of course there's still time.
Going by the bright primary colors, the pleasantly folkie soundtrack, and the general lack of concern about how the plot would be received on Twitter, you may suspect that Basmati Blues was filmed in 2004 and frozen in a lab for 14 years. You would not be completely wrong. The movie was actually finished four years ago, which goes a long way toward explaining how the hell Brie Larson wound up in it in the first place. This was after Larson got on the map with 21 Jump Street and Short Term 12, but before she got cast in Room, the movie that would win her an Oscar and put her on the path to the A-list. In other words, the opportunity to star in Basmati Blues came around the same time Larson was taking supporting roles in The Spectacular Now and The Gambler; the lead in a fish-out-of-water rom-com might have seemed appealing for an ambitious young actress, especially since it would offer her another chance to show off her singing ability. And it's not like she could have counted on getting Room — that part was one of the choicest roles in Hollywood, and Larson had to beat out Emma Watson, Rooney Mara, and Shailene Woodley to get cast.
Larson's casting was a Showbiz411 exclusive in January 2013, and that initial news story offers one more hint about the project's appeal for Larson. Basmati Blues was the first feature film produced by Jeffrey Soros, nephew of George and a plugged-in member of Los Angeles' cultural elite. (At the time, he was president of the board at the Museum of Contemporary Art.) In the words of Showbiz411, Soros was expected to give the movie's lead actress "a push along the lines of Jennifer Lawrence and Jessica Chastain." For Larson, the prospect of having someone like him in her corner probably helped make it easier to sign on for a project that Indiewire astutely pegged as "the kind of movie that no one in Hollywood would touch."
Of course, that big push didn't end up happening, or rather, it didn't end up happening for any reason related to Basmati Blues. The movie languished on the shelf for years before being picked up as one of the first releases for the development arm of the home-entertainment company Shout! Factory in November. The company's press release calls it "a perfect date night movie and a great way to celebrate Valentine's Day." Sounds Marvel-ous.