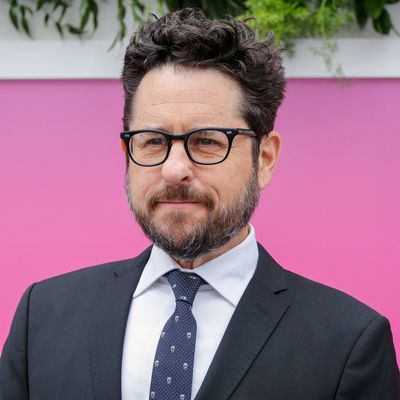 Cloverfield
producer J.J. Abrams.
Photo: Kena Betancur/AFP/Getty Images
In 2016, J.J. Abrams and his production company Bad Robot pulled off a true, rare "holy shit" movie moment, unleashing the existence of the sequel to his found-footage sci-fi hit Cloverfield without having given the moviegoing public even the slightest indication any such sequel was ever in the works. That January, the trailer for 10 Cloverfield Lane (starring John Goodman and directed by Dan Trachtenberg) materialized as if from a mystery box before screenings of Michael Bay's 13 Hours: The Secret Soldiers of Benghazi to achieve a kind of emphatic promotional voilà! — sparking fan anticipation and stirring intrigue with its out-of-nowhere provenance less than eight weeks before 10 Cloverfield Lane was set to be released. In an era of saturation marketing as well as rampant spoiler alerts and studio leaks, Abrams's cinematic Beyoncé did the trick; the internet went nuts and the "secret sequel" went on to haul in $110 million (against a $15 million production budget).
So when the announcement began making the rounds of a third Cloverfield installment — titled God Particle and loosely connected to plot strands from the first film rather than a direct continuation of its story — fans were already primed for more Abrams-orchestrated fake outs. But since then … precisely zero trailers. No ads. No posters. And the movie's release date has hopscotched all over the calendar. First scheduled for February 2017, its theatrical debut got pushed back to last October. From there — renamed Cloverfield Movie — it was briefly removed from any release plan by studio distributor Paramount, before being given a February 2, 2018 rollout. Then, in early January, the film got postponed again until April 20 — its fourth move in 14 months. In other words, the kind of repositioning that usually signals either poor test screenings or a troubled production.
Within film-geek circles there were cries of consternation. "I don't really understand this move by Paramount Pictures, who has just shifted the release date of the next Cloverfield film to go up against New Line Cinema's behemoth Rampage," opined a writer at Bloody Disgusting, citing the Dwayne Johnson action epic also set to open April 20. "Granted, 10 Cloverfield Lane came out of nowhere … So it wasn't too crazy to assume Paramount was just going to surprise us all again," another writer said at MovieWeb. "But now it's starting to feel like maybe they have no idea what to do with the movie at all."
But according to several sources close to the production (who declined to be identified because they were not authorized to publicly comment on the matter), Abrams is personally behind the frequent rescheduling, and the moves are indeed part of a plan to foster drama and further intrigue surrounding the latest Cloverfield. In addition to creating a halo of prerelease awareness — even while stoking confusion — at least some of the delays were caused by the addition of new scenes and narration, one source said. And that's a possible side effect of having adapted an existing "spec" script by Oren Uziel to fit into the Cloverfield cinematic universe. (Paramount and Abrams declined to comment for this article.)
The movie is directed by Julius Onah, the Nigerian-American filmmaker behind 2015's Wilmer Valderrama–co-starring murder mystery The Girl Is in Trouble. And its reported plot (circa its God Particle incarnation, anyway — which may have changed) involves space-station astronauts, portrayed by Daniel Bruhl, Elizabeth Debicki, Gugu Mbatha-Raw, Chris O'Dowd, David Oyelowo, Aksel Hennie, John Ortiz, and Zhang Ziyi, who find themselves isolated after a scientific experiment involving a particle accelerator yields "unexpected results." In light of their terrifying discovery, the crew must fight to survive.
Uziel confirmed to Collider that the script (co-written by Doug Jung) predates any push to sequelize the first film. "It was written before 10 Cloverfield Lane and the expanded Cloverfield universe even existed as a thing," he said. "[Then] suddenly everything fell into place with J.J. [Abrams], Bad Robot, and Paramount." The screenwriter added that within the current movie marketplace, where getting the green-light for any original science-fiction film has become extremely difficult, branding his project under the Cloverfield banner "can only help."
It also helps to recall Abrams's mystery-box approach to generating interest for the first Cloverfield — a micro-budget monster movie he produced about an alien invasion of New York — that proved to be something of a marketing game-changer almost exactly a decade ago. At a time when filmgoers had become increasingly numbed by Hollywood's blitzkrieg style of promotion — with summer tentpole and event films distributing numerous trailers for months leading up to release, leaving little to the imagination in terms of plot, tone, and characterizations — Lost co-creator Abrams, along with co-producer Bryan Burk and director Matt Reeves, took exactly the opposite approach. Teasers and trailers, and especially a poster for Cloverfield showing the decapitated Statue of Liberty, deliberately withheld the movie's monster, instead highlighting the chaos he sowed while rampaging through Manhattan. And that omission became a kind of abiding mystery in need of solving; fans took to the web to trade wild speculation about the "Godzilla/Blair Witch mash-up" and, in turn, hyped up the movie's mythos.
So how does continually screwing with Cloverfield 3's release date help similarly galvanize potential ticket buyers? One source says Abrams has "some mysterious idea" about how to unveil the movie that's in keeping with how the previous installments were rolled out. Although it's certainly possible that above and beyond that purported plan, the multiple calendar reshufflings and delays could in fact be standard Hollywood production chaos — albeit with a visionary blockbuster filmmaker giving them his cosign.
The guy loves his mysteries, after all. "What are stories but mystery boxes?" Abrams said at a TED Talk in 2007. "What's a bigger mystery box than a movie theater? You go to the theater, you're just so excited to see anything — the moment the lights go down is often the best part."