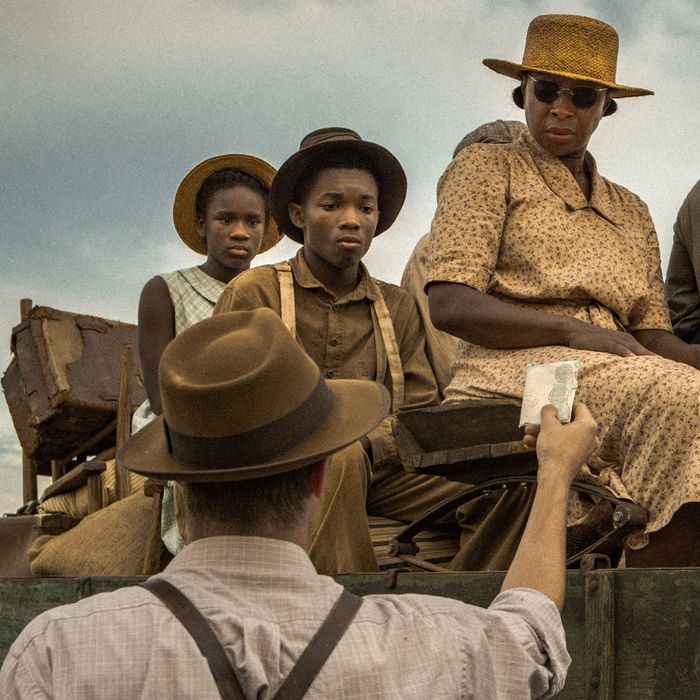 Mudbound.
Photo: Steve Dietl/Netflix
Some films have an epic-ness and artistry that demand they be seen on the big screen. Such is the case for Mudbound, an intricate and grand rendering of life in 1940s Mississippi Delta through the lives of a white family and black family, the McAllens and the Jacksons. Directed and co-written by Dee Rees, it's an ambitious film that takes grand concerns about mid-century American life — racism, land ownership among black people, the aftermath of war, familial legacies, the boundaries of love — and explores them on a human level with fine-tuned elegance.
I had the pleasure of seeing Mudbound twice in theaters. The first time was at the New Orleans Film Festival. The second was at a press screening in Chicago months later. If I wanted to see it a third time, watching it on Netflix at home would have to suffice due to its limited theatrical engagement — the film was not showing anywhere in the Chicago area. Each time I've seen Mudbound, I have been deeply moved and challenged by its complexity. Each time, I discovered new texture in the rich cinematography by Rachel Morrison and production design by David J. Bomba, startling intelligence and audaciousness in the direction by Rees, and further depth in the performances, in what I consider the best film ensemble of the past year. Mudbound also feels relevant to the current moment in ways many similar period pieces concerning black life do not. This is most apparent in the way it studies the tense relationship between black and white women, and touches upon how even the most "well-meaning" white people have racism that deserves to be unpacked. Last week, the film was nominated for four Academy Awards, each an important first in Oscar history: Mary J. Blige was nominated for Best Supporting Actress and Best Original Song, which is the only time a performer has been nominated for an actor nod and best original song for the same film in a single year; Rachel Morrison marks the first woman nominated for Best Cinematography; and Dee Rees, along with collaborator Virgil Williams, was nominated for Best Adapted Screenplay, making her the first black woman to do so.
Mudbound's nominations have been framed by multiple publications as a crucial turning point for Netflix, whose bold entrance into the world of feature filmmaking has mostly received a chilly response from award bodies. As Nicole Sperling wrote for Vanity Fair, "The news is significant to the well-capitalized company that has upended Hollywood, acquiring top talent with hefty paydays and releasing films on its service and in theaters on the same day. Despite the company's huge success — it announced on Monday that in the most recent quarter, it added 8 million new subscribers — the one area that remained elusive to Netflix was the Oscars, with some members of the Academy chafing at the company's rebellious day-and-date release strategy." The nominations Mudbound has received are definitely worth celebrating for both Netflix and those involved with the movie. Yet the fact that the film was mostly left out of conversations around Best Picture and Best Director speaks to larger questions about this moment in film history. The Oscars have never been purely about merit, but Mudbound's nominations still feel paltry for a film that taps the vein of such an important moment in American history, commenting both on the particulars of its time and on the current era, in which blackness is still under siege.
Mudbound is a turning point in Netflix's history with the Academy Awards, but being acquired by the streaming giant seems like a double-edged sword for the film itself. Netflix may be opening up its original films to larger audiences, but considering the overwhelming amount of material it streams, it's easy for a film like Mudbound — lengthy, dense, epic — to get lost among more approachable fare that sparks easier conversations among critics and viewers. It's a film that seems a bit ill-suited for Netflix's approach to distribution. Like director Christopher Nolan, I wish Netflix released it in more theaters exclusively before putting it on its site (which is Amazon's approach). As David Ehrlich wrote last year, "Netflix doesn't help movies find an audience any more than it helps audiences find a movie […]. The streaming service is a volatile sea of content that likes to measure itself in terms of dimension rather than depth; pull up the homepage, and the first thing you'll see is text boasting about the sheer number of new shows that have been added to the site in the past week." When discussing the film with other cinephiles and black intellectuals — audiences I imagine Mudbound would be primed for — none of them had even heard of the film.
Our ideas about film are rapidly shifting, but perhaps not fast enough for Mudbound to benefit from changing attitudes that movies can be "important" even if they aren't widely available in theaters. (Mudbound isn't the only amazing Netflix film directed by a woman focusing on people of color that I believe didn't get the focus it deserves partially because of Netflix's model. Angelina Jolie's latest, First They Killed My Father, is an impactful film that also got lost in award season.) Mudbound's somewhat liminal position within award conversations — in which its viewed as important because of the number of women working behind the scenes, yet it's not widely discussed with the same feverish adoration as works like Lady Bird and Get Out — points to bigger issues than Netflix's distribution model: the narrow understanding of progress and diversity within Hollywood, as well as the insufficient award-season narrative Mudbound has been able to craft for itself.
Awards have always been more about the narrative a film can build around itself than its artistic prowess. This awards season has had several indelible narratives: writer-director Jordan Peele creating a first film that uses horror to tell a knockout story about race in America and white liberalism; writer-director Greta Gerwig's moving, sharp examination of female adolescence, Lady Bird; and Luca Guadagnino's adaptation of the lush, gay coming-of-age romance, Call Me by Your Name. All three have dominated conversations about progress, diversity, and what we should expect of the Academy Awards when it comes to who and what is rewarded. Whether these films were deserving or not is besides the point. While each of these works were held up as signs of progress in distinct ways, Rees's masterful film was notably lost in the shuffle. The underlying message seems to be that representation and progress has a threshold — that in Hollywood, only so much diversity can happen.
Carey Mulligan noted at Sundance that "if Dee Rees was a white man she'd be directing the next Star Wars, she'd be nominated for an Oscar without question." She goes on to mention how directors like Patty Jenkins have been also overlooked for far too long. I will take it a step further and posit that Hollywood (as well as critics) does not know how to center black women's work and artistry within its canon and awards season. No black woman has ever been nominated for Best Director at the Academy Awards, which speaks to both a lack of opportunity and the ways black women have been sidelined in ongoing conversations about cinema's canon and what makes a director valuable. The black female director to come closest to Oscar gold was Ava DuVernay, for her 2014 film Selma, whose lack of a nomination was considered particularly damning. But when I think back to especially galling moments in which black women's artistry wasn't recognized, my mind goes to Kasi Lemmons's 1997 film Eve's Bayou, which was critically acclaimed (Roger Ebert proclaimed it the best film of the year) and the most financially successful independent film of that year, yet had no imprint on the Academy Awards. The conversations around representation, diversity, and the cinematic works that are included in the American canon are exceedingly narrow. As critics swarm around a few films to champion, the conversation grows even more myopic. It isn't really a conversation at all since it simply replicates the same issues that have plagued this industry for decades, choosing a few markers of progress to champion, and never challenging the reasons behind why a film and director become canonical. How can we be talking about progress and using film as a lens to understand our reality when black and brown women remain in the margins of these conversations?
Cinematic legacies can be built upon the foundation of awards-season accolades. All About Eve exists in a small class of films that have earned upward of 13 Academy Award nominations. Meryl Streep is iconic in part for the Best Actress nominations that populate her oeuvre. Of course, many cinematic legends don't have awards to show for their best work — look at Barbara Stanwyck, Orson Welles, and Juano Hernandez. I hope that Mudbound finds a following, even though it has been pushed to the margins somewhat in larger conversations about representation and race in cinema. Perhaps its narrative — which takes on the slow, winding rhythm of southern folklore — was too dense and brutal in its approach to discussing race, and failed to align with the prevailing cultural mood, even as it takes on themes important to ongoing dynamics within black communities. It may not have earned the accolades I believe it deserved, nor was at the front of film conversations this year, but it has a message that should be heeded, about the beauty of those who exist in the margins.