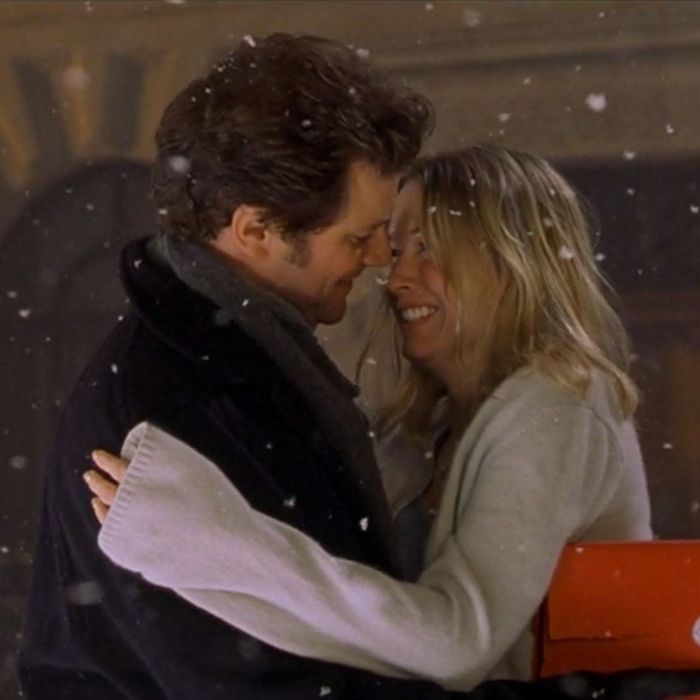 Just! As! You! Are!
Photo: Miramax Films
This week, four of our writers are participating in an extremely serious debate regarding which season is the best setting for a romantic comedy. Is it winter, when Nancy Meyers bundles all of her characters in adorable sweaters? Is it spring, when both the ice and Tom Hanks's cold corporate heart start melting? Is it summer, when everyone is confused about whether to marry Julia Roberts or Cameron Diaz? Or is it fall, when Taylor Swift, who thinks she is in a rom-com, drinks maple lattes? Read on for Alex Jung's defense of winter.
Do you hear the sleigh bells ring? Can you feel the other seasons shaking in their boots? Yes, my darlings, that's because winter, the one true queen of rom-coms, has arrived.
The romantic comedy, like Mariah Carey, only grows stronger as winter approaches. Let's review the facts: Springtime is for allergies and premature ejaculation; summer is for sunburn and circuit parties, for drinking Metamucil for lunch so you can preen on the beach; fall is merely a prelude to a decision; winter is when that special blend of romance, comedy, and humiliation crystallizes into its most timeless cinematic moments. It's when we throw down and answer age-old questions: Do I want unleash the hurricane that is my family upon my beloved? Do I want to spend days in a snow-blocked cabin with this person? Do I want this person to smell my farts underneath this quilt?
This is because, unlike other times of the year, winter is when the stakes are real and the drama is high. The kids don't call it cuffing season for nothing. It's like you're Shirley MacLaine in Billy Wilder's The Apartment and your lover Fred MacMurray swears he's going to leave his wife, he really is, but it's not until it's freezing and it's New Year's Eve that you realize that you've spent this year with this dithering, spineless man and that you'd better not spend the next year with him too. It's only then, after you've chosen your own self-respect, when you come to realize that the man you might really be in love with was right there all along and you run through the streets of New York City to get to him.
Winter's preeminence is perhaps best compared by a rom-com that skips through every season: When Harry Met Sally (falsely claimed by Nate Jones as a fall rom-com). Billy Crystal and Meg Ryan meet at the tail-end of spring on a road trip to New York to disastrous effect. They keep meeting over the next decade through the seasons, to no avail. And, yes, while there is the iconic shot of the duo strolling under the autumnal foliage in Central Park, it's not until there's snow on the ground and Meg Ryan is dragging a Christmas tree on the sidewalk that decisions are made. It's in winter, when Billy Crystal (also) runs across the city to make it for the countdown and revelers sing "Auld Lang Syne" when he gives Meg Ryan the Big Speech where he says, "I came here tonight because when you realize you want to spend the rest of your life with somebody, you want the rest of your life to start as soon as possible."
Other people may argue that winter is the season of death. To that point, I would say, they're correct! After all, it's when we are close to death that we are reminded of what truly matters in life. Like when Queen Latifah believes she's going to die in Last Holiday (a remake of a 1950 movie starring Alec Guinness) and decides to go after what she wants in life, i.e., a trip to Europe and LL Cool J. Or take While You Were Sleeping, which begins with Sandra Bullock saving Peter Gallagher's giant eyebrows on the Chicago train tracks, only for him to slip into a coma. She pretends to be his fiancée to his family, only to later confess the truth to everyone on their wedding day that she doesn't know him, and is, in fact, in love with Bill Pullman. It's the time for declarations, like in Moonstruck, when Nicolas Cage convinces Cher to come to bed with him, just as the snow begins to fall, because this is romance, goddammit.
Winter is such a powerful rom-com season that there's an entire subgenre of the holiday rom-com: one that starts with White Christmas and extends all the way to very literally titled ones like Nancy Meyers's The Holiday; The Best Man Holiday; and The Perfect Holiday, with the perfect Gabrielle Union. And it's no coincidence that the two most classic Tom Hanks–Meg Ryan collaborations happen during winter: Sleepless in Seattle and You've Got Mail. Then, of course, there's the latter's predecessor Shop Around the Corner starring Margaret Sullavan and Jimmy Stewart, The Preacher's Wife starring Whitney Houston, and The Family Stone with Diane Keaton and a high-strung Sarah Jessica Parker. And what rom-com list of any season would be complete without the inclusion of the most meme-worthy of them all: Love Actually, when one pre-zombie Andrew Lincoln delivered a silent message to Keira Knightley via posterboard.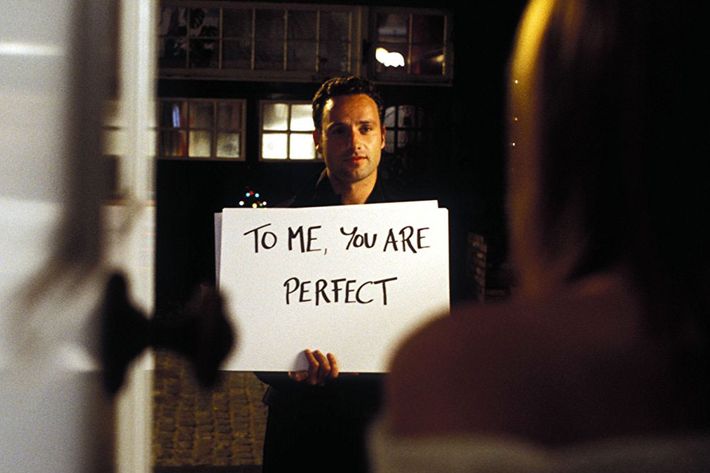 The winter rom-com isn't just schmaltz; it is also the time for daring visuals and experiments in form: Where would we without the mind-mixing Eternal Sunshine of the Spotless Mind, and that shot of Kate Winslet and Jim Carrey lying together on the ice? Or the holiday miracle of turning shitty media man Bill Murray into a good person, as in the iterative brilliance of Groundhog Day?
And fall can keep Taylor Swift. Winter is the perfect time for music and spiked cocoa. Whether it's "Last Christmas" playing at the beginning of The Holiday, or an entire plotline devoted to contemporary Christmas classic "All I Want for Christmas Is You" in Love Actually, winter is indisputably the time to sing your feelings. Need we remind you that The Preacher's Wife boasts one of the greatest movie soundtracks of all time, and features a scene where Whitney Houston sings "I Believe in You and Me" with Lionel Richie accompanying her on the piano?
And finally, there is, perhaps, the epitome of the contemporary rom-com: Bridget Jones' Diary starring Renee Zellweger, Colin Firth, and Hugh Grant. It has everything: Colin Firth as a Mr. Darcy type, Hugh Grant as a Hugh Grant type, Celine Dion karaoke, ugly reindeer jumpers, and promises to be different, better, and more disciplined with each new year. And it reminds us all of the truest and most heart-melting of wintry declarations: that someone likes you, just as you are.