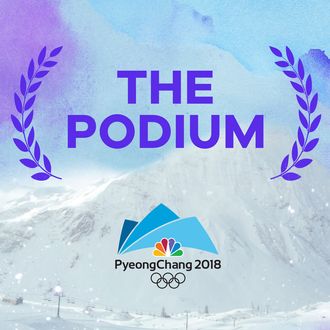 Soon to be seen on a smartphone near you.
Photo: NBC Sports
The Winter Olympics looms over the horizon, and soon it will shower us with sleets of powdery, cool Winter Olympics #content. I, for one, am here for it. I'm also here for the official NBC Winter Olympics Podcast, which was just announced this morning, because hey, it's 2018.
The podcast is called The Podium, and it's a collaboration between NBC Sports, whose parent company NBCUniversal holds broadcast rights to the Olympics all the way through 2032, and Vox Media, the whippersnapper digital-media company behind sites like Curbed, Vox.com, and Recode that has built out a formidable podcast operation over the past few years. (It has also been making some inroads into the television industry, with projects lined up at PBS, A+E Network's FYI, and Netflix, in case that's relevant to you.) The podcast will be recorded on location at Pyeongchang, the site of this year's Winter Olympics, and it will begin publishing episodes on February 8, the eve of the opening ceremony, with new editions daily through the tournament's 18-day run.
Each installment of The Podium will serve listeners with newsy stuff like recaps of the previous day's competitions, updates on overnight developments, and forecasts of the day's events. But they will also be bundled together with supplementary human-interest segments, like stories produced from around Pyeongchang and tournament venues, behind-the-scenes looks, and interviews with Team USA Olympians — you know, the good shit. There are a couple of chunky preview episodes already in the feed, including a brief history of snowboarding in the U.S. and the influence of the movie Cool Runnings. Here's hoping that there'll be something at some point about the overarching political tension between South and North Korea, but then again, maybe it's best to keep things light?
Anyway, I'm pretty jazzed about this Big World Sporting Event companion-podcast idea. Crossing my fingers for a similar situation with the FIFA World Cup later this summer. You can find The Podium here.