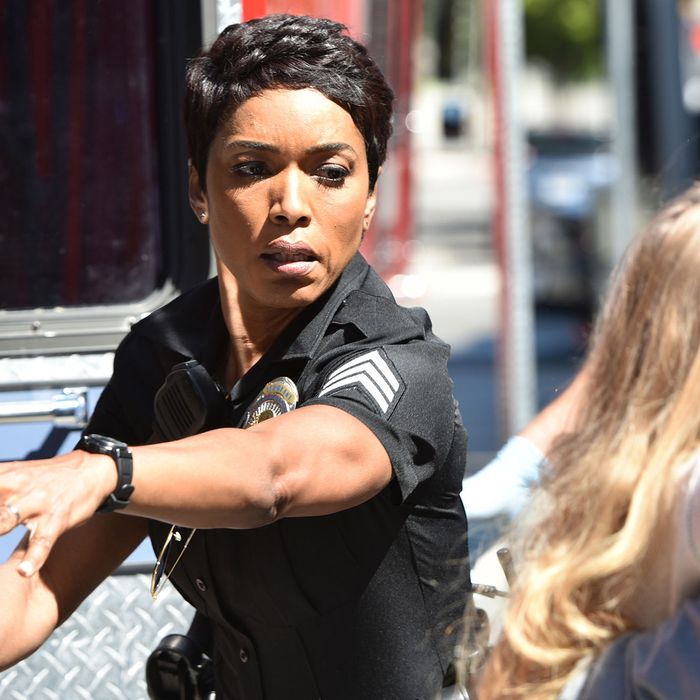 Angela Bassett in
9-1-1.
Photo: Michael Becker/FOX
The new year is less than two weeks old, but it's already delivered at least two potential new broadcast TV hits: Ellen DeGeneres's Game of Games and Ryan Murphy's 9-1-1. Both shows launched to big audiences earlier this month and have held up in their subsequent outings, with DeGeneres's NBC variety/game show doing particularly well. To be sure, linear ratings don't matter nearly as much as they used to in TV — but they're often still predictive of a show's long-term chances for success. Here's a look at what the early numbers are telling us about 2018's crop of new series, broken down by how network execs might be feeling about their long-term prospects.
Early Winners
Ellen's Game of Games
A couple years back, NBC tried to revive the variety-show format by having Neil Patrick Harris host what instead turned out to be a poorly produced game/stunt show. It flopped, in no small part because Harris and the producers seemed to be making up the show's format as they went along. By contrast, Ellen DeGeneres and everyone behind her new prime-time hour know exactly what they're doing with Game of Games. They've collected a slew of mini-formats perfected by years on DeGeneres's daytime show, upped the financial stakes, and added just the right amount of network TV sizzle. In other words, Ellen is being Ellen — and so far, it's working spectacularly well. After previewing the series behind The Voice finale last month, the show's official January 2 launch generated the biggest premiere numbers for a new unscripted series in nearly two years (since the DeGeneres-produced Little Big Shots). The ratings have more than held up in subsequent weeks: Tuesday night's episodes actually grew from last week, something that rarely happens for new unscripted shows. NBC has already ordered a second season of 13 episodes.
9-1-1
In the age of Trump, prime-time audiences seem to be holding out for heroes. Last fall, ABC gave America Freddie Highmore as The Good Doctor and ratings went through the roof. Now Fox seems to have found a much-needed drama success with the first-responder heroics of 9-1-1, from creators Ryan Murphy and Brad Falchuk. More than 10 million people watched the January 3 premiere, and among adults under 50, ratings for the first three episodes have been close to what Fox usually earns with Empire. Critical acclaim for the show's pilot certainly didn't hurt, but casting audience faves Angela Bassett, Connie Britton, and Peter Krause in an adrenaline-packed procedural helped the show stand out. Not surprisingly, on Tuesday, Fox rang up a second season of 9-1-1.
Looking Good
Grown-ish
ABC passed on this spinoff of the network's Black-ish, allowing sister network Freeform the chance to pick up the show. It was a smart call: While overall audience for the January 3 premiere was small by broadcast standards — around 1.6 million viewers — Grown-ish's Nielsen numbers among the younger audiences Freeform targets were stellar. The series, about the oldest daughter on Black-ish (played by Yara Shahidi) heading off to college, gave Freeform its biggest series premiere numbers in two years and its best ratings for an original comedy since 2012. Week two linear numbers took a hit, but still held up relatively well. Barring an unexpected collapse in coming weeks, the show seems almost certain to return for a second season.
Child Support
ABC's kids-say-the-darndest-things game show got nothing near the massive promotional push NBC gave Ellen's Game of Games, and the network sort of buried it on Friday nights. Yet despite those two strikes, the Fred Savage–hosted comedy hour has earned surprisingly solid numbers. The January 5 premiere drew 4.4 million viewers, the biggest audience for a new Friday night unscripted show since 2010. And last week's second episode had more same-day viewers than first-run programming on Fox and NBC, while also ranking as ABC's No. 1 show Friday among viewers and adults under 50. Unlike NBC, ABC tends to treat most of its unscripted shows as utility players rather than potential breakout hits, so it's unlikely Child Support will grow into anything near a blockbuster. But a regular spot in the network's scheduling rotation seems likely as of now.
The Chi
Even before its official premiere, things were looking good for Showtime's Lena Waithe drama. Critical reaction to the series was, if not universally glowing, incredibly strong, with 85 percent of reviews tallied by Rotten Tomatoes as positive. That strong prelaunch buzz represented a big victory for The Chi: For subscription-based premium networks like Showtime, critical embrace of new shows is as, or even more, important than how many viewers show up to watch the debut. But thanks in part to a primo time slot behind Showtime's smash hit Shameless, the early numbers for The Chi have been good. Including viewers who watched via nonlinear platforms, the premiere tallied around 1.7 million viewers within a day of its airing opposite the Golden Globes, a number Showtime expects will grow to 3.8 million once all first-week viewing is tallied. The network says that's its best launch audience for series premiere since the 2016 debut of Billions. Week two numbers are also encouraging: Same-day linear audience ticked up 9 percent, while overall audience (including subscribers who watched early online) is so far on par with the show's premiere ratings. It's still way too soon to declare The Chi a hit, but the combination of great reviews and strong audience sampling suggests Showtime is likely to stick with the show awhile.
Too Soon to Tell
LA to Vegas
Fox went all-out to get viewers to book a flight on this new comedy from Modern Family executive producer Steve Levitan. It heavily promoted the show for months on air and went the extra mile with off-network marketing, even going so far as to charter a flight to take entertainment reporters from, yes, Los Angeles to Vegas in order to hype the premiere party. So far, however, audiences have been slow to hop onboard. To be sure, the early numbers aren't terrible: LA to Vegas is doing about as well as some of ABC's established Tuesday comedies and its numbers are comparable to what The Mick is averaging at 9:30 p.m. Fox execs also have to be encouraged by the fact that viewership has been pretty stable from week to week, hinting that viewers who've found the show like it.
Still, in Fox's key demo target of younger adults, the show's January 2 premiere came in about 20 percent below last year's premiere of The Mick, with the year-to-year decline falling to roughly 30 percent last week, according to DVR-adjusted ratings. Given how much The Mick has declined in its second season, it's possible the not-awful numbers LA to Vegas is generating this month could be sharply lower by the end of the season. Fox needs a new comedy hit, not another okay performer. In defense of LA to Vegas, it's hard to go up against NBC's This Is Us juggernaut from the start. (The Mick began life in a far less competitive 8:30 p.m. time slot paired with New Girl, and was boosted by premiering behind a big NFL playoff game.) Plus, network comedies need time to find an audience, and if Fox execs are happy with the creative direction of LA to Vegas, they'll likely be patient. Indeed, the network has already expanded the show's first season by three episodes.
The Four
With The Voice between seasons and one of its signature shows (American Idol) headed to ABC later this year, Fox chose to rush a new take on the music-competition format on the air this month. The network may have been guided by history in deciding to move so quickly. Back in 2011, just a few months before Fox was set to launch an American version of the U.K.'s The X-Factor, NBC came out of nowhere with a similar series called The Voice. It was an instant hit, and its success helped dampen enthusiasm for X-Factor, which would go on to last just three years in America.
It's possible Fox execs didn't consider the pending return of Idol at all when green-lighting The Four, but whatever their motivation in ordering it, early evidence suggests history won't be repeating itself. The two episodes that have aired so far have both averaged less than 4 million viewers while generating decidedly meh demo ratings. It's not that The Four is a complete disaster, particularly given Fox's overall ratings struggle of late. It's doing … okay. But big reality competition series like The Four aren't particularly cheap to produce and have no long-term value (Netflix won't be paying millions for rerun rights). Fox may well decide "not bad" is good enough for a second season, but the odds of The Four becoming a significant hit are zero.