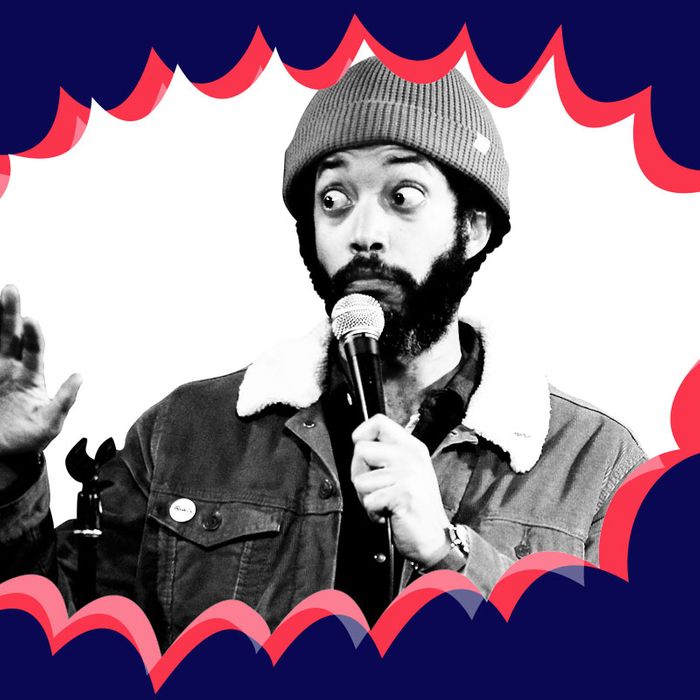 Wyatt Cenac
Photo: Getty Images
As stand-up comedy has moved beyond the comedy club over the last 15 years, it's become ever more common for comics to host their own weekly stand-up shows. When those shows are good, they allow a comic to find their people and write for their audience. For five years, Wyatt Cenac hosted one of the very best in New York — Night Train. From 2012 to 2017, Night Train created a loyal fan base, ultimately to be captured in a Seeso series. As you can see in the clip below, it was Cenac's home.
This specific bit and this specific piece of Brooklyn are the subjects of this week's episode of Good One, Vulture's podcast about jokes and the people who tell them. Listen to the episode and read an excerpt from the transcript of the discussion below. Tune in to Good One every Monday on Apple Podcasts, or wherever you get your podcasts.
What were you hoping for with Night Train?
I was hoping to get $10 million by just hosting a very low-ticket-cost show in a weird part of Brooklyn for 300 people. And I did not do it. I had been asked by the producer of the show Marianne Ways, who produced the show before it, Hot Tub with Kurt Braunohler and Kristen Schaal. I thought it'd be a fun way to have a show that'll force me to write every week and see a bunch of different comedians.
In the process of doing it, we built it and turned it into a thing Marianne and I were both very proud of, as far as creating a show that both established comedians and up-and-coming comedians wanted to perform at and audiences were excited for all of the comedians. I think a lot of times when you do a comedy show, people will turn out for a name they know. So, they get excited when they see Patton Oswalt is going to be on the show, but they kind of cross their arms until Patton Oswalt shows up. It becomes this weird gauntlet that you have to go through as a comedian. I wanted to make a show that didn't do that, where the audience came knowing that we curated a fun show, and they should never cross their arms and just have fun.
What did this mean to you as the thing you did right after The Daily Show, considering how you talked about leaving?
If anybody listened to that WTF episode, what I was talking about was being a minority in a room where I'm the only minority, the only person of color in the room. And when uncomfortable conversations happen, they become even more magnified when there's one person. Whether they want to or not, they bear the burden of it and bear the responsibility of it. With Night Train, one of the things we wanted to do was always try to make a show that was inclusive. When I started doing stand-up, I would go do shows and the shows were so segregated. If you were at a club, the shows would oftentimes be a lineup of seven people and it was six white guys and there was room for either a woman or a person of color. When they introduced the woman, they would always say, "Who's ready for a lady?" Which feels so weird, as though you're not saying this person's funny, you're saying they have a gender. There were so many shows like that, whether it was that or whether there were shows like Refried Fridays, which was a show that was all for Latinos. And there was Chopstick Comedy. For me, funny is funny, and what's unfortunate is these comedians aren't being allowed to operate in rooms for everybody and that everybody can laugh and say, "Okay, I find that person funny and I don't just have to find them funny because they look like me." I think that seems like a dangerous little rabbit hole you send yourself down.
I wanted to talk about Brooklyn both as a literal place where you've been doing stand-up and also the idea of Brooklyn, which I feel like you explore both in your stand-up and then in your webseries, AKA Wyatt Cenac. Why is Brooklyn like a muse for you, and how is it?
It's a muse for me because I live there and I don't like to come into the city that often. I spent a lot of time in Brooklyn as a kid. I was born in New York and my grandmother lived in Crown Heights, so there's a part of it that I feel this connection to. I'm reminded of moments of hanging out with my grandmother and my uncle in Prospect Park. Or just going to the Fulton Mall. The Fulton Mall has changed, but there are nice full-circle moments, even being able to screen AKA Wyatt Cenac at Alamo Drafthouse in the Fulton Mall. That's very much new Brooklyn, but I remember going through this place as a kid and my grandmother buying me outfits that my mother would then immediately throw away because they were terribly made and really loud. When I was a kid, I loved really loud things. My grandmother and I went to the Fulton Mall and I bought a three-piece suit that was paisley. Paisley over the whole suit. I was 6 and thought it was great. My mother took a photo of me in it, sent it to my grandmother, and burned the suit. But there are these full-circle moments whenever I go anywhere in Brooklyn. It feels like, "Oh, okay, the city is changing, but there are these elements I remember being here as a kid." I was very fortunate that my grandmother was a very magical person to me, so Brooklyn became an extension of her and of that magic. For me, getting to spend as much time in it means a lot.