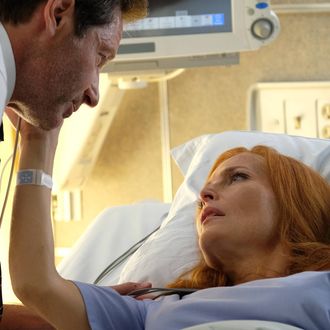 Is this good-bye?
Photo: Robert Falconer/FOX
The X-Files fans who want to believe they're in for 11 more seasons and two more movies of their favorite sci-fi series might need to find their way to an alternative timeline. Lead actor Gillian Anderson announced last fall that season 11 will be her last — a statement that she is sticking to — and creator Chris Carter is not interested in carrying on without her.
"For me, The X-Files is Mulder and Scully," Carter told Collider in an interview. "I think if it were without Scully, I wouldn't do it. That's not my X-Files."
There goes all your Scully-less fan theories.
After nine seasons, The X-Files went off the air in 2002, but returned, with its original co-stars (Anderson and David Duchovny) for a six-episode tenth season in 2016. On January 3, it returned to Fox for season 11, a season that Vulture critic Matt Zoller Seitz has called "sublime."