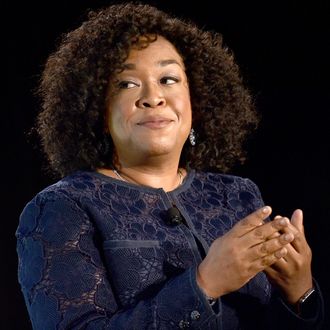 Photo: Bryan Bedder/Getty Images for Vulture Festiva
Anonymous person who pointed out Shonda Rhimes to your friend at a Chili's, know that you were right. That was indeed the hit-making showrunner. Rhimes confirmed through her Twitter account that she was dining at one of the chain's locations with her sister when she overheard someone mentioning her on Friday. Unfortunately for that aforementioned anonymous person, it does not seem that her friend believed they were in presence of greatness:
Normally it's not recommended that you approach a random stranger at Chili's who you believe bears a resemblance to a famous person. But, when that random stranger is the queen of ABC's Thursday night lineup, and knows all the dish on that upcoming Scandal–How to Get Away With Murder crossover, maybe you should just go for it?