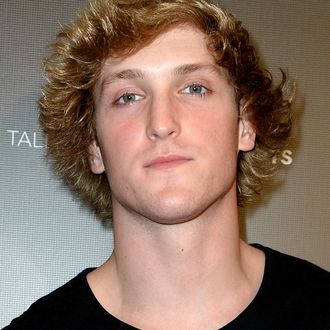 Logan Paul.
Photo: Gustavo Caballero/Getty Images for Rolling Stone
YouTube has finally announced disciplinary measures it will take against Logan Paul for the video he posted on New Year's Eve of a dead man hanging in Japan's Aokigahara Forest. According to The Hollywood Reporter, the vlogger will no longer appear in the fourth season of the YouTube Red series Foursome, and the future of The Thinning: New World Order (a sequel to his Red starring vehicle The Thinning from 2016) has now become uncertain. A YouTube spokesperson also said in a statement that "his new Originals are on hold." The most immediate dollars-and-cents impact on Paul, though, will be his channel's removal from the Google Preferred advertising program, which allows the platform's top creators to take in more revenue by letting brands sell against their content. This is the same type of reprimand that YouTube levied against the massively popular personality PewDiePie, who was penalized after posting anti-Semitic content on his channel.
YouTube had been slow to issue a substantial response to Paul's distressing video, which he removed after taking heavy criticism. (He also apologized and then announced a hiatus to take time and "reflect.") First came a statement offering condolences to the deceased man's family, and then came a series of tweets from yesterday that acknowledged their lack of action regarding Paul, without including any kind of apology for the delay and saying only that they were "looking at further consequences" for Paul. It sounds like the ad demotion and the pause of Paul's projects are the aforementioned consequences, but considering how PewDiePie has tacked on a few million more subscribers since having his wrists slapped by YouTube (he is now approaching 60 million), the real impact on Paul's vlog will only be made clear over time.