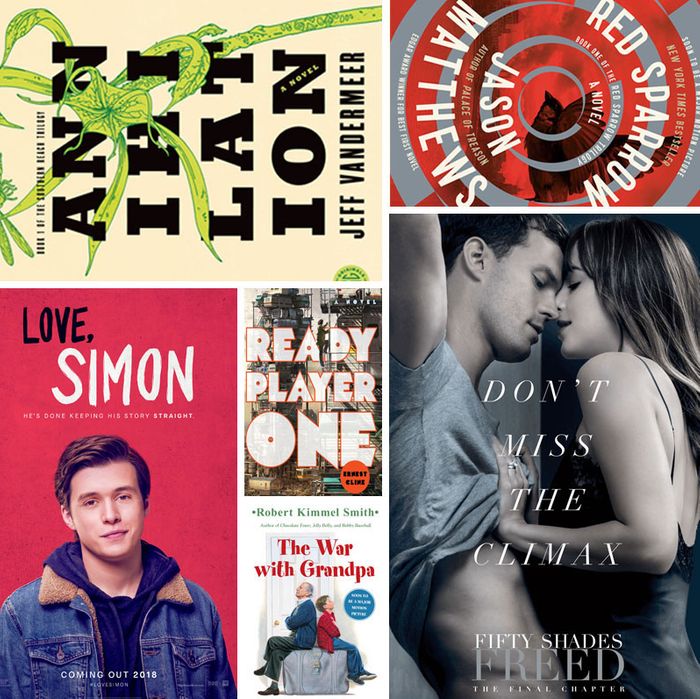 Even if you're not that much of a blockbuster aficionado, there's a certain niche of films that may pique your interest: The always in demand book-to-film adaptations. This spring and summer, expect ten straight-from-the-best-sellers-list marvels to light up the screen. The options vary from the very kinky, to the just plain funny. Read some SparkNotes and browse them all below.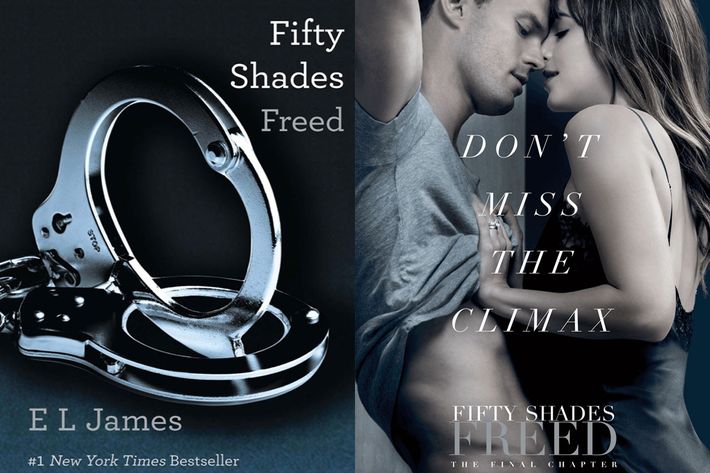 Film: Fifty Shades Freed (directed by James Foley)
Source: Fifty Shades Freed by E.L. James (2012)
Ah, one last romp for all of the butt-plug enthusiasts out there. Anastasia and Christian get their blissful honeymoon period cut short thanks to a psychopath hell-bent on tearing them apart, but don't think the kidnapping and the blackmail will get in the way of some good ole' fashioned ice-cream sex for the duo.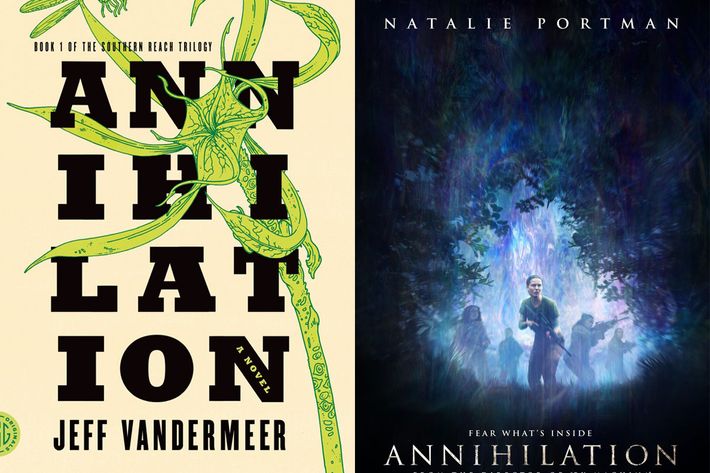 Film: Annihilation (directed by Alex Garland)
Source: Annihilation by Jeff VanderMeer (2014)
Name a more iconic sci-fi soldier quartet: Natalie Portman, Tessa Thompson, Jennifer Jason Leigh, and Gina Rodriguez. (We'll wait.) These women are tasked with going into a terrifyingly unknown — and potentially otherworldly — disaster zone following the literal annihilation of another group of soldiers in the terrain, hoping to get to the bottom of the tragedy that transpired. Things do not go according to plan.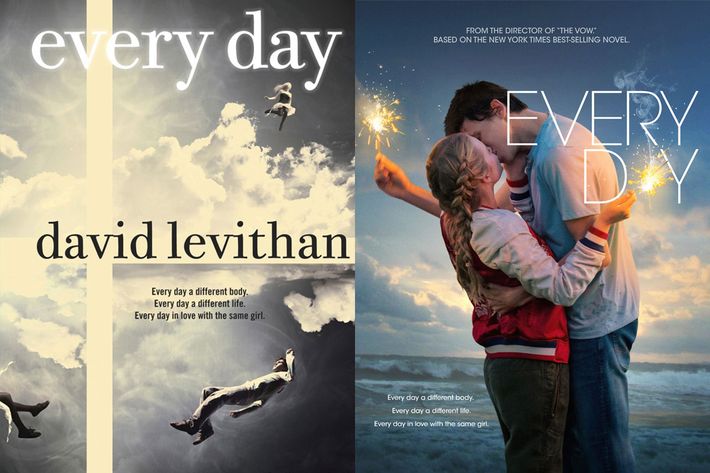 Film: Every Day (directed by Michael Sucsy)
Source: Every Day by David Levithan (2012)
A teenage girl named Rhiannon finds herself smitten and drawn to a wandering spirit known as "A", who's able to reincarnate into a different human body every day. (Sorry, not a Pretty Little Liars spin-off.) "A" rules her life like a bird in flight! She's taken by the sky! Sound lyrically familiar to anything? Yup — the film's also inspired by "Rhiannon" by Fleetwood Mac.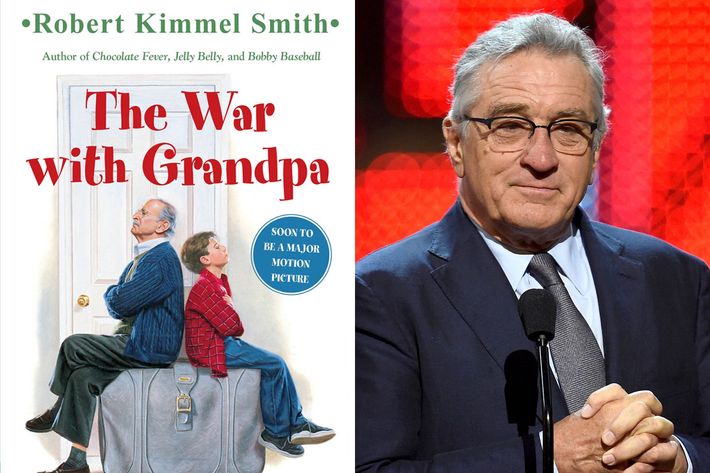 Film: The War With Grandpa (directed by Tim Hill)
Source: The War With Grandpa by Robert Kimmel Smith (1984)
The youths have no respect for their elders these days. After a tween is forced to relinquish his bedroom to his newly-moved-in grandfather (Robert De Niro), he vows to embrace his inner Kevin McCallister to do everything within his power to get the grandpappy to leave. Who wouldn't want to share their space with Bobby D? Rude.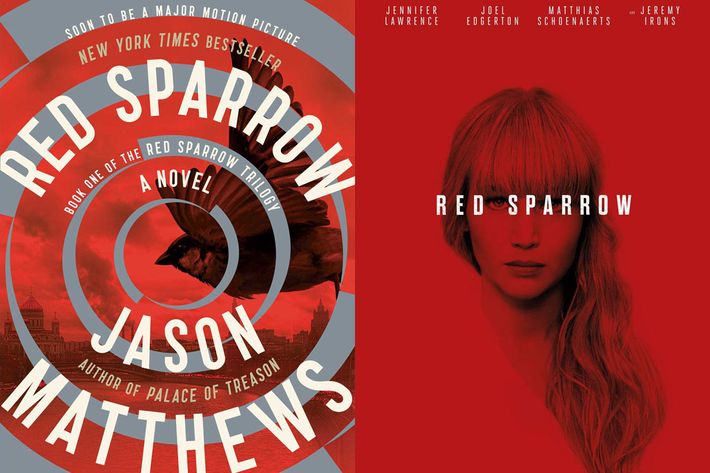 Film: Red Sparrow (directed by Francis Lawrence)
Source: Red Sparrow by Jason Matthews (2013)
Come for J.Law's Russian accent, stay for J.Law's merciless penchant for bashing men in the head with metal bars. As one of the most skillful spies in the Kremlin's "Sparrow" program, Lawrence's seductive character — who's expertly trained in "psychological manipulation" — is tasked with taking down a secret American mole. Too bad they end up falling in love and compromise her entire mission.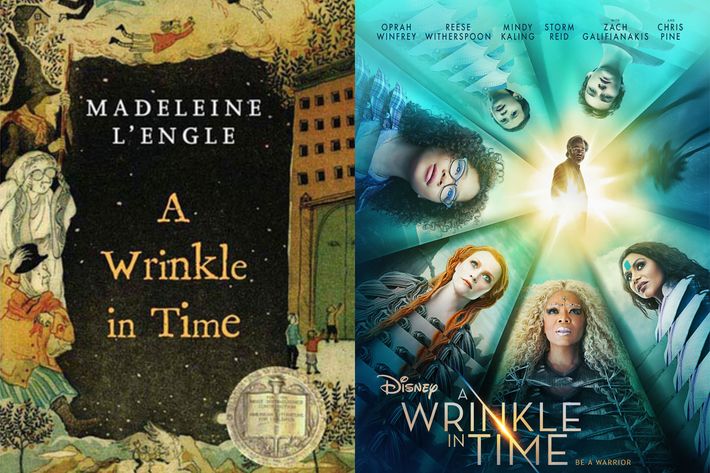 Film: A Wrinkle in Time (directed by Ava DuVernay)
Source: A Wrinkle in Time by Madeleine L'Engle (1962)
Icons! In! Space! For those who don't know the jist of this classic novel, a brief refresher: A teen girl's genius astrophysicist father gets trapped by an "evil energy" while exploring time and space, and she embarks on the adventure of a lifetime with her friend to bring him back home. With the help of the heavenly warrior trio of Oprah, Reese, and Mindy, of course.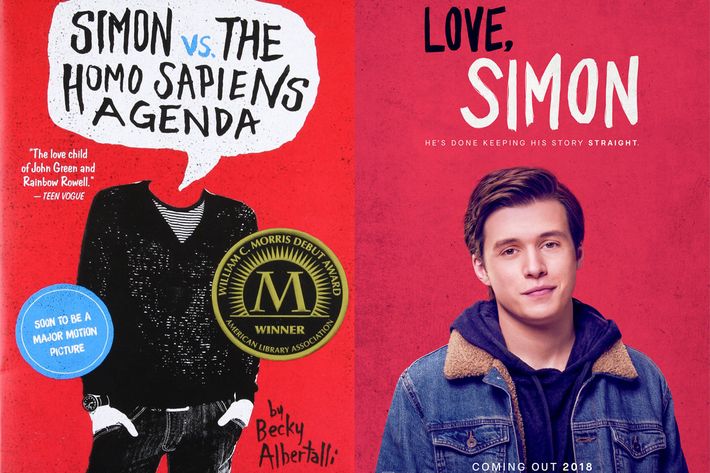 Film: Love, Simon (directed by Greg Berlanti)
Source: Simon vs. the Homo Sapiens Agenda by Becky Albertalli (2015)
Simon is an amiable, quintessential high school kid who loves drinking iced coffee and hanging out with his friends. He even gets along great with his parents! But when an unknown blackmailer threatens to expose his long-harbored secret — being gay — to the entire school, he has to come to terms with his sexuality being revealed before he's ready to do it on his own. That, and he's trying to figure out the identity of his email pen-pal, who's also a gay teen at his school.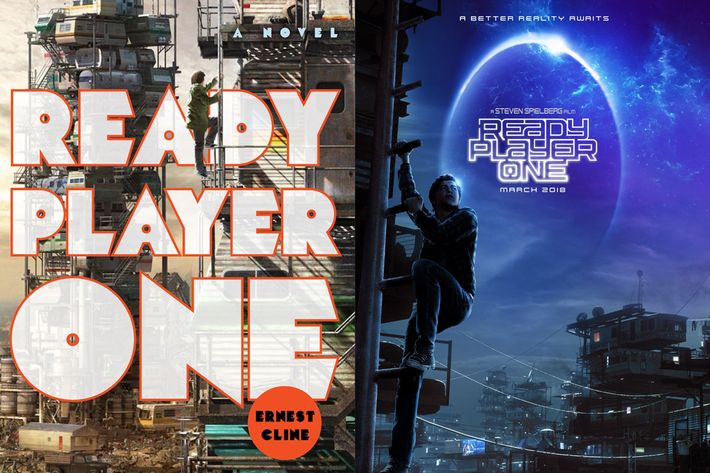 Film: Ready Player One (directed by Steven Spielberg)
Source: Ready Player One by Ernest Cline (2011)
Another year, another dystopian big-screen treatment. But this time with Spielberg! It's 2044, and the world is turning into a literal dumpster fire thanks to the depletion of any and all fossil fuels — with the only joy most people can get coming from a virtual-reality game called OASIS. The game proves to be fortuitous to whoever finds the cryptic "Easter egg" inside it, which was announced to the public in the eccentric creator's will upon his death. The prize to whoever finds it first? Just a cool half a trillion dollars and ownership of the company. Nothing too crazy.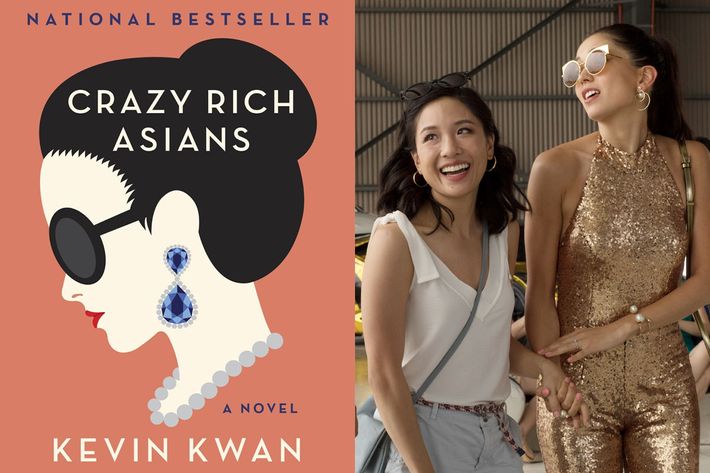 Film: Crazy Rich Asians (directed by Jon M. Chu)
Source: Crazy Rich Asians by Kevin Kwan (2013)
They're crazy, and they're crazy rich. When a professor (Constance Wu!) accompanies her longtime boyfriend to his homeland of Singapore for his best pal's wedding, she finally gets to see just how, well, crazy and rich everyone in their extended social sphere is. Think of the penthouses! Think of the stilettos! Think of the … 24k drama!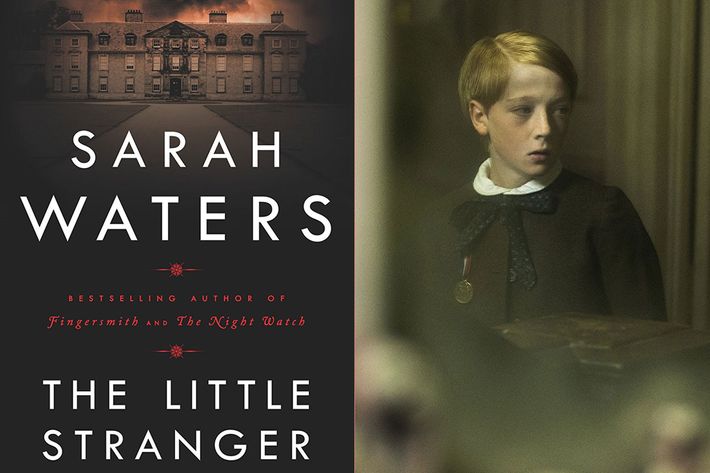 Film: The Little Stranger (directed by Lenny Abrahamson)
Source: The Little Stranger by Sarah Waters (2009)
A routine house call for a physician (Domhnall Gleeson) in the postwar, rural English countryside takes a turn for the spooky when the estate's isolated family begins exhibiting increasingly alarming symptoms. Symptoms that may or may not be brought on by otherworldly spirits. It doesn't help matters that their decrepit property looks straight out of a Gothic nightmare.