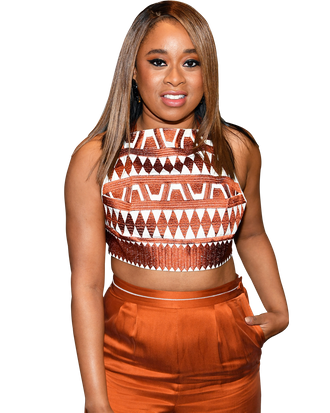 First, it was a stand-up act. Then it became a super-popular podcast. Now, 2 Dope Queens has expanded to include four HBO comedy specials, the first of which airs tonight. Hosts Jessica Williams and Phoebe Robinson filmed the specials at Brooklyn's Kings Theatre and will feature guests like Sarah Jessica Parker, Uzo Aduba, Tituss Burgess, and Jon Stewart.
Directed by comedian Tig Notaro, the shows will air on Fridays in February and are themed "New York," "Hair," "Hot Peen," and "Black Nerds." Robinson, the best-selling author of You Can't Touch My Hair (And Other Things I Still Have to Explain) and a former Vulture recapper, spoke to us about adapting her podcast for TV, what she learned from producing the specials, and which celebrity kissed her foot.
You turned your stand-up show into a podcast. What challenges did you face turning your podcast into a TV show filmed in front of an audience?
For me personally, I was just worried that transitioning from a podcast, which is a very intimate sort of experience — people tell me they listen to my podcast while they're at the gym or on road trips — so you're in someone's ear to being on television. That's a lot of space to fill. I was just worried that the secret sauce to our podcast was just an audio thing. What's been great is that HBO wanted Jessica and I to keep what we do and just elevate it. They really believed in the podcast being special from day one, and I think what's been great is that we didn't have to do it ourselves. We had Tig Notaro directing, who is a phenomenal and unique comedic voice. We had Amy Aniobi, who's our head writer — she's a writer and producer for Insecure. So we were in good hands. Jessica and I didn't really have hurdles to overcome. It was really like, the podcast is great, let's just amplify it. And I think that's what we did with these four specials. Even if you've never heard of us, never listened to the podcast, I think someone new coming into this is gonna watch this and go, "Oh, this feels different from other comedy specials. This stands out. This is really fun. These two women talking back and forth about hot dudes or pop-culture stuff or dating, that seems really cool."
The TV show is as close to the podcast as it possibly could be. At the time of the taping, Jessica and I had spent about three-and-a-half years working on our comedic voice together. So, it felt like we were very prepared. I was a little nervous; I think any performer is always a little nervous before you go out, otherwise it shows you don't care. But I was kind of like, "We do this all the time. There are HD cameras out there that can pick up the zit I popped from this afternoon, but other than that, we got this. We know what we're doing." So it felt pretty safe, and as low-key as an HBO comedy taping can feel.
When you say that you amplified the podcast, do you mean in terms of the guests?
Yeah. When we did the podcast, I'd show up in sweatpants sometimes and a beanie on my head. It looked like laundry day for me and it probably was. For HBO, I can't be black and come up in some sweatpants because Harriet Tubman will be like, "I did not die for this." So, we wanted to make sure that we looked great and that we were on point in that way. And also in terms of amplifying, when we talked about our celebrity guests and what we could do that would be different — it was stuff like, "What if we teach Sarah Jessica Parker about black hair?" Just stuff that you're not gonna see anywhere else. Like, she's not gonna go on The Late Show With Stephen Colbert and talk about black hair for five minutes.
We also wanted to show comics that you're not going to see anywhere else, or haven't seen anywhere else yet, but you're going to see them all over the place soon. And these really funny, genuinely adorable, thoughtful moments with celebrities who you think you know, but there's this other side to them that you might not have seen.
How did you wind up with four specials on HBO?
We've been doing the podcast for a while, and I said to Jessica, "I think this is a special. This is a variety show that can live on HBO." I really just had the absolute confidence and belief in my gut that this should be seen by more people. And Jessica said, "Yeah, that sounds awesome! Let's do it!'" So we talked with our people about it and my manager Chenoa Estrada, to her credit, was like, "You should ask for four HBO specials. It should be during Black History Month so you could air one a week." And I was like, "You crafty and sneaky bitch. Yes we will!" You're lucky to get one HBO comedy special in your life, so the fact that we have four, it's like, "Yasssss!" Ask for what you want and what you believe you deserve, and more often than not, people will be like, "Sure!"
Why did you specifically think of an HBO special?
I'm a very business-minded person. I'm always thinking, "Who do I think will get me?" and "Who do I think will like the stuff that I do?" Whether it's with Jessica or by myself, I've been doing stand-up for ten years. That's how I started in comedy, and I still do stand-up. Sometimes in stand-up, you want that late-night set where you get that five minutes, then you want a half-hour special, and then the crown, if you will, is an HBO special. So I was like, "It's always HBO, it's only gonna be HBO." And everyone else agreed, which was great. I don't have to be a dictator about it. [Laughs.]
What were some of your favorite moments? You talked about Sarah Jessica learning about hair. What else?
Yeah, she kissed my foot. My well-lotioned foot. That was pretty phenomenal, to be like, "SJP is kissing my foot and I love Sex and the City forever!" We just had a lot of fun goofing around. Jessica and I definitely took advantage of being more physical since there were cameras there, so it was nice that we could joke around. I'm not a person who wears high heels, so me trying to do this whole comedy in high heels was funny to me because every time I did it, I was like, "I don't know if I'm gonna be able to get out of this position, but you know what? We're gonna go for it, and if I can't get out of it, that'll be the comedy, that I'm stuck in whatever position I'm in."
I'm just so proud of it. I think we did the best possible job we could have done with the specials, and that's [what means the most] to me, beyond hopefully getting good reviews and people liking it, walking away from a project knowing I put everything I had into it. Putting out something that people are gonna look back on in, I dunno, 30 years and be like, "That was really freaking cool. You remember that one time we had four HBO specials and Uzo Aduba came out and we just talked about video games?" That's cool, you know?
What was that first day like? Did it take a while to find a rhythm on that big stage?
When when we came out and Nore Davis, who was the warm-up comic, announced us and we came out to a standing ovation and I was like, "L-O-L, like, what?" We're starting with a standing ovation, what is this, a freaking Solange concert? What is this, brunch at Bono's house? What the fuck is happening? So it really put us in the zone where it's like, "Oh yeah, people, like, left work early, got a babysitter." Some people, I found out later, flew from Seattle or Vancouver to come, and so that love was just really cool and awesome.
It's just a wild experience to have thousands of people stand up and cheer for you. I didn't even save a baby from a well or, like, wash a dog. That's an achievement, washing a dog and not getting water everywhere. You guys are proud of me for wearing Spanx? Throughout the tapings, Jessica and I got the jitters out of the way, and I think by the time we did our last taping, it was so seamless and easy and fun and it went by so fast.
Tell me a little bit about working with Tig Notaro. 
You know, I love Tig Tig. I love that she lets me call her "Tig Tig." I just started saying that and she was like, "Yeah, I'm on board." I'm like, "Love you!" But yeah, she's just so funny and smart and I love the way her brain works. More than just being a really accomplished comedian, she has directed other comedy specials. She also writes. A lot of times when you do comedy, it lets you know your voice really well and you might not be able to analyze other voices well, but I think that she has that extra level. She's got her stuff down pat and she can also figure out what Jess and I do and how to make that magic work. She's just so wonderful to be around. She has such great energy. She's been through a lot of stuff and she has a right more than anybody to be a diva, and there is none of that. She is real as fuck, dope as fuck, and so smart and made me laugh so much, that I'm forever a fan of hers. It solidified it. I was already a fan, but now I'm a fan till the end, till my last breath.
Did you learn anything from that experience that you'll apply to the podcast?
We're on hiatus with the podcast because we're both cray-cray busy, but I learned a lot about being a producer. I like being creative, I like the performing aspect of it, but that's the final step. I like to be involved from the beginning. So, I think learning how to be a producer and having creative calls and meetings and doing edits or talking about music choices. It was really cool to be involved from the beginning to end, and I learned so much from that. I think decisions on the podcast will be made quicker. I won't second-guess myself as much.
This interview has been edited and condensed.