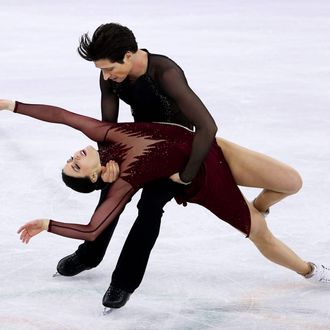 Okay, but are they or aren't they???
Photo: Jean Catuffe/Getty Images
It may have been too sexy for some eyes, but ice-dancers Tessa Virtue and Scott Moir's red-hot tango to the Moulin Rouge! soundtrack — approved by Baz Luhrmann himself — was just irresistible enough to render the Olympics judges unable to look away. On Sunday night, figure skating's greatest couple who aren't actually a couple (or are they?) once again straddled necks, touched butt to crotch, and twizzled away with the gold in the individual competition, edging out their French rivals for the top medal (and scoring a new world record). It's their second individual Olympics gold after placing first in 2010 and then suffering a silver setback in 2014. Virtue and Moir, who have been skating together for 20 years, said after the event that they may retire from competitive skating. "If it is the end we are extremely pleased with that," Moir told NBC. "We'll probably make an announcement in the coming days, but for us we just want to enjoy this right now and let the dust kind of settle and figure out what's next." Ahem, might we suggest an extended Moulin Rouge! on ice.