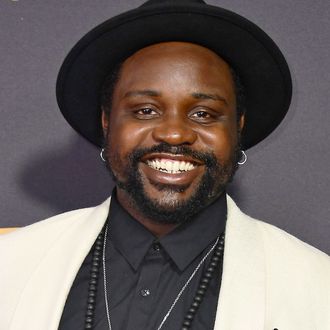 Just a fan of winter sports.
Photo: Frazer Harrison/Getty Images
There are fans of curling, the Winter Olympics most calming and misunderstood sport, everywhere, and one of them happens to be Brian Tyree Henry. At a press event for Lobby Hero, the Broadway play written by Kenneth Lonergan that stars the Atlanta actor alongside Chris Evans, Michael Cera, and Bel Powley, Vulture ended up chatting with Henry about his love of curling. He even has a curling drinking game, and we'd be remiss not to share the rules: "Whenever the thing slides down, you just take a shot. If somebody's bumped, take a shot. If somebody's sweeping, take a shot. You just keep going."
So, what made Henry fall for curling? After stumbling upon a televised match one night, he says he just couldn't stop watching the sweeping sport. "I was drunk one night and turned on the Olympics and was like, 'There are people with brooms pushing this thing across … I don't know what!'" he said. "I feel like curling just came out of nowhere. But regardless, it happened now, and I'm blessed for it."
Sadly, Henry hasn't had time to watch curling at the Pyeongchang Games because he's rehearsing Lobby Hero, though he does have enough time for the cast's own game nights with director Trip Cullman, which involve celebrities, charades, and other parlor games. Who gets the most competitive? "Trip and Chris. They're the ones. I'm like, 'Oh God, here we go…'" he said. "But it's fun competitiveness." After all, charades isn't Olympic curling, which is a deadly serious business.