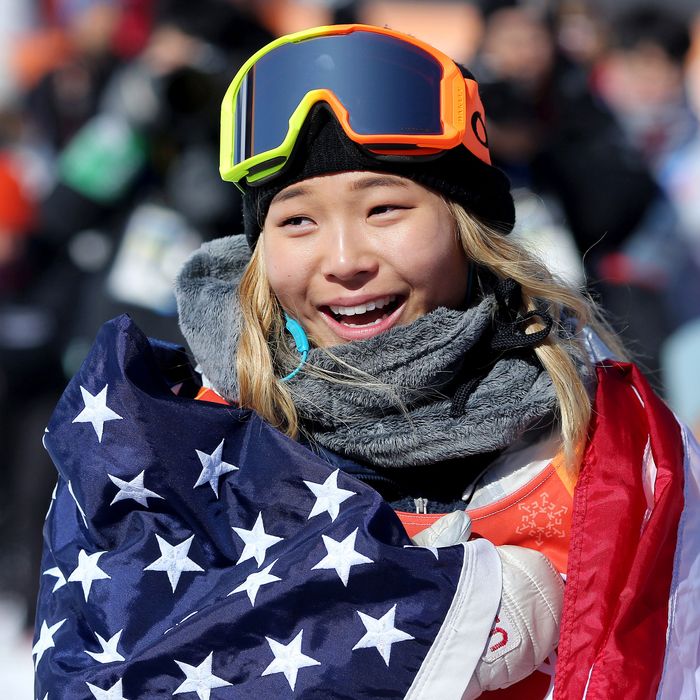 Photo: Tim Clayton/Corbis via Getty Images
With the opening weekend of the Pyeongchang Games complete, NBC execs have reason to be relieved: America still loves the Olympics. No, the Peacock won't be breaking many — or possibly any — Nielsen ratings records over the next two weeks, but early data suggest the Winter Games continue to be a massive audience draw, with a cable coverage on NBCSN and increasing digital consumption making up for a big chunk of the expected declines in broadcast viewership. As the ratings continue to roll in, here are the three big takeaways about viewer response to the 2018 Winter Olympics so far.
Ratings for the main NBC broadcast don't tell the whole story …
NBC got some bad headlines Friday when early Nielsen ratings for Thursday's so-called "bonus" night of coverage were off by more than 25 percent in some key demos, with overall audience down about 20 percent. But the story has gotten better every day since then, particularly when you look at what NBC is calling "total audience delivery" (or TAD) numbers — a metric that mixes traditional Nielsen ratings with NBC's estimate of viewers watching via the NBC Olympics app or other online platforms. On Saturday, the first night of competition following the Opening Ceremony, the Peacock says 23.9 million viewers watched on TV or online, a mere 5 percent behind the 25.1 million who watched on TV alone the first Saturday of the 2014 Sochi Games. That 23.9 million figure includes 21.4 million viewers for NBC, 2.5 million who watched on cable's NBC Sports Network, and about 234,000 non-linear viewers. On Sunday, NBC says the overall audience for prime-time Olympics across platforms reached 26 million, almost matching 2014's 26.3 million mark for the first Sunday of the Sochi Games. Meanwhile, early data for Monday's coverage (which was dominated by snowboarding) hints viewership could surpass the same night in Sochi.
Skeptics will note that comparing TAD numbers to NBC's past prime-time Nielsen numbers is a bit of a cheat, since the Peacock airs different programming feeds on the mother-ship broadcast network and NBCSN (and viewers can watch whatever they want online). If you compare NBC-only programming in 2018 and 2014, the broadcast network's ratings are off by about 15 percent compared to the opening weekend of Sochi. But so what? Audiences are still watching NBC Olympics coverage and advertisers are still reaching those consumers. And by giving viewers more choice, NBC is also addressing (though surely not eliminating) decades-old complaints among Olympics die-hards unhappy with the focus of the Peacock's main broadcasts. Indeed, audiences seem to be digging the extra choices: The boost to NBC's overall prime-time Olympics audience from NBCSN and digital rose from 8 percent to 15 percent between Thursday and Sunday.
… and they seem particularly strong in the era of Peak TV.
Even if Pyeongchang won't reach nearly as many American homes as some past big Winter Games, NBC is rightly pointing out that the 2018 Olympics are doing incredible numbers relative to everything else on TV. Put another way: The NBC-only prime-time numbers may be down, but they're down a lot less than programming on rival networks. This past Friday, for example, the Opening Ceremony on NBC drew about 28 million viewers, a decline of roughly 12 percent from 2014. By contrast, ABC, CBS, and Fox this past Friday attracted a combined audience of 8.6 million — about 33 percent below the 12.8 million viewers those same three networks notched against the 2014 Olympics Opening Ceremony. It was a similar story on Saturday and Sunday, with NBC outdistancing its competitors by unheard-of margins.
To be sure, stats like these are mostly a reflection of how far linear viewing of broadcast and cable networks has fallen in just four years. Peak TV and the rise of streaming have combined to drive down audience levels across the board. The numbers for NBC's 2018 Olympics coverage look so good because we now live in a world where many network shows survive with as few as 4 million same-day viewers. Still, for advertisers looking to reach a big audience at once, the Olympics provides much-needed relief from the problem of shrinking prime-time ratings. No wonder NBC has been able to rack up a record $900 million in national ad revenue for this year's Games.
There hasn't been an #NBCFail moment (yet)
Beyond the reasonably good ratings news, NBC execs are also no doubt happy their coverage has mostly avoided any serious stumbles. Griping about the Games remains an Olympic sport on social media, of course: For every critic like Vulture's Matt Zoller Seitz pleased with the relatively straightforward way NBC covered the Opening Ceremony, it's easy to find a thousand tweets from folks wishing the network's commentators would shut up or stop being so critical toward the ice skaters. And NBC did face blowback from the Olympics host country after an analyst it hired for opening night said some stupid things about South Korea and Japan. But overall, NBC has avoided making itself the story of the Games so far — unlike London 2012, when the #NBCFail hashtag on Twitter became one of the central narratives that Olympics, or Sochi 2014 (four words: Bob Costas's pink eye).
It was hardly a given NBC would get off to a good start this year. Despite his unfortunate ocular infection four years ago, Costas was the Howard Cosell of Olympics broadcasting, presenting a high bar for Mike Tirico and Katie Couric to clear. Critics will have more to say about their overall performance once the Games are over, but at the very least, their debut hasn't been disastrous — no small accomplishment in an era of snap social-media judgments. NBC also seems to have gone out of its way this year to minimize some long-standing complaints about how it covers the Olympics. Not only is the network covering more events live (rather than hoarding everything for prime time), it's also (finally) letting West Coast audiences watch the main prime-time broadcast at the same time it airs back East (and then repeating it for westerners not able to watch at 5 p.m.) The Peacock is also giving online audiences lots of viewing options, from breaking out individual athlete performances to a mercifully banter-free raw feed of the Opening Ceremony. No doubt some online viewers are still being plagued by tech issues, but NBC's Olympics app and streaming options seem vastly improved compared to past Games.