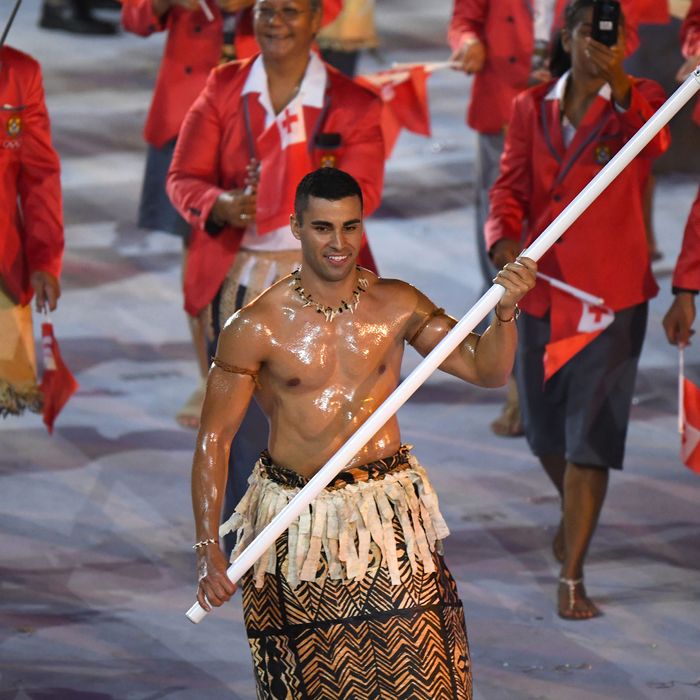 Tonga's flag-bearer Pita Taufatofua.
Photo: Olivier Morin/AFP/Getty Images
The 2018 Winter Olympics officially kicked off at 6 a.m. ET this morning with the Opening Ceremony celebration in Pyeongchang, South Korea. The event was streamed live, but will air on tape-delay with commentary tonight at 8 p.m. ET on NBC. The festivities kicked off with South Korean figure-skating gold medalist Yuna Kim igniting the Olympic cauldron, and included "Gangnam Style" playing on a seemingly endless loop, a giant dove made by lit-up people, and so much more. Don't forget, you can read our guide on how to stream all the events and find a full schedule here. You can expect to see a lot of Olympics enthusiast Leslie Jones this year, since she's serving as an official NBC contributor for Pyeongchang. Now, this year's ceremony may not have been the most memorable, but it was blissfully short and looked very chilly. Ahead, some of the best moments you missed.
The presentation of the South Korean flag
In the first moments of the celebration, the South Korean flag was carried out to the Opening Ceremony stage.
A dome of lights that looked like your horoscope
A dome of lights were then displayed above the stage, where dancers dressed in flowery costumes danced below.
Team USA!
Team USA arrived at the Parade of Nations to Psy's "Gangnam Style," where luger Erin Hamlin led the delegation and served as flag-bearer. The U.S. flag was displayed as Team USA circled the stadium floor. With 242 athletes, Team USA has the largest contingent for a nation in any Winter Olympics.
A waving Vice-President Pence
If the VP and the Second Lady are in South Korea, who's watching the bunny?
The Puerto Ricans arrived …
Puerto Rico marched in the Parade of Nations with white fluffy toboggans and a lot of enthusiasm.
… and so did a united Korea team
In a historic moment, the unified Korea team delegation walked out, showcasing representatives from both countries carrying the Korean unification flag.
There was a performance of John Lennon's "Imagine"
Following the peace and unity theme of this year's Olympics, South Korean folk singer Jeon In-kwon, indie-rock singer Ha Hyun-woo, and K-pop singer Ahn Ji-young sang a rendition of John Lennon's "Imagine." The musicians sang standing between two large lit-up doves, which were formed by performers.
The presentation of the Olympic flag
There was endless dancing
There was a copious amount of choreographed dancing, and what seemed like an endless loop of Psy's K-pop tune played throughout the ceremony.
Tonga's flag-bearer made a triumphant return
In maybe the best part of the ceremony, Tonga's flag-bearer Pita Taufatofua was back for another year, strutting onto the stage shirtless and slathered in oil.