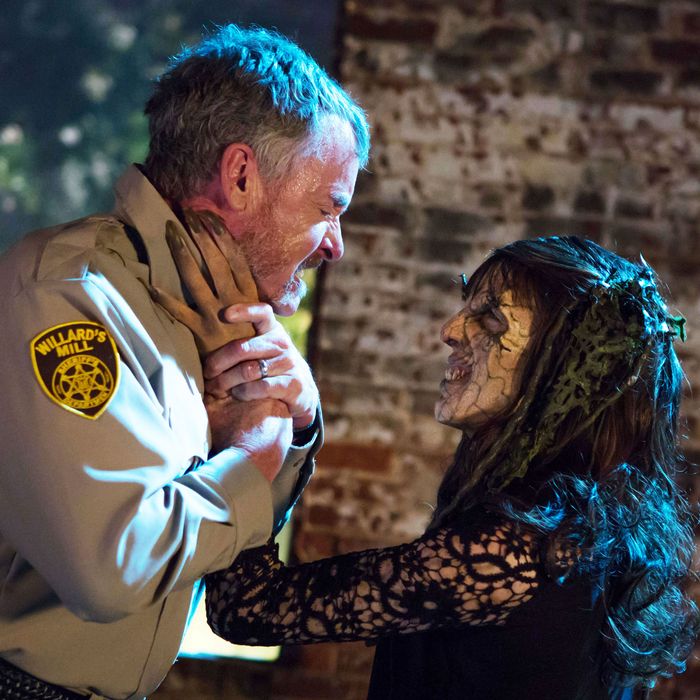 Stan Against Evil
.
Photo: Kim Simms/IFC
Horror movies perform well at the box office because they're such a unique large-screen experience. There is, however, a glut of good horror programming on the small screen, too, and a special kind of terror that comes with turning off your TV, closing your laptop screen and wondering if you're going to die in the night because the last thing you saw was the Tooth Child before tucking yourself in.
If you're a horror fan, one of the best shows you can be watching right now is SyFy's Channel Zero, which returns for its third season on February 7, and there's a wave of genre programming on the way this year with shows like Castle Rock, The Terror, and Picnic at Hanging Rock. You can decide for yourself if Creepypasta is your thing, but in the meantime, here are 21 current scary shows to pump you full of nightmare fuel from the comfort of your couch.
Channel Zero
Based on user-generated horror stories called Creepypasta that travel around online thanks to the masochists who share them, Channel Zero is an anthology series that focuses on a different internet urban myth each season. The first was based on Candle Cove, the second was No End House, and the next will be Butcher's Block, inspired by the tale "Search and Rescue Woods," in which a young woman named Alice and her schizophrenic older sister try to solve what a mysterious staircase in a dangerous neighborhood has to do with a string of local disappearances. This show brings the creeping horror of the dark internet to life, and that should really scare you. It's available to rent on Amazon, iTunes, and Google Play, with old episodes streamable on SyFy's website.
Slasher
This anthology series originally aired on Chiller, but is now the property of Netflix. The first season, The Executioner, focuses on a small-town plagued by a serial murderer, and the second, Guilty Party, is a take on the classic summer-camp-with-dark-secrets setup. The fate of a third season is currently being decided, but as of now Slasher is an active show.
The Exorcist
You know, it's The Exorcist! But on Fox! At the center of this critically lauded Fox series are two priests, Father Tomas Ortega and Father Marcus Keane. They come from very different backgrounds and lead very different parishes, but they are bound together in their shared pursuit of thwarting the devil.
American Horror Story
You have Ryan Murphy to thank for the wave of anthologized programming on TV these days, and he kicked it off with Horror Story. The quality of the show wildly dips and ascends across the seven seasons so far, but it consistently delivers some seriously messed-up programming and some reliably fantastic performances from a troupe of actors that will go to seemingly any length for their dark leader. AHS will always go big, and almost always go gruesome.
Stan Against Evil
Initially it looked a lot like "Oh, so IFC is making Ash vs. Evil Dead," but it turns out the show is pretty great in its own right, not least of all because it stars John C. McGinley as Stan, a curmudgeonly New England ex-sheriff battling demons in his small town. When Stan has to cede his law-enforcement position to a woman, he's pretty pissed about it, but they have to team up if they want to thwart the spirits emanating from the site of a 17th-century witch-burning that their town was built over.
Ash vs. Evil Dead
This is a fully sanctioned continuation of the Evil Dead chronicles from Starz, brought to you by Sam and Ivan Raimi, and starring Bruce Campbell as an older, but still utterly incorrigible Ash Williams. There's a chainsaw arm. There's a ton of gore and practical effects, and there's Lucy Lawless.
Outcast
This Cinemax series was created by Robert Kirkman, who also brought you The Walking Dead. It stars Patrick Fugit as a man who has severe PTSD after dealing with the possession of his mother during his teenage years. Now, as a grown man he's out for answers, but he is still surrounded by incidents of possession in his small town, which he faces down with a local reverend. The series is based on the comic of the same name.
Wolf Creek
This Australian series available on Shudder is based on the popular film of the same name from director Greg McLean, who also serves as showrunner. As if it could exist without him, John Jarratt reprises his role as the infamous Mick Taylor, a maniacal serial killer living in the outback who targets a new victim, or a group of victims, each season. A third Wolf Creek movie is said to be on the way, while a third season of the show has yet to be announced. It hasn't been formally discontinued, so we're classifying it as an active show.
Svartsjön (Black Lake)
You know what you should never try to do? Reopen an abandoned summer camp or ski resort. The main characters in this Scandinavian paranormal murder mystery apparently haven't watched enough horror movies to figure that out, though, because when a man named Johan brings his friends and girlfriend to an inactive resort to scope it out, they find a possibly haunted house plagued by the spirits of a family who were strangled to death inside of it. The first season of the show is currently streaming on Shudder, and the second season was reportedly in production early last year.
Jordskott
When a police detective named Eva returns to her hometown seven years after the presumed death of her daughter (she's believed to have drowned but the body was never recovered), another child goes missing, and Eva starts investigating the similarities between the two disappearances. Another Scandinavian series, Jordskott also streams on Shudder.
The Walking Dead
If you love zombie horror drama, this show is still on and Michonne and Daryl are still alive (so far!).
Fear the Walking Dead
The Walking Dead spinoff that takes place in the Western half of North America.
Black Mirror
From the high highs of "San Junipero" to the low lows of "The National Anthem," Black Mirror consistently serves up TV that will make you feel something with its Twilight Zone–esque takes on paranoia in the modern world.
Yamishibai
Kamishibai is a type of live visual storytelling that originated in Japan, in which a narrator uses illustrations on paper to tell a tale to an audience. Yamishibai is a series of animated shorts, and each episode begins with an eerie kamishibai narrator in a yellow mask beckoning children on a playground to gather before him so he can tell them a ghost story based on a different Japanese myth or urban legend. The fifth season aired last year, and you can find it on Crunchyroll.
Santa Clarita Diet
Santa Clarita is a quirky family comedy, but it also stars Drew Barrymore as a wife, mom, and real-estate agent turned zombie who does things like vomit gallons of liquid and consume human smoothies. For that, it falls into the undead category of horror, and you can find it on Netflix.
Mr. Mercedes
David E. Kelley may have gotten a ton of press last year for shepherding Big Little Lies into existence, but he was also the showrunner on an adaptation of Stephen King's Mr. Mercedes. It stars Brendan Gleeson as a retired detective who is still obsessed with the unsolved case of a mass murderer, but whose attention is diverted by a brilliant and "aspiring" psychopath who pulls the detective into his orbit. Good luck finding this one, though, since it's only available to AT&T Audience Network subscribers.
Scream
The first two seasons were set in a town with a secret called Lakewood, and revolved around a girl named Emma. The upcoming third season, however, will reboot the MTV series, moving it to a new town and bringing in a new cast. There's always a Ghostface hiding in the woodwork somewhere.
Stranger Things
Netflix's smash hit is endearing to people because of the height of Joe Keery's hair and the lovable awkwardness of watching Gaten Matarazzo's Dustin flirt with girls. However, a show about children being stalked by monsters and lured into an alternate dark dimension is fundamentally a horror premise. And that's not even taking Dacre Montgomery's extremely discomfiting mustache into account.
Lore
This nonfiction series from Amazon is based on the podcast of the same name from Aaron Mahnke. It uses animation, dramatic re-creations, and other storytelling tools to unpack the real events behind creepy horror myths.
Inside No. 9
This BBC series is a dark British comedy that veers into horror territory. Each episode is a self-contained story with different characters and a different setting, tied together only by the occurrence of the number nine (an address, an apartment number) and the appearance of the show's writers and creators, Reece Shearsmith and Steve Pemberton. There's also a brass statue of a hare that appears in every episode, that has no plot significance whatsoever, but serves as a link to the otherwise unrelated stories. It won't always be horror, but take a gamble on this unique series of short plays, which you can find on Hulu.
Fortitude
A brutal murder in a small Arctic town. A sheriff ravaged by grief. Mysterious and troubling activity among parasites and pathogens, and a knockout cast that includes Stanley Tucci, Dennis Quaid, Christopher Eccleston, and Michael Gambon. This dark British sci-fi thriller has a lot going for it, and you can watch it on Amazon.