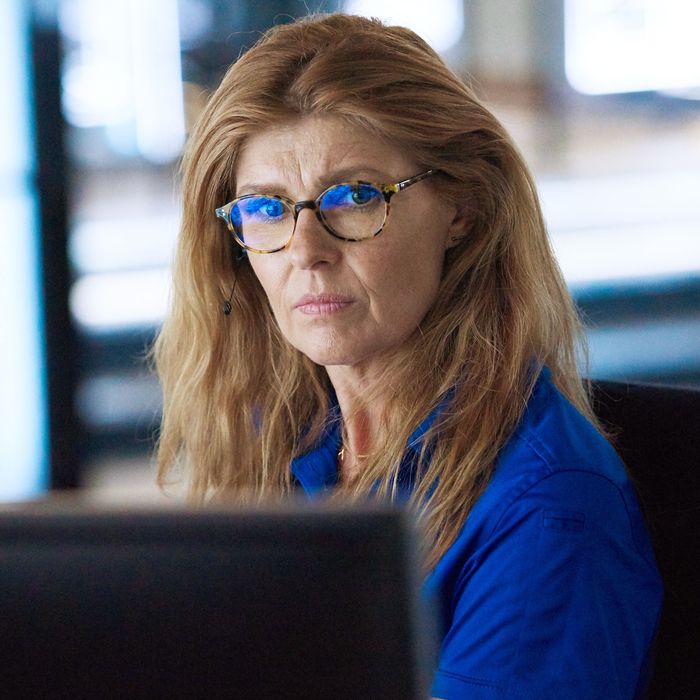 Photo: Michael Becker/FOX
If you haven't been watching Fox's first-responder drama 9-1-1, just imagine a show that blends all your favorite trauma-based shows — Grey's Anatomy, the Chicago ones (P.D., Med, Fire, and Justice), Blue Bloods — and adds a pinch of Ryan Murphy shamelessness. The premise revolves around Connie Britton's character, an emergency dispatcher who answers 911 calls, reacts with extremely good facial expressions, and sends first responders to the scene to save the day. Those "scenes" can range from extremely terrifying disasters like plane crashes and car accidents to … a baby stuck in a pipe or a bouncy castle blown off a cliff. You truly never know what you're getting yourself into at the start of an episode. Ahead of 9-1-1's return after a short Olympics hiatus, here are the 15 weirdest and most outrageous 911 calls the show has cooked up so far.
"OUR BOUNCY HOUSE JUST TOOK OFF."
As soon as you see that bouncy castle precariously sitting at the end of a gorgeous cliff, overlooking the hills of Los Angeles, you know something bad is going to happen. After all, 9-1-1 engages in the same tricks you'd find on your favorite episode of Law & Order — everything is shown for a reason. When the dad hops into the bouncy castle and the pin comes loose, well, that's when the entire thing just flies away.
Bye-bye!
"SOMEONE FLUSHED A BABY DOWN THE TOILET."
The 911 call that started it all. In the show's pilot, a stoner hears cries coming from inside the walls of his apartment — no, it's not just in his drug-addled mind, it's actually a newborn baby who was flushed down the toilet. Yikes!
Good news, though: a little lube and the kid slides right out.
"MY BOY GOT STUCK IN THE BRUSH."
No one actually gets hurt in this one, which is a nice break from a show that thrives on tragedy. It's just a dude caught in a brush at a car wash.
Everyone even gets a good laugh watching the security footage of the thing whipping him around. Ha ha! Okay, back to work!
"SOME GUY JUST GOT THROWN OFF THE ROLLER COASTER!"
This one's more disturbing than I expected. When a roller-coaster ride goes horribly wrong, getting stuck in the upside-down position on a loop the loop, a guy with his seat belt not properly fastened falls right out. (It's basically foreshadowed, so we're not completely shocked, but still! This is worst-fear stuff right here.)
Even worse, the guy's friend is left dangling, holding on for his life. He winds up falling to his death just as the emergency responder reaches him, but 9-1-1 is nothing if not cruel.
"THE WHOLE THING JUST COLLAPSED."
We're hitting more traumatic territory now, when the floor beneath a wedding collapses and the entire party falls into the wreckage below.
Turns out the party was held on a makeshift third floor, made with illegal materials not strong enough to hold the crowd. This is why we have zoning laws, people!
"I'D KNOCK, BUT I DON'T WANT TO GET INVOLVED."
Probably-for-the-best anonymous 911 caller. We find out the neighbor in question was (spoiler!) chopping up her Valentine's Day date … and supergluing him back together? Her plan was to replace his "bad heart" with Angela Bassett's "good heart." Yikes!
"I'M IN A CESSNA FLYING OVER LOS ANGELES."
A lesson in surprises: Don't attempt to scare your girlfriend into becoming your fiancée by hiding your proposal in an emergency manual. When you trick her into thinking the plane is crashing, maybe she'll be happy for about a minute before developing a heart condition that almost kills her. While you're still midair!
"HE JUST, HE FELL! THE … THE PERVY GUY."
A creepy window washer's rig takes a traumatizing fall.
"THEY'RE OUTSIDE, THEY'RE TRYING TO BREAK IN."
This one is relatively simple: Bad guys try to rob a house they suspect is empty, but a kid is actually home alone.
The call itself may be a little dull, but the first responders do stop one of the robbers by spraying him with a firehose. So, points for creativity.
"IT'S CHOKING ME."
Pet snake! What could go wrong?
Fun fact: Later in this episode, the guy with the ax ends up sleeping with the snake's owner on the roof of her building.
"I CAN'T MOVE. I THINK I BROKE MY BACK."
This one involved a guy jumping out the back window of a house because he was caught cheating … with his own wife!
"I'M BEING ATTACKED BY DEVIL DOGS."
A guy trapped on a kitchen countertop is surrounded by barking Dobermans. The cops arrive with cheeseburgers from Rally's. You can guess what happens next. (They throw the cheeseburgers across thee room so the dogs will leave the guy alone. Duh.)
"THIS DUDE IS GONNA JUMP FROM, LIKE, I DON'T EVEN KNOW HOW HIGH."
Don't worry, they pull him away before he's able to jump.
"THERE ARE PEOPLE TRAPPED IN THE BACK OF A TRUCK."
The first responders bust the truck's locks open, and then bust the truck driver who foolishly tries to escape. All in a day's work.
"I'M ON A PLANE, AND SOMETHING HAPPENED TO THE ENGINE."
Uh, this one doesn't turn out well.