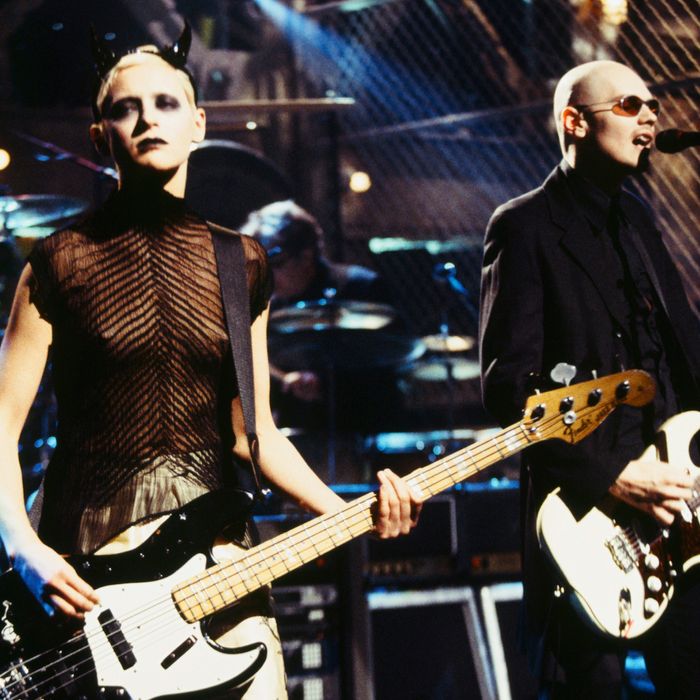 D'arcy Wretzky and Billy Corgan.
Photo: NBC/NBCU Photo Bank via Getty Images
Almost 18 years after the Smashing Pumpkins officially broke up in May of 2000, the band seems to be moving forward with a reunion tour and album … without former bassist D'arcy Wretzky. Despite having put aside their differences in mid-2016, Wretzky and Billy Corgan have begun beefing again in the last few weeks, after Wretzky claimed that she was not invited to participate in the just-announced Smashing Pumpkins tour. Though the true circumstances surrounding the conflict are still not entirely clear, to help you get up to speed, we've compiled a timeline of everything we know so far.
April 15, 2016
James Iha and Billy Corgan reunite, playing two shows together in Los Angeles and Chicago.
April 26, 2016
D'arcy Wretzky says that she would "consider going back" to the Smashing Pumpkins in an interview with BlastEcho.
August 16, 2016
In a video posted to Facebook, Billy Corgan says that he is "back in contact" with the original Smashing Pumpkins lineup. "I've been in communication with D'arcy for the first time in 16 or 17 years," he said. "It's awesome to have my friend back. So we're all in communication, which as I said not too long ago, my primary interest in the old band was us having good relationships again."
June 29, 2017
In an interview with WGN Radio, drummer Jimmy Chamberlin suggests that there might be a 2018 reunion, saying, "We were talking about playing next year with the band."
October 5, 2017
Billy Corgan says that he is open to the idea of playing live shows with the Smashing Pumpkins, and that he is "interested in the band being creative again," in an interview with Team Rock.
January 16, 2018
Billy Corgan shares an Instagram post, hinting at a Smashing Pumpkins reunion. The photo shows three of the four original band members, James Iha, Billy Corgan, and Jimmy Chamberlin, in a Los Angeles recording studio, prompting fans to question D'arcy Wretzky's whereabouts.
January 21, 2018
Wretzky confirms a reunion tour, but says that she will not be on it, telling the website BlastEcho, "I know this is a huge disappointment for me, as well, but it's not going to happen [with me]." Adding, "I only just found about it yesterday that the band has decided to go with a different bass player."
January 27, 2018
In another Instagram post, Billy Corgan drops a clue about the new Smashing Pumpkins album, saying, "We are currently in the studio with Rick Rubin."
February 4, 2018
Images from a photo shoot, showing Billy Corgan, James Iha, Jimmy Chamberlin, and Jeff Schroeder posing together, leak online, seeming to confirm Wretzky's exclusion from the reunion lineup.
February 6, 2018
Billy Corgan posts an update via Instagram saying that he is "now a bassist," and seeming to downplay Wretzky's role in the band's later recordings. "@jamesihaofficial on the other hand, well, I haven't seen him pick up a bass since Machina (which he played a fair share on, despite reports claiming a certain 'flaxen Saxxon' did; and as you know with much that is written is patently f-a-l-s-e)," suggesting that Wretzky ("a certain 'flaxen Saxxon") did not play on the 2000 album, Machina.
February 10, 2018
The Smashing Pumpkins launch a countdown clock on their website, gearing up to an announcement on Thursday, February 15.
February 11, 2018
In another interview with BlastEcho, Wretzky says that she had not been informed about the reunion, and only found out about the Pumpkins' recording sessions via Instagram. She reached out to Corgan about it, and said that he initially invited her on tour, but rescinded the invitation. According to the website, "D'arcy said that Corgan initially made a contract offer to her, Iha and Chamberlin, which was agreed upon by all parties. However, a month later D'arcy says Billy told her 'well, that wasn't a real offer.' It's unclear whether or not the initial offer remains for Iha and Chamberlin, although D'arcy is under the impression it is."
February 12, 2018
Wretzky shares a link to her interview with BlastEcho on Facebook, along with a message allegedly sent to her by Corgan, stating, "Yes, there will always be a crowd but without real backing in an incredibly tough environment to win in I will walk away so it doesn't matter that there will always be a club full of people wanting to hear old songs." Wretzky goes onto reply to fans comments on the post, saying, "Yeah, I think people might be getting sick and tired of being manipulated by Billy," and "Billy's ship … which keeps sinking every time he tries pulls this ship. I abandoned it in 1999 cause I knew it was sinking. He was beyond helping. His ego & insecurities spun out of control and I could no longer reel him in, which had been a very large part of my role for many years, but it was hopeless."
Later in the day, the band releases an official statement explaining why D'arcy won't be on the tour, saying that "despite reports, Ms. Wretzky has repeatedly been invited out to play with the group, participate in demo sessions, or at the very least, meet face-to-face, and in each and every instance she always deferred."
February 13, 2018
Alternative Nation publishes a series of texts, allegedly sent to D'arcy Wretzky from Billy Corgan in January, contradicting the band's statement about her involvement. The conversation begins enthusiastically, with Corgan saying, "We want you involved in the tour however you'd like to be involved. I think it will mean A LOT to fans if you are on stage every night," but also acknowledging the fact that Wretzky has a shoulder injury. As the exchange continues, Wretzky lets Corgan know that she wants to "be involved in everything," and that her shoulder will be healed soon. Corgan then starts to back away from the idea, suggesting that Wretzky should only play a few songs a night (or maybe none at all).
February 14, 2018
In an interview with Alternative Nation, Wretzky says that Billy Corgan "didn't bother" to tell her about the reunion album "because he didn't want me there" and that the band had already hired Jack Bates to play bass when she and Corgan discussed the tour. "That was apparently the plan all along. He had Jack Bates already, it was just unbelievable, really just disgusting," she said.
February 15, 2018
The Smashing Pumpkins officially announce their Shiny and Oh So Bright reunion tour on their website, and confirm the touring lineup as Billy Corgan, James Iha, Jimmy Chamberlin, and James Schroeder.
March 22, 2018
In an interview with the New York Times, Wretsky says that "He [Corgan] was stringing me along," in their reunion discussions. "Billy can be incredibly charming and fun, but when it comes to money and giving credit where credit is due and any king of work situation, it's not pretty," she said. Corgan also discussed their feud in the article. "I think what she did demonstrates why she couldn't be involved," he said, before adding that he thinks the bridge between them is now burned "forever." Wretsky also says she learned that she and the rest of the band would not receive equal pay with Corgan, who'd make twice as much as the rest of the group for the tour.