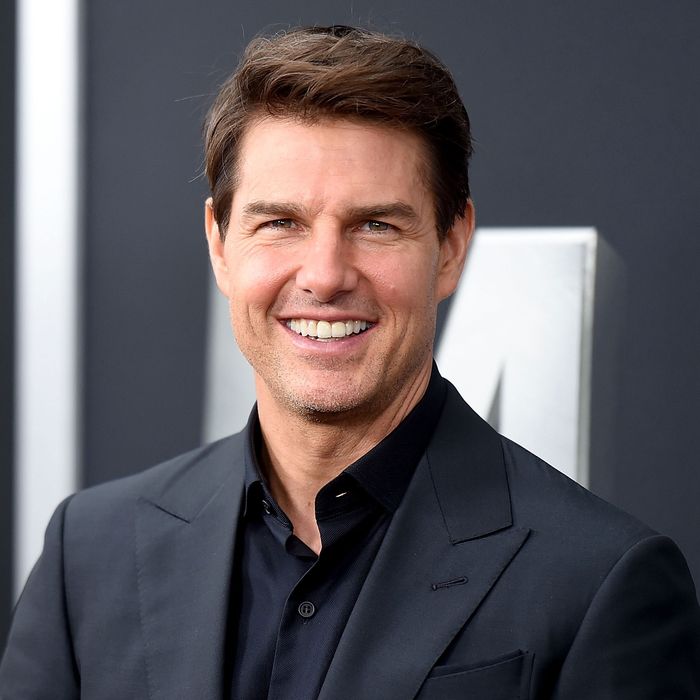 Photo: Jamie McCarthy/Getty Images
Last week, Tom Cruise joined Instagram. This is something we all should've gotten a push notification about: legitimately megafamous, almost pathologically charismatic movie star Tom Cruise is now among the rest of us, clamoring for likes, comments, and #sponsored posts. Go ahead, scroll through your feed: There's Tom Cruise, star of Risky Business, Oprah's couch, and 1,000 Mission: Impossibles, right beside influencers, Glossier models, and Armie Hammer's tracksuits. This feels like an extremely random, but welcome, milestone in these topsy-turvy times. We've known Tom Cruise for so long — and been curious about him for even longer — and now we're right there, in his tight jeans' pocket. Personally, I love it.
However, I am less than thrilled about the choices Tom Cruise has made since sharing his first photo, a snap of the Mission: Impossible 6 clapper, one week ago. In the days since, he's given us a series of M:I 6 stills and two clips from his appearance on The Graham Norton Show. I expected more from a man literally famous for his movie-star stamina and tendency to forget about boundaries entirely. Where are the throwbacks? A family photo with his two kids with Nicole Kidman? Some smug Matt Lauer shade? A hi-res video of him dancing to Yung Joc on BET?
When I asked a friend (who recently — and also quite randomly — texted me to say that she still thinks Tom Cruise is pretty hot) what she expected from Tom Cruise's Instagram, she suggested the following: "Dance videos and him appreciating black women the way robert de niro does." That's a good start. But there's so much more we should be asking for. Below, I've outlined 25 things that I, personally, need from Tom Cruise's Instagram.
1. I would like Tom Cruise to test my accurate theory that he gives better performances in movies when he's wearing full bangs (Risky Business, American Made, and Magnolia because he had long hair) than when he has short hair (The Mummy).
2. A video of himself eating micro-livestock.
3. Enough running! How about a photo of a brisk, early morning fast walk?
4. A video of himself dancing to "Bootylicious."
5. Pages from the Top Gun sequel that will certainly happen and is not just a diversion tactic that comes up whenever Tom Cruise gets bad press.
6. A Bible study, for real this time.
7. Live commentary of The Arrangement.
8. "You can't handle the truth!" in varying pitches, on a loop.
9. "Show me the money!" in varying pitches, on a loop. (Personally, I'd like to see this one as different kinds of whispers.)
10. A video of himself listening to Cardi B's verse on "Motor Sport," really vibing to "Why would I hop in some beef? When I could just hop in a Porsche." And then cut to Tom Cruise saying, "Porsche. There is no substitute."
11. A photo set of his empty mantle, increasingly zoomed in with each photo. Caption: That's where my Magnolia Oscar should be.
12. A good #tbt.
13. A photo of him lounging on a couch, with an appropriate dad joke, like, "Not a lotta couch jumping these days."
14. His Raya profile.
15. Footage of him dancing at another wedding.
16. A screenshot of this very important piece of journalism, with the caption "Very important piece of journalism. @henrycavill have you seen?"
17. Evidence — maybe a sneaky screenshot? — that Elle Fanning bullies his War of the Worlds co-star Dakota.
18. Dinner with his ex-publicist Pat Kingsley! We love a reunion.
19. A Phantom Thread GIF. Caption: "Lmao PTA u wild for this one."
20. Glossier unboxing — I feel like Tom Cruise uses the Super Serum after long days on set. Look at those pores.
21. Xenu selfie.
22. Screenshot of reports of Big Little Lies season two, captioned with "Idk bout this …" Not because he doesn't support Nicole Kidman, but because it was called a limited series for a reason, people.
23. A video detailing his friendship with Kanye.
24. Lunch with Ansel Elgort, who is the only person who can come close to matching Tom Cruise's press tour stamina.
25. The Dark Universe cast photo, a failed franchise that lives forever in our hearts.