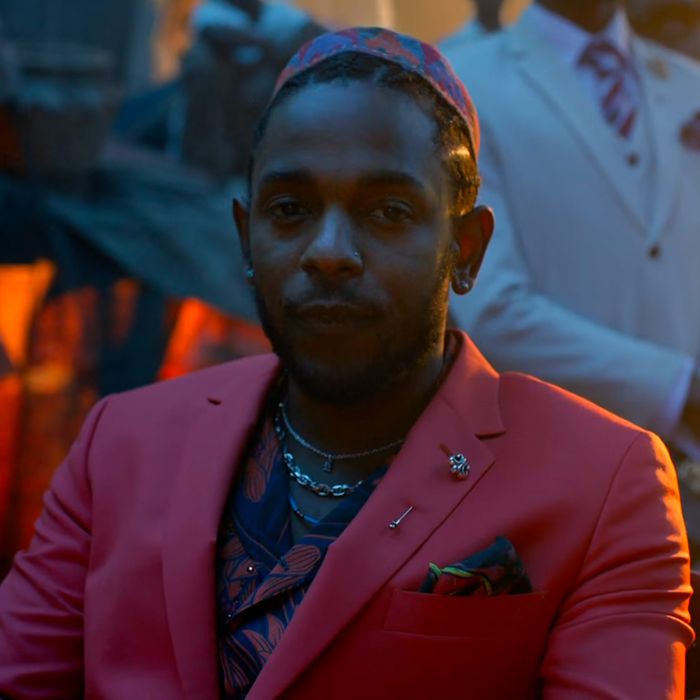 No one knows exactly which African region Wakanda is meant to be set in because the fictional home to the characters of Black Panther was built specifically for the Marvel comics and left intentionally vague. Ryan Coogler's film adaptation, however, places it in East Africa, bordering Uganda and Kenya. This is first mentioned in Captain America: Civil War, our first film introduction to the nation and its heir to the throne, T'Challa.
But in Kendrick Lamar's Wakanda, the music is rooted in the current music landscape of South Africa. Though his spectacular "All the Stars" video took inspiration from the Congo, Ghana, Liberia, and more, Kedrick's soundtrack for the film puts the spotlight on South Africa's emerging talent, rather than an all-American (and two Brits) cast. Get to know the four South African artists he handpicked to bring some reality to Wakanda.
Babes Wodumo
Who is she? Babes Wodumo, born Bongekile Simelane, is the self-professed gqom queen, a style of house music emerging out of Durban, where she's from. She's featured on "Redemption," with "LOVE." singer Zacari; notably she raps partly in isiZulu on the song. The U.S. would've been introduced to Babes sooner, at least year's BET Awards, where she was nominated for Best International Act; however, visa issues prevented her from entering the country. All of her work to date has featured her manager/label head/boyfriend Mampintsha, who also appears on background vocals on "Redemption," causing some backlash (and several great memes) from fans now theorizing that Babes has officially become a duo rather than a solo act. (Fun fact: This song also samples DJ Blass's reggaeton mix "Rompe Condones" in its NSFW opening line.)
Where can I hear more? 2016's Gquom Queen, Vol. 1, which features her breakthrough hit, "Wololo," said to also be heard in Black Panther.
Saudi
Who is he? Saudi, born Anele Mbisha, is a young rapper from Soweto now signed to the popular South African indie rap label Ambitiouz Ent. He's tasked with having the first verse (after Kendrick's intro) on "X," which also features 2 Chainz and Schoolboy Q. He raps the majority of his verse in Zulu.
Where can I hear more? His 2017 debut album D.R.U.G.S Inc., and his two breakthrough singles, "Ameni" and "There She Go."
Yugen Blakrok
Who is she? Yugen Blakrok is a rapper out of Johannesburg, originally from the Eastern Cape, signed to Iapetus Records who appears on "Opps," also featuring Vince Staples. In her heated verse, Blakrok references Kathleen Cleaver, the former communications secretary of the Black Panther Party who also became the first woman on the party's decision-making body.
Where can I hear more? Her latest album is 2013's Return of the Astro-Goth.
Sjava
Who is he? Sjava, born Jabulani Hadebe, is a singer from Johannesburg, though originally from Kwazulu Natal. Like Saudi, he's also signed to Ambitiouz Ent. He's featured on soundtrack standout "Seasons," with Mozzy and Reason (who is not the South African rapper Reason). He sings his entire opening verse in Zulu, but switches to some English for the song's heartbreaking hook. In addition to singing, Sjava has appeared on a number of South African soaps, including Generations, Zone 14, 7de Laan, Soul City, and Gugu No Andile.
Where can I hear more? His 2016 debut album, Isina Muva.