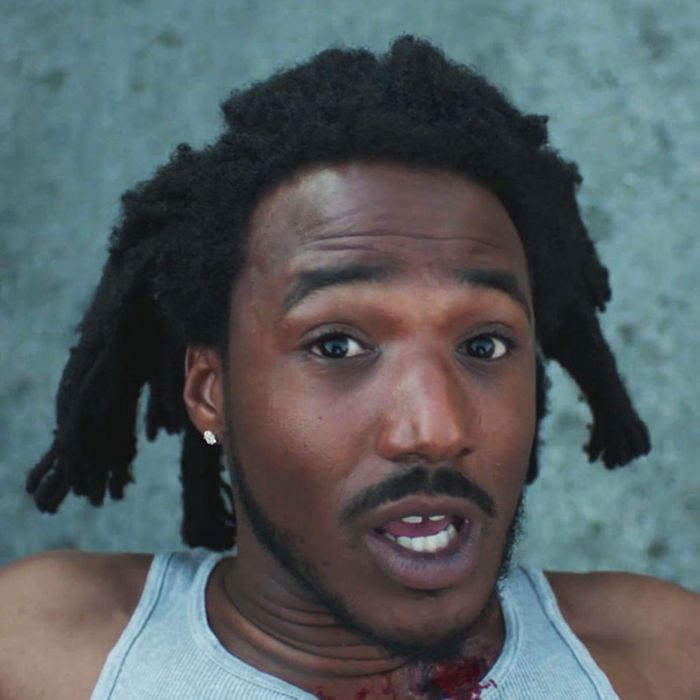 Last month, in Madison Square Garden, Kendrick Lamar opened the Grammys rapping stoically in front of a digitized American flag, surrounded by a masked-and-fatigued militia; he brought out Bono for about 20 seconds; he passed emceeing duties to Dave Chappelle while the pyrotechnics were getting set up. He ended the six-minute medley with his verse from "King's Dead," a staccato rhyme punctuated with simulated gunshots, the crowd of faceless, hoodied men behind him slumping, apparently dead, two or three at a time, while he rapped: "Burn your moral, burn your family, burn your job / Burn your land, burn your children, burn your wives." People in tuxedos stood and applauded.
That last song, which also features Future, James Blake, and Kendrick's TDE compatriot Jay Rock, isn't from his Grammy-nominated LP — it's from the soundtrack for Black Panther, the Marvel movie due out later this month, which has already broken presale box-office records. Later, when Kendrick accepted the trophy for Best Rap Album, he said, "As my guy Mozzy say, you know, God up top, all the time, real talk, you know?" A quick Google by those unfamiliar would show that Mozzy is a Sacramento rapper who's also included on that Black Panther soundtrack. Clever cross-promotion? Maybe: These are the kinds of co-signs and placements that could vault a rapper fully into to stardom.
The irony is that Mozzy isn't given to rapid change or commercial sheen. His catalogue is vast — dozens of solo and collaborative albums and an abundance of guest verses and loosies — but nearly every entry is neatly crafted and unfolds deliberately, a break in presentation from the manic saturation of a Lil Wayne or Gucci Mane (or of his fellow Californian Lil B). Mozzy's a straightforward writer, colorful but linear, faithfully describing everything from his wardrobe at the moment to still-simmering murder scenes. As Kendrick becomes more and more celebrated in American pop culture, he's been invited to pantomime murders in front of more and more tuxedo-ed crowds, and has smartly interrogated that dynamic in his songwriting; Mozzy is more concerned with the slow, accretive mechanics of the real thing.
Mozzy was born Timothy Patterson in 1987 and grew up in Sacramento's Oak Park district. His grandmother, who raised him, was a Black Panther; a number of his family members were affiliated with a local Blood set. He's been rapping since he was a child: his uncle, whose stage name was GP the Beast, had him on songs when he was just 11. Originally rapping under the name Lil Tim, he adopted the current moniker in 2011. Since then — and especially since his style began to crystallize, in 2014 — Mozzy's become one of the most reliable, engrossing, and thematically challenging rappers in Sacramento, California, and the country.
His album from last year, 1 Up Top Ahk, wrestles with the complex moral considerations that litter his music, from questions of culpability in his friends' deaths to his fatigue at the endless cycle of violence begetting trauma begetting more violence. This — the idea of violence, gang ties, material consumption, and music itself as an act of processing, or at least coping — is a thread that runs through Mozzy's work. The murder scenes he renders could be seen as reportage, but also as a sort of talk therapy.
His appearance on the Black Panther soundtrack might not land him on the new TRL, but there's no denying he's one of the most original voices in music today. If you're looking to dive into a full project, 1 Up Top Ahk would be an excellent starting place, as would 2015's Bladadah, the title track from which doubles as a breathless mission statement ("It's deeper than a punch line or trying to sound lyrical / You don't wanna live like this — my life difficult"). Here's a closer look at five essential songs from Mozzy's catalogue.
"Next Body on You"
It's there in the hook: "Next body on you 'cause you don't ever do it." The song sounds like a superhero theme, but is really a sort of peeling away of posturing and aesthetics: You're either about it or you're not, and, yeah, you might call yourself a killer, but you don't ever do it. The soaring beat is at direct odds with the psychological weight Mozzy feels over things his life demands of him — there's a code, and you have to stick to it, but in a way its adherents are held captive. It's grim; there's no glamour in squeezing the triggers here, just a heavy, rote obligation.
"Sleep Walkin'"
One of Mozzy's biggest hits; the standout from 1 Up Top Ahk is about gaining and losing control, through substance use and prayer. He thanks God for the police hitting dead ends and traces the hatred in his heart to the murders of family and friends. The writing is bouncy, knotty, and vivid: see the second verse, which opens, "All them trials and tribulations / Bail enhancements and arraignments / Affidavits and them statements — waiting game — so I waited."
"Activities"
"Activities" is like an extended writer's exercise: lines, phrases, full four-bar passages are repeated once, twice, three, or four times in a row. In a way, it's Mozzy's style in microcosm, carefully selected images approached from all angles and wrung for all their blood and sinew.
"Beautiful Struggle" (Bladadah version)
This song is a tour de force, featuring some of Mozzy's most densely packed writing. The first 90 seconds alone flits between roadside candlelit vigils and frigid jail cells, borrowed cars and his ailing mother. (The above is a song from Bladadah; Mozzy would later release an album called Beautiful Struggle, the title track from which is a completely different song.)
"I'm Just Being Honest"
In 2014, Mozzy and Philthy Rich repurposed the beat from Future's hit to get chillingly specific about who was — and more importantly, who was not — telling the truth about street life in Sacramento. Mozzy minces no words in contrasting himself with poseurs: "You hella hard on that internet like you hella hard in them songs / I ain't hard to find — I be in the hood." The song was also a turning point for Mozzy's notoriety in his hometown and in the Bay Area. In an interview with Noisey, he cites it as the moment he began receiving fan mail, including while he was doing a stint in jail.