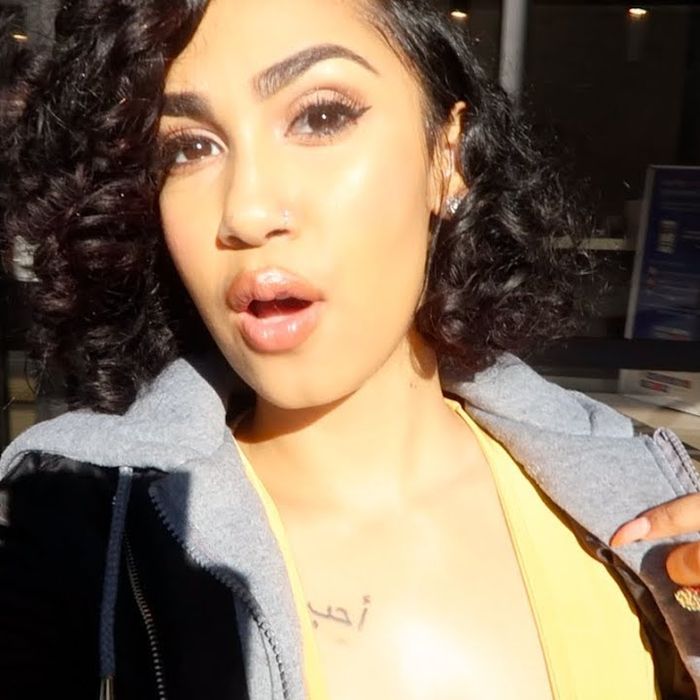 Queen Naija.
Photo: Queen Naija
Queen Naija's "Medicine" may not be the first song ever recorded by a YouTube celebrity — who could forget Jake Paul's experiments with sound? — but it's definitely one of the better ones. Since starting a YouTube channel with her husband, Chris Sails, in August 2016, the 22-year-old Michigan native has amassed a seven-figure audience by delivering regular reports on her exploits and relationships while also branching out into modeling on Instagram. They checked all the boxes for vlogging success: a talent for candid performance; good, but not alienatingly good looks; a recognizably vloggish sensibility (their most-viewed video is titled "CHEATING PRANK ON WIFE (GETS VIOLENT)" [8.3 million views]); and last but far from least, relatability. When Queen and Chris's marriage skidded off the rails thanks to Chris's cheating, fans were spellbound by a basic drama they could easily imagine in their own lives. And when Queen, in the wake of the divorce, started a channel just for herself and left Chris (and their son, also named Chris) sole custody of the main account, they flocked to it immediately. She has more than 1.5 million subscribers; her Instagram numbers are higher still.
So when on New Year's Eve Queen released "Medicine," a song directed at Chris saying, essentially, that turnabout is fair play, the song took off. It helps a great deal that the song is well-written, well-sung, and capably produced. A spare, steady, slow beat provides the needed Serious Talk ambience. Rarely venturing outside of a single low octave, Naija's winding voice is unshowy, but effectively conveys a spirit of patient, justified resentment. The lyrics are plain, rhyme-dense, and thoughtful: "How would you like it if I do the things you do? Put you on do not disturb and entertain these dudes?" An absence of metaphors (title aside) enhances the tone of directness; mentions of texts, screenshots, and FaceTime sessions convincingly ground the narrative in the reality of the telecom-infested present.
Still, it's hard not to suspect that the true-life narrative behind it, with a large audience eager to hear the singer from the jump, was every bit as crucial in ensuring its success. With more than 10 million streams on SoundCloud and 30 million views on YouTube to date, the song is even poised to make a push into the Hot 100: Before being swamped by some subprime Migos songs, "Medicine" was No. 1 on Billboard's Bubbling Under R&B/Hip-Hop chart last week.
Mysteries abound. Will it lead to a full-fledged music career for Queen or just stand as an isolated reminder that vloggers aren't doomed to make terrible art? We're also tempted to wonder exactly how much of this is real. It's not entirely inconceivable that we're in the midst of a prolonged, elaborate cheating prank designed to haul in the listens and views. (I find it hard to believe that Chris could conceive of his response song to "Medicine" as anything but a heel move, but I may be underestimating his capacity for self-deception.) There's no way to be sure. As with any compelling reality-show suspense, the only way that resolution can arrive is to stay tuned for further drama — well, that, or to stop caring entirely.